The Tour of Oman must be doing something right, because this year's field might have been mistaken for the Tour de France.
Only Andy Schleck is missing, though on current form this might not be much of a loss. The mysterious case of Schleck, Grand Tour contender - last seen on Alpe d'Huez in 2011 - is a subject for another day.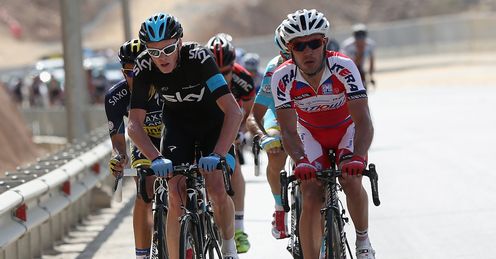 But Alberto Contador, Vincenzo Nibali, Cadel Evans, Bradley Wiggins and Chris Froome: they're all here. Throw in Peter Sagan, Philippe Gilbert, Joaquim Rodriguez and Tom Boonen and you have a galaxy of stars.
On Thursday morning, at the stage start in Al Saltiyah in Samail, a Dutch journalist suggested that "the Tour de France starts here," while a member of Astana's staff said: "We're going to be talking about what happens today for six months."
There was no live TV feed, no radio, no information at all, just an empty road and a finish line - which is actually all you need.
Richard Moore
Quotes of the week
He may have been right, if lacking in tact given that Nibali was sitting within earshot, and perhaps didn't need to hear that. He was preparing for a stage that finished on Green Mountain: a 6km ramp that averaged 10.3 per cent, but was much steeper in places.
What unfolded on that climb was thrilling, but also seemed quite surreal. Waiting near the finish line with a smattering of fans - 50 or so, scattered in ones and twos over the final 300 metres - the atmosphere was more akin to a club road race in Britain. There was no TV, no radio, no information at all, just an empty road and a finish line - which is actually all you need.
It made the experience seem more raw, more authentic. You had to pinch yourself to remember that it wasn't the Humberside and District road race championship, albeit held in a freak heatwave; and that soon this empty road, on this silent mountain, would witness the first confrontation of the season between the riders most likely to contend for the major honours.
The clue that they were close - and that this wasn't a local road race championship - was the helicopter. It appeared in the valley below, tracking the leaders as they approached. For reporters, it was old school - we would have to figure out what had happened entirely from the riders' accounts, as journalists did in the 1950s.
What we would discover was that Contador's Saxo-Tinkoff team led the race at a fierce pace to the foot of the mountain. A bit like Mont Ventoux, the wide road reared up steeply and in a straight line, and Contador detonated.
You have to hand it to Contador. If he has doubts, he doesn't show them. He attacked, and attacked again, and again. Taylor Phinney later said that he went "four or five times."
The sharp accelerations put Froome in difficulty, and left him marooned in a second group until the road levelled off a little. Then he was able to jump across "no-man's land" (quite literally, in this case) to the Contador group. Nibali, Evans and Rodriguez were also there; so was a young Frenchman, 21-year-old Kenny Elissonde, doing one of the rides of the day.
Tactical
Froome described the battle that ensued as highly tactical. Contador made a few more jabs, so did Rodriguez. With a kilometre to go, Rodriguez finally sneaked away. Then, from a vantage point high on the mountain above the final hairpin, we could see them. And we saw Froome, as he passed the 500m banner, sprint past Contador, Nibali and Evans, open a gap, then look back. Perhaps those earlier efforts told, because Contador didn't respond.
When they passed, on the road below, Rodriguez was grimacing and wheezing - it is rare that you can hear the rasping - then Froome appeared, also suffering but flying, relatively speaking. Another 10 metres and he would have caught Rodriguez, who held on.Then came Evans, but the biggest surprise was Contador, who so often appears to dance or float up climbs, usually through throngs of cheering, sound-muffling spectators. Yet here he was, on this suitably empty stretch of uphill, straining and panting, forcing the pedals round, while Nibali cracked completely, only just managing to keep his legs turning over those final 50 metres.
Maybe the Astana man was right about the significance of this stage and this mountain, but if we are still talking about it in mid-summer then it could be because these riders won't meet again on a climb like this between now and perhaps the Criterium du Dauphine in June.
Froome, who took over as race leader, was the big winner on Thursday, but he was sensibly playing down any longer-term significance. "If you're saying it has a bearing on the months to come, I don't think you can take much from it," he said. "I'm fully aware it's only February."
And 'only' the Tour of Oman. But on Friday Contador demonstrated how much he would like to win it, attacking again on a short, steep climb, before eventually being caught and then out-sprinted by Froome for the stage win. 'Only' the Tour of Oman, perhaps, but what a strange and compelling show, especially on Green Mountain.
Twitter.com/richardmoore73