Recently there were two WorldTour stage races being held, in Italy and France, and the received wisdom is that, as well as being important races in their own right, they provide essential training for the upcoming Classics.
The statistics bear that out. The last ten winners of the Tour of Flanders have either ridden Paris-Nice or Tirreno-Adriatico, with the latter the most popular.
But, as has been well documented, Team Sky are trying something different this year. That's why none of their Classics specialists were in action at Paris-Nice or Tirreno. Geraint Thomas, Edvald Boasson Hagen, Ian Stannard, Bernhard Eisel and the rest are all on the island of Tenerife, sleeping at altitude, training mainly at sea level.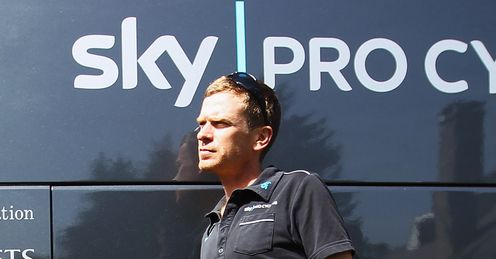 Two-week training camps on this island worked a treat for Bradley Wiggins last year. But Wiggins was preparing for the Tour de France, and what made Tenerife so suitable, as I understood it, was that it would provide the same long climbs and heat he would encounter in France in July.
Belgium in March is a different proposition. Yet Thomas, when I asked him at the Tour of Qatar, said the different weather was secondary to "committing to the programme," adding that Tim Kerrison, the team's head of performance support, has planned "training specific to the type of things you need for the Classics."
Paris-Nice and Tirreno-Adriatico provide essential training for the upcoming Classics. Team Sky are trying something different this year.
Richard Moore
Quotes of the week
It certainly seems true that racing does not necessarily provide the best preparation for racing. The weather enjoyed by the riders at Paris-Nice, for example, could be worse than Belgium in March, and five or six hours in the rain and cold could have harmful health implications.
Then there is the intensity. Last year, Rod Ellingworth felt that Mark Cavendish's preparation for Milan-San Remo was compromised by the long, relatively slow stages at Tirreno-Adriatico. This year's route is similar, Thursday's stage being a marathon 232km won by Matt Goss in a little under six hours.
It can be difficult to treat a race as training unless you are prepared to go on the attack every day, or deliberately spend large chunks of the stage riding in the wind. But to ride like this goes against every instinct. Racing is all about self-preservation; training is all about hard work.
Beneficial
This is why Kerrison has become convinced that training camps can be more beneficial than racing. "We realised, after our first year, how difficult it was for riders to train during the year," he explained. "We had this coaching team, but we didn't have a calendar or a programme that allowed us to get the best out of our coaches or riders.
"It is a real logistical challenge managing the rider/race programe," he continued. "There are a lot of races we have to race. But we've re-structured things, so that with our key riders, we've allowed a little bit less racing and rearranged racing to allow significant blocks of training within the season. Otherwise it's very easy to get trapped into a cycle of race, recover; race, recover. You find you have got to the end of season and you haven't actually done any training."
Still, Tenerife can seem an eccentric choice of location. Time will tell if it works. The big two Classics as far as Sky seem concerned are the Tour of Flanders and Paris-Roubaix. Neither is known for its lucky winners.
Comments (1)
Andrew Kenneally says...
Pity the riders don't all just race hard year round likesomeone like Kelly used to do, and then lets see the best man win. This ultra-scientific approach seems all a bit soulless.
Posted 20:41 14th March 2013