In the predictions for the Tour de France podium everybody seems to be tipping Alberto Contador, and why not?
The Spaniard's record is enviable - well, apart from his disqualification as winner of the 2010 Tour after a positive test. Other than that, he has always been there or thereabouts. And he is still only 30: he should be in his prime.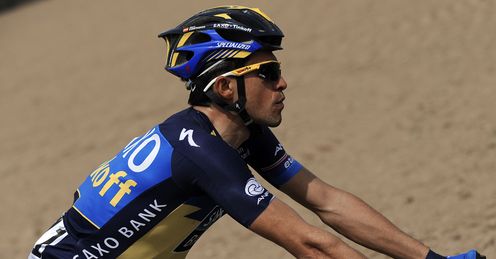 Yet on the basis of his form this season, Contador shouldn't be in contention. Arguably his best performance was at the Tour of Oman in February, where he finished second to Chris Froome, although as Froome said this week, that should be seen in perspective. Nobody was at 100 per cent there.
At the Critérium du Dauphiné last week, Contador seemed to have gone - and be going -backwards. The double Tour winner claimed he was suffering from allergies and said his form was at "75 per cent."
Contador was so disappointing at the Dauphine that you think something isn't right, or that he's calculating and it's part of his build-up to the Tour.
Sean Kelly
Quotes of the week
He hasn't got long to find the missing 25 per cent, but his Saxo Bank team, announced on Wednesday, is the strongest he has had for some time. Their intention is clear: to help Contador win.
Mystified
One man who is backing Contador is Sean Kelly, the retired Irishman. Kelly was in London last week for a lunch hosted by his employers, Eurosport, for whom he will once again be commentating at the Tour.
He said he was mystified by Contador's performance at the Dauphiné. "He was disappointing, so disappointing that you think something isn't right, or that he's calculating and it's part of his build-up to the Tour."
This seems to be the basis for most predictions of the podium, at least, for Contador - pedigree rather than current form.
Froome is the favourite, added Kelly: "He's been going all year at a high level. If Contador does come up and gets himself into really good shape, like he did at the Vuelta last year, and Froome is a little tired, then it could all change.
"If you look at the final week you have two really, really big mountain days, another hard mountain day, and a time trial. That's four big days."
Kelly's warning is not so much that Froome has peaked too early - a claim made about Bradley Wiggins' last year - but that Contador is in the foothills of his form and could improve as the Tour goes on.
Dilemma
Kelly was also keen to discuss the prospects of his countryman, Dan Martin, making his second appearance at the Tour after his impressive victory at Liege-Bastogne-Liege in April.
Great things are expected of Martin, who could lead the Garmin-Sharp team if Ryder Hesjedal doesn't fully recover from his recent crash at the Tour of Switzerland, but Kelly would love to see him aiming for a stage win rather than a high overall placing.
"I hope he doesn't start concentrating on the general classification because I don't think he's going to get a place where it's really going to be worth his while," said Kelly.
This is the classic dilemma for a rider like Martin, who might be capable of finishing in the top 10. But if he is in the upper reaches of the overall standings, his chances of winning a stage are diminished.
For Kelly, however, it isn't a dilemma: there is more value in a stage win than, say, eighth overall. "Definitely. If you're not in the top five, well, then a stage is much more valuable. If I was his manager I'd say, 'Lose some time on GC, take yourself out of that equation, and go for a stage.'"
It was the other Irishman, Nicolas Roche, who for the last few years has taken the other approach: aiming for GC in the Grand Tours at the cost of going for stage wins.
Kelly, Roche's godfather , always felt that was a mistake: "I disagreed with Nicolas and said it on air. Lose thirty minutes on GC and then you're freer to go for stages. Roche would have been better at going for stages because he's very aggressive when he gets into breaks."
But Roche won't be going for stages or GC this year. He has had a quiet season since moving to Saxo-Tinkoff, but he has been named in their team for the Tour, and his job will be straightforward: helping Contador as he bids to find that missing 25 per cent.
Comments (1)
Philip Willoughby says...
Roche might be free to go for stage wins: one of the ways for TST to try and hurt Sky on the rolling stages is to send a strong rider up the road in the break and force them to chase.
Posted 09:59 21st June 2013