Martin Tyler's stats and facts column is here!
Every week he will be here to offer you statistical gems to make your day, impress your mates and, on occasion, to settle the odd bet.
Sky Sports' voice of football and his back-up team of experts are here to answer your questions and queries on all things statistical and historical from the beautiful game.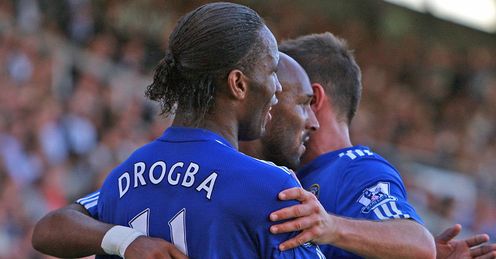 If you have spotted something from a game or have been stumped by a pub quiz question, simply email here and he will do his best to help.
Tyler's Starting Stat - Chelsea's great eight
We will never forget Stamford Bridge last Sunday where Chelsea recorded their biggest ever top division win, having surpassed the previous one from two weeks earlier! The 8-0 win over Wigan saw them become the first team since 1963 to score 100 goals in the top flight and broke their own Premier League record of 97 goals in a season.
Chelsea's 103 goals also beat their club record of 98 league goals in a season set in 1961 (when they finished 12th because they also conceded 100 goals). They also scored seven or more goals in four different games this season, the first side to do so in the English top flight since Arsenal in 1934-35.
Chelsea scored in 37 of their 38 Premier League games this season (their only blank was in the 0-0 draw at Birmingham). Only Arsenal in their double-winning season of 2002 have scored in all 38.
Chelsea also scored first in 28 of their 38 Premier League games, the most of any team this season, and at the average age of 29 they are oldest Premier League winners. Chelsea pensioners?
Frank Lampard made his 50th of the season against Wigan and that was the seventh time he's made 50 appearances in a season. That equalled the club record of Ron Harris, who was at the game on Sunday.
Meanwhile, Wigan took their goals conceded tally to 79 - which is the most any Premier League team has ever conceded without being relegated.
DOUBLE AND DIFFERENCE
Hi Martin. Four Chelsea players went into double figures in terms of League goals this season. Drogba - 29, Lampard - 22, Malouda - 12 and Anelka -11. Is this the most number of players doing this for a club in the same season? Also, is Chelsea 's goal difference of +71 the best ever? Best wishes, Lawrence Wee, Singapore
MARTIN SAYS: Good question Lawrence. Chelsea's goal difference of +71 is indeed the best in Premier League history - and by some distance. The previous best was +58, which was attained by Manchester United two seasons ago - and matched by them this season, despite the fact they finished as runners-up.
Highest Premier League goal difference:
| | | | |
| --- | --- | --- | --- |
| Season | Team | Goal difference | Final placing |
| 2009/10 | Chelsea | +71 | 1st |
| 2009/10 | Man Utd | +58 | 2nd |
| 2007/08 | Man Utd | +58 | 1st |
| 2004/05 | Chelsea | +57 | 1st |
| 2006/07 | Man Utd | +56 | 1st |
| 2004/05 | Arsenal | +51 | 2nd |
As for players in double figures in the Premier League era, only one season has seen a team match Chelsea's record of four double-figure scorers. That was the Manchester United side of 1995/96 when Eric Cantona, Andy Cole, Ryan Giggs and Paul Scholes all bagged 10 goals or more.
Teams with more than three players in double figures in Premier League era:
Season
Team
Players in double figures
2009/10
Chelsea
Drogba, Lampard, Malouda, Anelka
2008/09
Tottenham
Liverpool
Bent, Defoe, Keane
Torres, Gerrard, Kuyt
2007/08
Man Utd
Ronaldo, Tevez, Rooney
2006/07
Arsenal
Henry, van Persie, Gilberto
2005/06
Chelsea
Lampard, Drogba, Crespo
2004/05
Arsenal
Chelsea
Henry, Pires, Lujngberg
Lampard, Gudjohnsen, Drogba
2003/04
Chelsea
Lampard, Hasselbaink, Crespo
2002/03
Chelsea
Arsenal
Zola, Hasselbaink, Gudjohnsen
Henry, Pires, Wiltord
2001/02
Arsenal
Man Utd
Henry, Wiltord, Ljungberg
van Nistelrooy, Solskjaer, Beckham
2000/01
Chelsea
Hasselbaink, Poyet, Gudjohnsen
1999/00
Man Utd
Yorke, Cole, Solskjaer
1998/99
Chelsea
Man Utd
Zola, Poyet, Flo
Yorke, Cole, Solskjaer
1997/98
Arsenal
Bergkamp, Overmars, Wright
1996/97
No team
1995/96
Man Utd
Cantona, Cole, Giggs, Scholes
1994/95
Man Utd
Cole, Kanchelskis, Cantona
1993/94
Man Utd
Leeds
Cantona, Giggs, Hughes
Wallace, Deane, Speed
1992/93
Blackburn
Shearer, Newell, Gallacher
CLUB AND COUNTRY
Dear Martin. I seem to be having déjà vu. I am disappointed that my team Man United haven't won the league, but I am hoping that England can ease some of that pain by winning the World Cup. But I'm certain I've felt this before. Utd never seem to win the league in a World Cup year. How true is this? Cheers, Amardeep (Manchester United fan)
MARTIN SAYS: Your theory is almost correct... but not quite. Only one of United's 18 Premier League titles have fallen in a World Cup year, that being the 1994 tournament in the USA. In contrast, Liverpool and Arsenal have enjoyed four titles in World Cup seasons, while Chelsea have now done it twice - in 2006 and 2010.
English league winners in World Cup years:
2010: Chelsea
2006: Chelsea
2002: Arsenal
1998: Arsenal
1994: Manchester United
1990: Liverpool
1986: Liverpool
1982: Liverpool
1978: Nottingham Forest
1974: Leeds United
1970: Everton
1966: Liverpool
1962: Ipswich Town
1958: Wolverhampton Wanderers
1954: Wolverhampton Wanderers
1950: Portsmouth
1938: Arsenal
1934: Arsenal
1930: Sheffield Wednesday
TAKE OFF THE SPOT
Hello Martin, the race for the top scorer has been a highlight of the EPL season this year, but other than Didier Drogba all strikers in contention to win the golden boot award are also penalty takers of their respective teams. Can you please clarify what would the standings be if we exclude the goals scored by penalty kicks from the goal tally of the strikers. Thankyou. Taimur.
MARTIN SAYS: In fact, if you remove spot kicks, the Golden Boot list would change very little. The top four would remain the same, although Drogba's margin of victory would be far greater. Frank Lampard's 10 penalty goals would see him hit the worst, dropping from fifth in the scoring charts to ninth. The likes of Fernando Torres, Emmanuel Adebayor and Gabriel Agbonlahor - who have not scored a Premier League penalty between them this season - would move up the standings.
This season's Golden Boot list (without penalties included):
| | | |
| --- | --- | --- |
| Player | League goals | League Goals (without pens) |
| Didier Drogba | 29 | 28 |
| Wayne Rooney | 26 | 22 |
| Darren Bent | 24 | 19 |
| Carlos Tevez | 23 | 18 |
| Fernando Torres | 18 | 18 |
| Jermain Defoe | 18 | 17 |
| Emmanuel Adebayor | 14 | 14 |
| Gabriel Agbonlahor | 13 | 13 |
| Frank Lampard | 22 | 12 |
| Florent Malouda | 12 | 12 |
| Dimitar Berbatov | 12 | 12 |
LONG SHOTS
Hey Martin this is my first time writing to you. I really like your columns! After seeing Tom Huddlestone's stunner against Bolton, I was wondering which team has the most goals from outside the box in the League this season. Also I've noticed that there have been a lot of spectacular long shot goals this season. What is the highest amount of goals (in a season) that have been scored from outside the box in the Premier League ever? Looking forward to hear from you! Thanks! Dan Sippy, Manchester United Fan, Mumbai, India.
MARTIN SAYS: Another great question. The boys at Opta have been on the case and I can tell you that the top scorers from outside the box are Arsenal. Their 20 goals are twice as many as their nearest challengers Manchester City.
Goals from outside the box:
1. Arsenal (20)
2. Man City (10)
3. Chelsea, Fulham, Man Utd (9)
6. Aston Villa, Birmingham, Everton, Liverpool, Tottenham (8)
11. Hul City (7)
12. Blackburn, West Ham (6)
14. Wigan (5)
15. Bolton, Burnley, Sunderland
18. Portsmouth, Wolves
20. Stoke (2)
Opta have only been recording these stats since the 1999/2000 season, but in that time Arsenal now hold the record for most goals outside the area in one season, jointly with the Chelsea team of 2004/05.
Most goals from outside box in one season:
2004/05: Chelsea (20)
2009/10: Arsenal (20)
2006/07: Chelsea (18)
2004/05: Liverpool (17)
2005/06: Liverpool (17)
However, Arsenal are not the top long-range goal-getters in that period. That honour falls to Chelsea, shortly followed by Liverpool.
Most goals from outside box since 1999/00:
1. Chelsea (133)
2. Liverpool (129)
3. Arsenal (116)
4. Man Utd (113)
5. Aston Villa (105)
This season saw an increase in long-range goals compared to last season, with 138 in total. However, that is well below the Premier League record of 227 goals from outside the box in 2004/05:
Season by season goals from outside box:
Season 2009/2010: 138
Season 2008/2009: 124
Season 2007/2008: 155
Season 2006/2007: 152
Season 2005/2006: 207
Season 2004/2005: 227
Season 2003/2004: 226
Season 2002/2003: 125
Season 2001/2002: 122
Season 2000/2001: 133
Season 1999/2000: 147
BEATEN BY THE BEST
Hi Martin. Am I right in thinking that every team that has knocked Man. Utd out of the Champions League since they won it in 1999 has gone to win it? Jason
MARTIN SAYS: It doesn't happen every season, but it does happen quite often. In the nine seasons they have been knocked out of the Champions League in the noughties (we can exclude their victorious 2008 campaign), United lost to the eventual winners on five occasions.
Those were Real Madrid in 2000, Bayern Munich in 2001, Porto in 2004, AC Milan in 2007 and Barcelona in 2009. Bayern Munich will be hoping to make it six out of 10 a week on Saturday.
As you can see from the list below, in 2002 and 2005, they lost to the finalists - but not the winners.
2009: United lost to Barcelona (c) in final2008: United beat Chelsea in final
2007: United lost to AC Milan (c) in semi-finals
2006: United lost in group stages (Villarreal and Benfica through), Barcelona won tournament
2005: United lost to Milan in last 16, Milan lost to Liverpool in the final
2004: United lost to Porto (c) in last 16
2003: United lost to Real Madrid in quarter-finals, Milan beat Juventus in final
2002: United lost to Bayer Leverkusen in the semis, who lost to Real Madrid in the final
2001: United lost to Bayern Munich (c) in quarter-finals
2000: United lost to Real Madrid (c) in quarter-finals
ETO'O INTO THREE... DOES IT GO?
If Eto'o scores in the final against Bayern Munich will he become the first player to score in three separate Champions League Finals after scoring previously for Barca against Arsenal and Man Utd? Thanks, Russell
MARTIN SAYS: Yes, Russell, he would be. As you say Eto'o scored against Arsenal in 2006 and Manchester United in 2009. The only other player to have netted in two separate finals in the Champions League era is Raul, who did so against Valencia in 2000 and against Bayer Leverkusen in 2002.
There have been four players to score twice in the same Champions League final.
Daniele Massaro for AC Milan against Barcelona in 1994
Karl-Heinz Riedle for Borussia Dortmund against Juventus in 1997
Hernan Crespo for AC Milan against Liverpool in 2005
Filippo Inzaghi for AC Milan against Liverpool in 2007
Therefore a goal for Eto'o would also make him the leading scorer in Champions League finals.
However, even he has some way to go to match the European Cup record of Real Madrid legend Alfredo Di Stefano who scored in five European Cup finals - in back-to-back seasons from 1956 to 1961.
Tyler's Teaser
LAST WEEK
Last week we asked you to name the players to have won the Champions League in back-to-back seasons. They were:
Marcel Desailly (Marseille 1993 and AC Milan in 1994)
Paulo Sousa (Juventus 1996, Borussia Dortmund 1997)
NB. We did not include Gerard Pique (who won with Manchester United in 2008 and Barcelona in 2009) as Martin stated that he only wanted players who played in both games.
THIS WEEK
Can you name three players who have scored in the Championship Play-Off final to get into the Premier League and gone on to manage in the Premier League?
Send in your answers to Martin's question using the feedback form below - and don't forget to keep your own questions coming in...
Comments (21)
Kyle Duncan (Liverpool fan) says...
Hi Martin, always look forward to reading your column, always full of suprises. I was wondering with the season now over, who would the top ten goalscorers be in the league from open play?
Posted 12:52 18th May 2010
Danny Kirkwood (Manchester United fan) says...
In answer to the question re Vermaelens goals being a record, steve bruce scored alot of goals in several seasons for Man United, I remember him getting 19 in 90/91 before the premier league started but some were in Europe
Posted 12:49 18th May 2010
Abel sunday Sunday (Chelsea fan) says...
Excellent piece of column keep it up it is fantastic.
Posted 12:26 18th May 2010
Gavin Mcfarlane (Palermo fan) says...
Hello Martin, The 3 are Glenn Hoddle, Owen Coyle and Tony Mowbray
Posted 12:12 18th May 2010
Charlie Cave (Chelsea fan) says...
Hi Martin, who ever knoks chelsea out of the champions league either wins it or gets to the final dont they?
Posted 12:05 18th May 2010
Robert Taylor (Newcastle United fan) says...
The 3 players to score and then manage in the premiership are Glenn Hoddle for Swindon, Tony Mowbray for Ipswich, and Owen Coyle for Bolton
Posted 11:52 18th May 2010
Litha Nodada (Chelsea fan) says...
If David Villa goes to Barca and Drogba follows Murunhio, then please Luis Fabiano and Torres need to come to the Bridge! Simple
Posted 11:33 18th May 2010
Rama Viru (Chelsea fan) says...
have league champions and bottom club ever contested FA cup final?
Posted 06:44 18th May 2010
Mukhtar Shire (Arsenal fan) says...
Hey Martin. I really love your columns but never wrote to you! I live in Sweden and i saw Zlatan Ibrahimavic won his 7th tittle in a row with three different clubs which is big acheavement. Is there anyone else who did like wise? Cheers! MK
Posted 06:09 18th May 2010
Erik Kivimaki (Chelsea fan) says...
Dear Martin, Thanks for the weekly statistical gems! After seeing my boys in Blue do the double, I noticed that two other doubles have been completed. Inter Milan with Serie A and Coppa Italia, and Bayern Munich with the Bundesliga and DFB Cup. My question is, in past seasons, have there been more than three teams from the top European leagues doing the double or better in the same season? Do you see this year's trend of dominant teams in each league continuing or do you see a dilution of power? Cheers,
Posted 01:12 18th May 2010
Hi Why (Arsenal fan) says...
can any fans anwser my question: has any defender scored as much as vermaelen has with 7 goals.
Posted 19:19 17th May 2010
Lalalala Hi (Arsenal fan) says...
we won win title in premier league. with red white stripe we beat diver chelsea and cheat manchesr Unitde!!!!! hehehe
Posted 18:11 17th May 2010
Will Norman (Manchester United fan) says...
Dear Martin your answer to the question club and country is that Manchester United have won the league title during a world cup year. however is it true that Manchester United have never one the league title when England are in the world cup the same year? as in 1994 England did not qualify Thanks Will Soton
Posted 17:54 17th May 2010
Michael Henderson (Manchester United fan) says...
All the fuss about Lampards goals. A mediocre, ok moderate 12 goals from open play and 10 from penalties. Guess Chelsea got more penalties than any teams since the days of Francis Lee. Add in some dodgy offside decisions and you'd wonder if the Russian mob has the same influence on linesmen that it does on snooker pros.
Posted 12:07 17th May 2010
Luke Green (Chelsea fan) says...
I was wondering if you could tell me which English team has the best record at both Old and New Wembley. Chelsea as far as I recall have only been beaten once at New Wembley in a penalty shoot out against Manchester United in the community shield. And also, as us Woking fans are all too keen to mention we have never lost at Wembley on four visits, so I was wondering if you could provide some evidence and clarfication as to which teams perform best on the big occasions at Wembley.
Posted 23:05 16th May 2010
Eko Subagio (Chelsea fan) says...
great compilation of statistic, make us understand the historical team strength, 2006 & 2010, amazingly Chelsea won their league cup on the year of world cup
Posted 16:00 16th May 2010
Viresh N (Manchester United fan) says...
Hi Martin, Love your column. I thought I was the one of the few Man United fans who noticed the fact that theydo not win the title in a World Cup year, until I saw Amardeep's question. As you have mentioned this is not completely true. But I have my own theory - Manchester United do not win the title in a World Cup year that England has qualified for the World Cup - England did not qualify for the 1994 World Cup.
Posted 13:57 16th May 2010
S Kelly (Manchester United fan) says...
How many penalty's did Chelsea get this season in the League? A would it be a record EPL record?
Posted 23:13 15th May 2010
David Pick (Newcastle United fan) says...
I believe the answer to this teaser would be Glenn Hoddle, for Swindon Town in 92/93, Owen Coyle for Bolton in the 94/95 season and finally, Tony Mowbray in the 99/00 season.
Posted 17:13 14th May 2010
Colin Boucher (Bolton Wanderers fan) says...
Tylers Teaser Answer Glenn Hoddle (Swindon) managed Spurs, Southampton and Chelsea Owen Coyle (Bolton) managed Burnley and Boltojn Tony Mowbray (Ipswich) managed West Brom
Posted 15:38 14th May 2010