There's a good chance that I will have spent more days previewing the fourth test than actually watching it. That's if the first 33.5 overs are anything to go by. England supplied two hours and 45 minutes that Alfred Hitchcock would have been proud of.
My journey started on Monday. After interviewing Andy Flower, Marcus North and Jonathan Trott I cantered away from Birmingham. However, aside from meeting a few strangers on the train that were keen to talk to me about the forthcoming Test there wasn't much else that was note worthy about the trip. I confess I was dozing for most of it.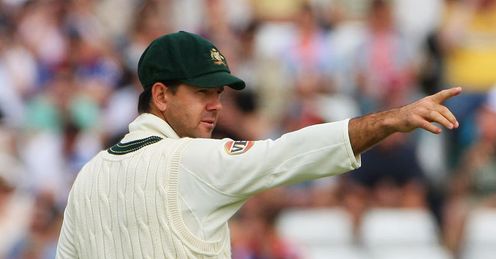 On arriving in Leeds, I went to reception and they said, "Oh hello Mr Saunders, how are you?" They had obviously made a mistake and confused me with someone else; there was only one response to that greeting, "I'm sorry you've got the wrong man!"
Experiments
Once it had been established who I was, it was time to head up to my room. It wasn't that spacious and unfortunately through the rear window all I could hear was the loud thud of music coming from one of the nearby clubs.
At one point I felt like a foreign correspondent in some dramatic foreign field, I could see so far, it was almost as if I could see France or even further, "Bon voyage and aventure Malgache!" I exclaimed.
Adam Leventhal
Quotes of the week
LIVE ON SKY SPORTS
England v Australia
Fourth npower Test
10am, Sat, Sky Sports 1 & HD1
On Tuesday, I was woken by the birds and thankfully they sung under the bright blue sky and sunshine of Leeds. The shoot that day included scientific experiments with beer, snakes, trumpets, flags and fans. There was a lot of focus on the boo's set to be given to Ricky Ponting, but I thought many of the articles about it were written by know it alls, who'd lost their grip on reality. One man who knew too much called it a disgrace, I disagreed, so did Ricky, he loved it.
That evening I was safely tucked up in bed, when I was woken by the fire alarm in the middle of the night. The lift was out of service, so in a frenzy I had to walk down the stairs, I counted them too. The 39 steps down weren't that hard to deal with, the alarm finishing as I got to the bottom was really annoying though. Unlike the England team's escapade the night before the match, there was no shadow of a doubt in my mind that it was the work of a saboteur.
When I returned to my room I couldn't get back to sleep, so I decided to choose one of the on-demand programmes that were available in my hotel room. The selection was in alphabetical order but I have to admit it was pretty thin, so with the remote I had to dial M for Murder She Wrote, it was the best on offer. The case of suspicion that Angela Lansbury had to solve centred on a rich and strange man who'd committed murder by using a champagne bottle.
Investigate
The next morning at breakfast there was nowhere to sit in the restaurant, so I was forced to share a table with Mr and Mrs Smith, a woman called Rebecca and a man who was enjoying a light meal of fruit salad and croissants introduced himself, "Hello, my name is Simon, Simon Cow". Strange name I thought, so I checked it with him "Cow, like the animal?" He was quick to correct me, "No! It's pronounced Co and most people call me Si instead of Simon, pleased to meet you."
Having dined with Si Cow, I made my way to the ground. First stop was to investigate the building work at the ground. The aim was to go up to the top of the scaffolding where the new pavilion was being built and onto the platform above the massive shroud that covered up the work. The covering featured four England players, Bopara, Strauss, Anderson and Broad alongside the words Roar for England.
On the way up with Simon Sutcliffe from the construction company my cameraman Jake piped up. "Are we going to have to go up any ladders, coz I suffer from vertigo?" He then went on to say something about cameras, insurance, health and safety and being allergic to rope, which I thought was a little bit cheeky. It may be that I appear young and innocent, but I know someone who is scared when I see them. Instead of using blackmail I let him off, putting pay to my initial ideas of having us being filmed from on top, so Jake stayed on the ground and whimpered with his camera down below.
After I'd done my piece to camera from 50 feet high I was able to pause for a moment, spellbound by the scene. At one point I felt like a foreign correspondent in some dramatic foreign field, I could see so far, it was almost as if I could see France or even further, "Bon voyage and aventure Malgache!" I exclaimed before making my way back down to ground level.
Measures
The second phase of my day saw me employ a secret agent to pose as Ricky Ponting in the town centre. His aim was to test the water for the Aussie captain ahead of the Headingley Test. He was expecting a hot reception from the notorious West Stand so we thought we'd see if, in fact, the people of Leeds were planning to give him a hard time.
Thankfully Steve Bone, who was helping us out on site, didn't get stage fright and performed very well. Everyone was keen to come up to him and either boo or cheer, one man even came up to get an autograph. The best moment came when a security guard who was working at the Jamaica Inn was running down the street aiming to catch a thief, but paused to shake him by the hand.
The morning of the match was obviously very busy indeed. Lawrence in the satellite truck had the first battle of the day trying to get a signal, he needed to position his dish in a specific position facing north by north west.
With Freddie not making it and Prior having a back spasm playing football (I'm not sure what side he was on, but I'm pretty sure it wasn't a skin game) there was talk of desperate measures being taken to get replacement players to the ground. Someone even mentioned calling a lifeboat to ship in cover.
It had been a hectic three and a half days, with plenty of plot twists, the perfect pre-amble to the horror show that was England's first innings. See how many Hitchcock titles you can spot. All the best.
Comments (3)
Peter Fletcher says...
Having played good club cricket all my life, I am amazed at the current poor quality of test batsmen in England. If you watch how they get out, they'd be lucky to be selected in a club team. There is lack of discipline, poor choice of strokes and an inability to know where their off stump is.The latest match they have been scoring at 4 or 5 an over and can't last beyond 2 1/2 days! Perhaps they need to reconsider what skills they need for test cricket.
Posted 15:30 9th August 2009
Chris G says...
What I don't understand is why the Aussies are playing better in England than England? A flat-out disgrace is what we've been subjected to by the old familiar non-performing English Cricketers. Bopara, Bell, and Collingwood have absolutely no business being on the International Team. If they were real men they'd all remove themselves from selection immediately following this 4th Test. No KP, no Freddie = no chance of even making a decent show of it. It is past time on a great number of these so-called cricketers and if management doesn't see it then need to be removed to!
Posted 18:23 8th August 2009
Jeff Walker says...
Repeating all four of these comments,now the second day and still we are bowling rubbish, half hearted fielding and with absolutely totally negative tactics continuing from the Captain ! Whom in my opinion, has now quite obviously shown his lack of cricket knowledge, putting men in positions AFTER the ball has gone through, no pressure put on hew batsmen, in fact I'd go as far to say Clueless... except for most of his batting, but looking at some of his daft shots well ??? Finally, we never learn do we ?... taking the mick out of Aussies is a very dangerous move, they will probably bat until lunch time on Sunday, declare and reduce us to an even bigger shambles by teatime on Sunday. There has to be changes and if all these tactics are coming under the instruction of the England Management then they should be removed too.
Posted 12:18 8th August 2009