There have been so many injections flying around the England cricket team during this Ashes series I'm surprised the outfield hasn't resembled some of the gory sets of the film Trainspotting.
Voodoo dolls have looked on enviously, some developing inferiority complexes as the likes of Kevin Pietersen, Andrew Flintoff and Matt Prior have all become pin cushions for their cause.
Now I'm aware of the criticism that has been banded about regarding the use of injections to get players through matches and the damage that could lead too later on in their careers, but that doesn't concern me. There is one gripe I have about the whole thing, after I bust my back playing cricket on the Sunday prior to the Oval Test why wasn't I offered one!
Omen
Just for the record, my Prior-esque back spasm occurred as I captained the South London Invitational Board XI (SLIB) to a draw down in Brighton against Patcham Priory.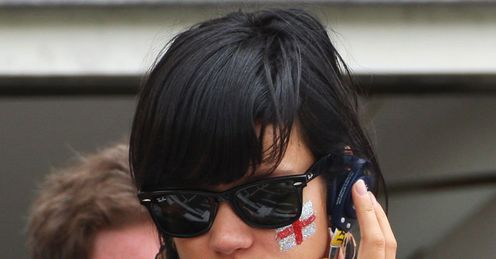 After that there was a similar level of interest in whether I was going to fit for the final Test as Andrew Flintoff's bid to get through his latest battle.
Just so you know, I managed to make it without the use of an ice pack or injections however there were quite a few prescription drugs and a lot of Deep Heat involved.
The morning of lives prior to the first day's play was a usual fun packed few hours. Before our first hit we saw a young fox run across the pitch (not a promo girl) which we felt was a good omen for England's debutant. Had to crowbar a pun (punions) of Fox-Trott in there didn't I! Later in the day I heard Bumble's new interpretation on his name, "Hopefully no-one goes down with a case of the Jonathans!" Very good.
It was quite fun going into a school for the first time in ages, there was a very interesting collage of Barack Obama and also a poster of one of Alfred Hitchcock's films.
Adam Leventhal
Quotes of the week
LIVE ON SKY SPORTS
England v Australia
Fifth npower Test
10am, Fri, Sky Sports 1 & HD1
We managed to fit in a lot between 7 and 11. We spoke to a Andy Lulham the bookie, Paul Newman the journalist, Lucy Verasamy the weather person, Warney and Athers the old pros, Billy the Trumpet and last but not least Bob the Willis.
The last interview took place on top of the Archbishop Tennyson School over the road from the Oval. That's where our base is for lives during the game. It was quite fun going into a school for the first time in ages, there was a very interesting collage of Barack Obama and also a poster of one of Alfred Hitchcock's films (see my previous blog).
During play there was mention of Lily Allen's presence at the ground. So, at tea I went off in search of her. Thankfully I tracked her down and managed to have a quick chat. She didn't go so far as to promise, but said if the game went to a fifth day she would speak to us. We'll find out if she is alright, still on Monday won't we.
Cake
Earlier in the day I'd asked some of my twitter friends to suggest topics for conversation in my blog. Honestly, I wasn't being lazy I just thought it would be nice to see what people wanted to hear about rather than me simply bleating at peeps about stuff they don't want to here. So here goes.
The first topic I would like to highlight is the fusion of cake and cricket. Obviously, everyone associates the munching of Victoria Sponges and such like with cricket commentary boxes of a bygone era.
The late, great Brian Johnson for example would always be talking about the latest delivery that would satisfy his sweet tooth. The tradition is still going strong, just last week at Trent Bridge I tucked into a perfect cream tea.
There are a fair few players that show that all is still well with the cricket cake bond too, in fact a couple of cricketers on the domestic circuit who have recently been in around the England team show you that!
Creative
The next one is slightly self indulgent, but that shouldn't come as any surprise. Now in previous blogs I have mentioned my enjoyment of tweeting all things twitter.
This has lead to a following of loyal people, some of which go the extra mile. Two deserve a mention in particular, Cecimasters who is the photoshop queen of the internet and is worth following to view her latest quirky creations. The other is HelenArmitt who has gone so far as to set up a facebook site that features quite a few of those altered images of me. Good work, I am humbled, although I suspect they think I'm a bit of a dufus!
Other topics that were suggested for discussion included cricketing haircuts, my favourite is Lasith Malinga's, in fact, once the series is over that is what I'll be sporting. Jimmynutmeg asked why England's batsmen have been so rash in their decision making, I think it's due to their nicknames not being creative enough meaning they can't express themselves properly.
The usual set-up is to add a Y to the end of the name like Belly or Swanny, rubbish! They should invent military call signs like White Wolf or Rainbow or Leather or something!
The final subject I want to mention is a genuinely cracking one that I want to put to skysports.com readers. Who should have played for England over the last 20 years but never made it? Now I don't want cheeky suggestions of rubbish players that have come and failed very quickly! Let me know your thoughts on this and anything else you have read.