You may be interested to know that an anagram of fifty overs is iffy voters. The future of the format is unlikely to be dealt with by a referendum but I'd be interested to know how many people would keep it, and if they did what innovations they would make.
Sachin Tendulkar wants to split it up into two innings of 25, others want it subbed down to 40, while some simply say, "Enough is enough lets just get rid of it altogether and leave it to Twenty20."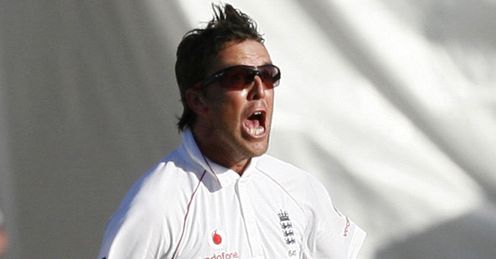 The ICC President, David Morgan, says the World Cup in 2015, which will be hosted jointly by New Zealand and Australia, will be a 50 over tournament, so he's not talking up change and is sticking to the future tours programme way of thinking.
Incidentally, if you're sick of hearing about the FTP (players reading this in particular) it won't surprise you that if you were to re-fix the letters, you'd get a performers gut tumour.
Interesting findings
There does seem to be a lot of time in the 50 over game where things don't move at the frenetic pace that grips Twenty20 audiences and in one of those periods I decided to mix my new found love of anagrams and the England batting line-up, here's what I found.
"Graeme Swann's new found fame means he's become a real fashion guru, a menswear nag, if you will."
Adam Leventhal
Quotes of the week
If you start at the top of the order you have the skipper Andrew Strauss, a man who plays better and swats surer than most at the moment. When he retires he'll now be able to chart his successes and at the top of the list he'll be able to proudly write in the column called awards sets: urn.
Next comes Ravi Bopara, who only just avoided a bravo pair in the Headingley test against Australia, but he hasn't looked all that confident of late. Ravinder has fallen from his sky high mantle of the meetings with the West Indies like a brave raindrop.
Hopefully he can kick on in the one day matches and ensure the Aussie fans don't continue their cruel jeer of "baron pad arrive!"
Keeper trouble
Matt Prior had been sweating on his place in the Test side for quite some time, so much so he'd be excused if he'd developed
armpit rot
.
However, the series he had means he now comes out to bat with such confidence he often breaks into a prim trot.
Owais Shah's challenge on Joe Denly meant he wasn't too popular with Kent supporters, a posse actually greeted him with a whoa hiss at Lords.
In all fairness he's more of a music fan than a footballer, 80's pop is a big thing for him, I think I once heard him say when some players were heading to his house for a music video evening "Aha shows I!"
Paul Collingwood almost found himself out in the cold after his latter performances with the bat in the Ashes, some were fearing he might be sent to far icey lands to furrow lonely with an unclad igloo plough.
Aside from being a battler, he's also an excellent fielder and one of his key tasks is ensuring player's forearms are kept strong, in particular the bones, which often shows the ulna cop goodwill.
Eoin Morgan is now an Englishman having taken a step away from the Irish team, he's keen to make a clean break. This was clearly seen in the pre-match warm-up when England played in Belfast recently, was he among Ire, no!
Luke Wright's power hitting has seen some cynical soles suggest that he's playing with an illegal bat. Apparently the official term for a bat that is too heavy is weight lurk, but I'm not sure, it looks alright to me.
Tim Bresnan has never suffered from a quick bowler's worst nightmare thankfully - that of arm bent sin.
Any suggestion of that is rubbish and there's proof, because on the beat in Yorkshire where he lives there are star bin men, who have watched him practising up against the wheelie receptacles in the area.
Stylish Swann
Graeme Swann's new found fame means he's become a real fashion guru, a
menswear nag
, if you will. Off the field, he's had a frustrating time though. As a Newcastle fan he's been eagerly waiting for
manager news
.
There was some suggestion that he'd mixed his love of music and football by trying to find out who was going to be the new leader of the team by speaking to raga newsmen.
Ryan Sidebottom recently went to the cinema in Nottingham hoping to see the latest Bourne film starring Matt Damon, but he obtained stormy news. There's an even bigger star in those parts now.
According to film critics in the area the flick has been re-made starring the nation's new pin-up, it's called the Broad Testimony. Ryan was so disappointed he left in huff, his car making bad tyre motions on the way out.
Last but not least there's a strange tale to tell about Jimmy Anderson and the reason he succeeded in the Ashes. His wicket taking exploits are thanks to a gift he was sent by a Pakistan great.
Recently a Lahore newspaper ran the headline Raja Sends Omen, and according to the report this trinket was sent to Anderson and kept in his jeans in the dressing room during the whole series.
Unfortunately, they were stolen by the Australians who want to keep hold of it for next time, one hopes it's the first and only time they've ransomed jeans!
Obviously, this is the world according to me, Adam Leventhal, aka a halved mental. It is an addiction: I love anagrams now (or adagrams!). If you sea what I mean send me the naval medal of honour!