It's my first blog and I've got a hole lot to tell you.
Adam, Adam, Adam, you've made a spelling mistake in your first line, that's terrible! Fret not good people, fret not, I do have a hole lot to tell you.
This blog is being written from the De Beers Diamond Oval in Kimberley, a ground in a town that has one big thing going for it, literally. "The Big Hole" is the centre piece of the old mining town and is quite breathtaking.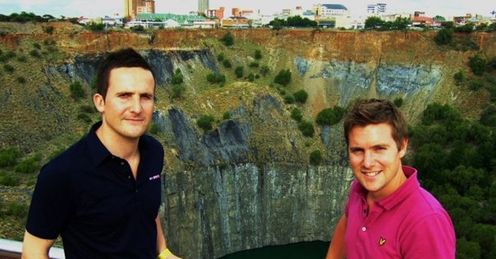 The depth of the giant crater is 214 metres to the water that sits at the bottom (it's deeper still beneath) and 1.6 kilometres around its perimeter.
There is part of me that wishes it had been created by a meteor or alien space ship that hit the earth, and believe me that's what it looks like, but even though that's not the case, its explanation is equally as astounding.
It was like being on an old western film set, there were tumble weeds and everything, one fittingly blew across my path after another lame pun-filled joke (but hey we'ed mustn't tumble!)
Adam Leventhal
Quotes of the week
LIVE ON SKY SPORTS
South Africa v England
First Twenty20
3.30pm, Fri, Sky Sports 1 & HD1
In 1871, hearing news of Kimberley's diamond rich earth, thousands upon thousands of thirsty prospectors flocked here to get their carats worth.
They didn't just nibble away for a few weeks, they dug and dug and dug, for over 40 years. Now I'm not an expert in diamonds, my girlfriend can testify to that, but over that period they drew almost 3,000 kilograms of the precious stone out of the ground.
That sounds quite good, but not when you hear how much earth they had to shift! Unbelievably, they moved over 22 million tonnes of earth, and this was mainly excavated using hammers and picks.
Now I don't want to be picky myself but I do wish to make one point; I'm sure the recorded amount of diamond mined isn't as much as there actually was, I'm sure there was a few little bits snuck into shoes and behind ears for safe keeping.
Celebrating
As you can see above there is a picture of Kimberley's big hole. Jamie Downer is the other fellow in the picture, he's the cameraman that I've worked with on a number of tours.
In 2007 we were in Sri Lanka and last year India. Actually, it was almost a year ago that we were enjoying my birthday in Rajkot (the dry no alcohol city), never mind!
This year, for my 30th, we'll be in Johannesburg, however there's the first Twenty20 International against South Africa that day, so there won't be much celebrating this year either.
As part of the Kimberley experience, there was also the chance to walk around some of the old buildings that remain around the hole.
It was like being on an old western film set, there were tumble weeds and everything, one fittingly blew across my path after another lame pun-filled joke (but hey we'ed mustn't tumble!)
Jamie and I also decided to pose on one of the original trams that was tucked away on one of the vintage streets. There is no rhyme nor reason why we posed as we did, I do apologise. Jamie named the photo on a famous social networking site, "the campest trammers in town!"
Whinge
Just a little whinge before I go if you don't mind. What would you say is one of the chief tasks of someone that is charged with getting you from A to B?
I'll give you a clue, it's getting you from A to B.
This is also supposed to happen without taking a detour via the majority of the other letters of the alphabet. Unfortunately, our driver in South Africa so far has managed to take some of the most creative routes I have ever known.
Now, you may say that I shouldn't be complaining and wouldn't have a clue how to get around South Africa on my own, however, I beg to differ.
In fact, I can guarantee that I would be able to get people from A to B in a quicker and more efficient manner than our driver. Let me give you a couple of examples of some of our best routes to date.
After England's first warm-up victory against the Diamond Eagles in Bloemfontein we finished at 11.30pm and were keen to get home and to bed.
Instead of taking the tried and tested route of turn right at the corner and driving up the road for five minutes, we were taken on a "short-cut" which turned into a scenic midnight tour of Free State University with all its mini roundabouts and speed bumps.
In a charming twist we also visited one of its most pretty little dead ends. The journey took 30 minutes and was quite astounding.
However, it was trumped on our travel day to Kimberley. Not only did we have to drive for an hour without air-conditioning with the sun beating down on the cramped car due to the fact that our driver had forgotten to put enough petrol in, we also did something that I have never done before in my entire career, missed an interview.
Our hotel was a couple of yards away from where we were due to meet Eoin Morgan, yet we managed to go on a 45 minute panoramic journey of Kimberley.
We just about made it to training where we caught up with Morgan thankfully, but since then I have started to save my rand so I can buy our misguided companion a Tom Tom or Sat Nav!
Positive
There is a positive note to finish on though. Eoin Morgan managed to produce one of the most inspired bits of interview answering I have ever known on Saturday.
Unbeknownst to him we had been filming at the big hole with a view to linking it to the potential hole that Stuart Broad would leave in England's squad if his shoulder injury proved long term.
Having been asked a question about Broad's absence he only went and said this: "There's no doubt that no Broady will leave a big hole in the side".
Thanks pal, I am Eoin you one!