After a pair of emotionally exhausting matches to decide the NFC and AFC Championships, we can all relax a bit and watch this year's most fun game, the Pro Bowl, live from Hawaii.
And while we don't expect the playing teams to exactly stop, say "Aloha" to each other and then swap flowered necklaces in the lines of scrimmage, we're also not expecting the sort of tackling that made us shudder at Soldier Field and Heinz Field on Sunday.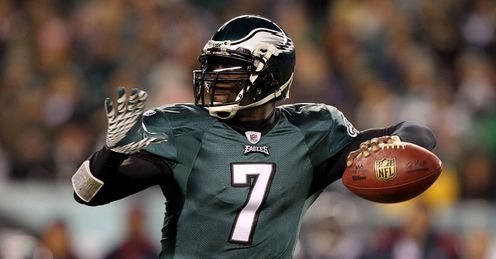 The Pro Bowl is all about figuring out who have been the best players this season - so Alex Ferguson identifies his top 10 players of the year, regardless of position (so if there are three quarterbacks, please don't send in long notes of derision...)
1. Michael Vick (Philadelphia)
The great thing about American sports is that they love nothing more than a redemption story. Michael Vick was just that story. Doing his talking on the field, Vick was pretty much the old Vick, scorching defences for nine touchdowns and 676 yards on the floor and 3,000 yards through the air. And everyone was pretty happy for him when he got nominated for the Pro Bowl, too.
If there's been one player other than Aaron Rodgers that you should be talking about on the Green Bay Packers, it should be Clay Matthews.
Alex Ferguson
Quotes of the week
2. Jamaal Charles (Kansas City)
At the start of the season, the Kansas City Chiefs weren't exactly the first team to pop into our heads when we thought about play-off contenders. But a terrible Denver and a dispute-diseased Chargers team helped Kansas City win the division. Arguably, they wouldn't have been able to do it without an excellent running back, and Charles was that guy, rushing for 1,467 yards and five touchdowns - giving him two straight seasons of more than 1,000 yards.
3. Tom Brady (New England)
Brady was simply exceptional this season. Arguably, he did it for most of the season without his biggest weapon in Randy Moss, yet Bill Belichick's tactics of short yardage passing and yards after the catch absolutely roasted defences throughout the regular season. Brady was exceptional, throwing for nearly 4,000 yards and producing the league's best passer rating - by a mile - of 111.8. The scary thing? This Pats team is young, and good.
4. Troy Polamalu (Pittsburgh)
Last year, Polamalu was injured and the Steelers failed to make it to the play-offs, losing their dignity in the process by losing to the Cleveland Browns. This year, they smashed the Browns, won their division and will be playing for a Super Bowl title. He grabbed seven interceptions as the most exciting safety in the league, and frightened the hell out of opposing quarterbacks.
5. Clay Matthews (Green Bay)
If there's been one player other than Aaron Rodgers that you should be talking about on the Green Bay Packers, it should be Clay Matthews, who wasn't even considered to be good enough for a scholarship at the University of Southern California and yet walked onto the team and is now a bona fide NFL defensive superstar. Supplying 13.5 sacks, 60 tackles and an interception that went back for a touchdown, Matthews has been the heart and soul of the Packers defence, and is a good reason why they are playing for the Super Bowl, too.
6. Matt Schaub / Arian Foster (Houston)
From the gaudy numbers that both Arian Foster (No.1 in the league in rushing and touchdowns) and Matt Schaub (4,370 yards passing, fourth in the league) put up, it's obvious that Houston's problem this season was not offensively. Foster and Schaub both ticked excellently, frightening the heck out of opposition defences. Sadly, their defence couldn't stop the pass (dead last) or the point (29th), and the Texans efforts for a postseason spot fell - but not without a fight.
7. Brandon Lloyd (Denver)
If hell could have a slice of heaven, then Brandon Lloyd was a slice of it for the Denver Broncos. An outcast for the first eight years of his career, Lloyd was a wide receiving journeyman (Denver was his fourth club in eight years), with his mouth getting him into trouble in Washington and injury ruining his careers in Chicago and San Francisco. This season, Lloyd remained injury free, and put up nearly 1,500 yards receiving and 11 touchdowns. With Tim Tebow due to take over the huddle in September, the future for Denver - who had a horrific season - is bright.
8. Sam Bradford (St Louis)
We know how much Peyton Manning means to you. We know that maybe 'Big Ben's' leadership of the Steelers should make the list. But Sam Bradford? This was a guy who a year ago was very injured after a literally crippling year at Oklahoma. He overcame the critics - including yours truly - to post a fantastic season, leading the Rams to within spitting distance of the play-offs after a string of seasons where 'futile' would nicely sum them up. And he's learning too - which should bode well for the fans under the arch.
9. Matt Ryan (Atlanta)
This year the Atlanta Falcons surprised the world by winning the NFC South and scoring themselves the best record in the NFC. Of course, it meant nothing when they were destroyed at home by the Green Bay Packers, but for a glittering moment, the 'Dirty Birds' looked like favourites to get to the Super Bowl. Ryan was no small part of it, throwing for 3,700 yards and 28 touchdowns, while being one of the league's best in not throwing interceptions (9). The guy's a leader, and if the Falcons can improve their defence, then don't rule out a ring in the near future.
10. Tamba Hali (Kansas City)
This season saw a marked improvement in the Chiefs, and while we can praise now-departed offensive co-ordinator Charlie Weis, quarterback Matt Cassel and running back Jamaal Charles, we've got to give some love to the Chiefs 'D', too. Hali was a mainstay of the other side of the line of scrimmage, justifying his first round pick in 2006 with 14 ½ sacks. We might see him fall down in the sacks department next year (because he'll be double-teamed), but this year - when he was voted as a Pro Bowl starter - has been a halcyon one.
Comments (1)
Mark Wilson says...
I think some good choices there, interesting picks in Hali and Bradford. Think Peyton was close to being up there, what with such a banged up receivers corp and little to no running game he had to shoulder even more of the responsibility compared to normal, which is ridiculously high anyway. Vick at number 1, does this mean you think he should be the MVP?
Posted 12:23 29th January 2011