While the NFL and NBA continue to lock their players out of their locker rooms, Major League Baseball does not have that sort of problem - and suddenly the league is flourishing.
Almost every division are three-horse races for the title, and I'm stunned to say former National League jokes Pittsburgh and Washington have winning records.
However, the best story of the year goes to the Cleveland Indians, who are currently winning the American League Central despite being widely tipped to end up being cellar dwellers.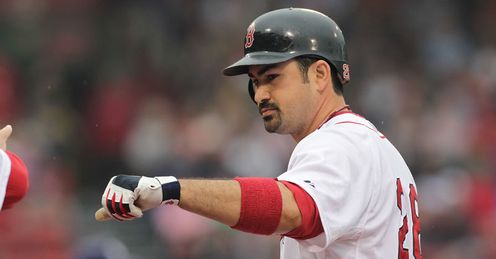 Here are my American and National League All-Star teams for the first half of the season...
FIRST BASEMAN
AL: Adrian Gonzalez (Boston Red Sox) - .348 Batting Average, 16 Home Runs, 75 RBI
NL: Lance Berkman (St Louis Cardinals) - .294, 23 HR, 62 RBI.
Gonzalez's antics have already made him a firm fan favourite with the Fenway Park hordes, but Berkman has been an absolute revelation, coming off a 2010 backburner to put a certain Mr Pujols in the shadows while keeping the Cards in first place in a highly-competitive NL Central.
Jose Bautista is an absolute monster, polling tops in the All-Star votes - hammering 28 home runs and frightening every pitcher in baseball.
Alex Ferguson
Quotes of the week
SECOND BASEMAN
AL: Robinson Cano (New York Yankees) .295, 14 HR, 55 RBI
NL: Neil Walker (Pittsburgh Pirates) .258, 8 HR, 55 RBI
Cano's got the sweetest swing in baseball, and he's got the most RBIs amongst second basemen in the league. However, Walker has been key to the Pirates rejuvenation - including being fantastic on the road. He has 55 RBIs and 44 Runs to his name.
THIRD BASEMEN
AL: Jose Bautista (Toronto Blue Jays) .331, 28 HR, 58 RBI
NL: Aramis Ramirez (Chicago Cubs) .295, 13 HR, 46 RBI
Jose Bautista is an absolute monster, polling tops in the All-Star votes - hammering 28 home runs and frightening every pitcher in baseball. Chicago's Aramis Ramirez because he's about the only thing worth watching on yet another poor Cubbies side.
SHORTSTOP
AL: Jhonny Peralta (Detroit Tigers) .314, 14 HR, 49 RBI
NL: Jose Reyes (New York Mets) .354, 3 HR, 32 RBI, 30 Stolen Bases.
It would be nice to put Derek Jeter on this list, but he's been underperforming and injured during the first half of the year. However Reyes, his counterpart at the New York Mets, has been absolutely incredible all season long (he hits and steals bases for fun). Peralta has been excellent for the Tigers, who are continuing to look good in their battle for an American League baseball.
OUTFIELDERS
AL
Curtis Granderson (New York Yankees) (.278, 25 HR, 62 RBI)
Jacoby Ellsbury (Boston Red Sox) (.306, 9 HR, 42 RBI, 27 SB)
Brennan Boesch (Detroit Tigers) (.307, 12 HR, 40 RBI)
NL
Matt Kemp (Los Angeles Dodgers) (.325, 22 HR, 64 RBI, 24 SB)
Ryan Braun (Milwaukee Brewers) (.320, 16 HR, 62 RBI, 19 SB)
Hunter Pence (Houston Astros) (.327, 10 HR, 57 RBI, 109 Hits)
Ellsbury leads all AL outfielders in hits and he's also grabbed 27 bases, and he's useful defensively, while Boesch has been one of the Tigers' standout players. However, Granderson has been absolutely sensational - and is the main reason why the Yankees are winning the exceptionally competitive AL Central.
As for the National League, the Millwaukee Brewers are going to really miss Braun if his strained calf muscle is as bad as it looks, while Pence is one of the best batters in the league. If only his team was as good. And as for Matt Kemp? If only the Dodgers head office - which is an ongoing saga containing divorce and bankruptcy and is now controlled by Major League Baseball - was as strong.