If anyone had told you before the start of the season that Buffalo, Washington and Detroit had started the year 2-0 and Indianapolis had started the year 0-2, you'd probably have called the men in white coats to take them away.
Well, it's true. Alex Ferguson has his feeling about Week Two of the season in an article that might well include the words "Lions", "Bills" and "Skins", somewhere in it...
Who you should be feeling good about
BUFFALO BILLS
After going down a score late in the game to Oakland, we didn't think the Bills would come back. Sure, it was Oakland, but this was Buffalo. Anyway, the Bills did, winning out - and now they are 2-0. We're not quite yelling about play-offs quite yet, bearing in mind they've still got their entire division to play, but it's a good news story so far. Luck was with them, too - the last-second battle in the end-zone was ruled an interception rather than a touchdown.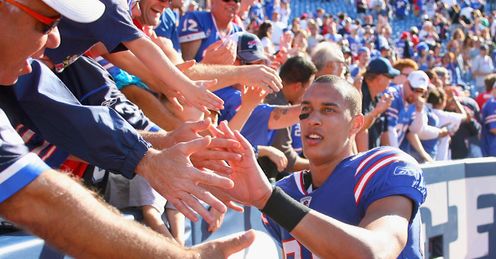 DETROIT LIONS
The Lions didn't just beat Kansas City. They absolutely DESTROYED them at Ford Field on Sunday. With the offensive weapons that Detroit has (as well as Ndamukong Suh on defense), this team could frighten a few teams. We hope.
CAROLINA PANTHERS
It's hard to be impressed with a 0-2 start, but Carolina's Cameron Newton has got everyone happy in Charlotte. The former college football star and first round pick threw for his second straight 400 yard game... but still lost. Now, how about some defense?
ATLANTA FALCONS
A 10-point comeback against the Philadelphia Eagles has got everyone in the ATL smiling again. The Falcons will need to improve their defense, though - especially when they are facing the Saints.
WASHINGTON REDSKINS
That's right! The 'Skins are 2-0! They managed to beat Arizona 22-21 in a cracker. Quarterback Rex Grossman managed to throw for 291 yards too, which means he's probably not as awful as we all expected.
TENNESSEE TITANS
After Baltimore roasted Pittsburgh on Week One, we can't say we expected the Titans to not only beat them, but beat them through the air with a cast-off quarterback. But Matt Hasselbeck's 358-yard, 1TD performance was a real difference-maker, and suddenly things are happier in Nashville, the home of melancholic music.
DALLAS COWBOYS
The Cowboys injury list is going to be longer than their starting list soon. While Dallas still won at San Francisco, the win came with nothing but stretchers. Get this: Tony Romo played with a partially punctured lung, Felix Jones with a leg brace, Jason Witten with a broken rib, and Miles Austin with a hamstring injury. That's an A-List full of injuries, folks. And despite that, they won.
Who you should be feeling bad about
PHILADELPHIA EAGLES
Although Michael Vick's early exit from the Eagles 35-31 loss at Atlanta will probably be given as a reason, the Eagles' defense was poor enough to give up a 10-point lead - including 14 in the fourth quarter alone. Things will have to improve.
CINCINNATI BENGALS
Things are awful for the Bengals right now, and are likely to be until owner Mike Brown is out of the organisation. There you go, we've said it!
BALTIMORE RAVENS
The match-up against the Titans was always going to be a bit of a 'hangover game' for the Ravens, with Baltimore getting hurt through the air rather than on the ground, despite facing Chris Johnson. Not a good day.
SEATTLE SEAHAWKS
Coming up against Pittsburgh as your Week Two opponent on the road after the Steelers had just been hammered by their biggest rival the Sunday before probably wasn't ever going to turn out well, was it?
MIAMI DOLPHINS
Jason Taylor said this about the team after they lost a second straight home game: "If you can't fix them, you go to replace them. I'm not advocating anybody losing their jobs or anything, but this is a very serious business, and this costs people jobs and livelihoods and whatnot. It needs to be taken seriously, and I'm not sure we all understand the magnitude of what we're trying to do here, and what's at stake. If you can't get it, then get out of the way. We'll get somebody else that will." If they lose to Cleveland next week, then Rome - or South Beach - might burn.