Right before baseball gets into the drive for the World Series, NASCAR has just kicked off one of its own.
It was meant to launch in front of a packed first week of the season that saw the Chase for the Sprint Cup launch on the same day of an NFL Sunday, but rain kept it back for one day. Tony Stewart won the first race of the season, with Kevin Harvick finishing second and Dale Earnhardt finishing third.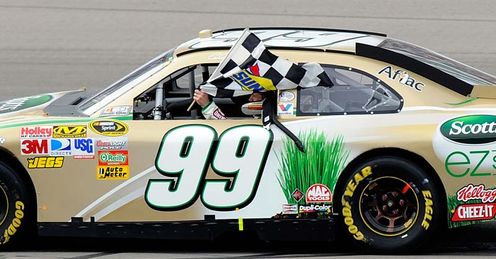 There were unlucky riders: Denny Hamlin, Kyle Busch and Jeff Gordon all ran out of gas, seriously damaging their title hopes for the rest of the way.
And if you want a good recap of the race, make sure you check out Sky Sports' highlights show the day after the race. It's always worth watching.
Anyway, Alex Ferguson looks at the Chase runners and riders, and asks: Who's going to win the 2011 title?
THE FAVOURITES
Kevin Harvick (Richard Childress Racing)
Edwards' fourth-place at Chicago helped him, and we're expecting him to be there or thereabouts by the race finale.
Alex Ferguson
Quotes of the week
Currently leading the way, and he's a good driver, too. Harvick won four times during the season and has been the pick of the veteran drivers (Brad Keselowski's your 'one to watch' for the future, folks!). He's also seven points ahead of the competition.
Tony Stewart (Stewart-Haas Racing)
Stewart climbed the fences after his first win of the season in Chicago and he's got two wins at New Hampshire, the next track on the list. Competitors should be worried.
Carl Edwards (Roush Racing)
Edwards' backflip out of the car to celebrate a victory is perhaps the coolest celebration in sports alongside Nani's gymnastic efforts and his driving's pretty good, too. Edwards' fourth-place at Chicago helped him, and we're expecting him to be there or thereabouts by the race finale at Homestead on November 20th.
THE PEOPLE'S FAVOURITE
Dale Earnhardt Jr (Hendrick Motorsports)
'Junior', the Manchester United of NASCAR in terms of popularity (although not in terms of winning a lot), had a great - if fortuitous - finish at Chicagoland (he had some gas in his tank while a lot of others didn't). He's feeling good for New Hampshire, where he stopped in 15th last time around. Earnhardt could do with another top finish (is it asking too much for a victory?) this time around. A consistent time this time around - and it could be celebration time for the 88 car.
BROTHERS IN CARS
Kurt Busch (Penske Racing)/Kyle Busch (Joe Gibbs Racing)
The Busch brothers' fortunes wavered at Chicagoland. He had a sixth place finish that leaves him to fourth in the standings, while Kyle Busch ran out of gas right at the end and gave his race and championship hopes a complete beating. Which is a bummer for Kyle, who's been by far and away the better driver this year. But that's the play-offs, isn't it?
THE YOUNG GUN
Brad Keselowski (Penske Racing)
In only his second few season, Keselowski has got tongues wagging in NASCAR. He's won three races and qualified for the Chase with an aggressive style that's loved in the stands. Oh, and it helps that he's also the protégée of one Dale Earnhardt Jr, too. He's a dark horse to do even more damage this year - particularly at Talladega.
'FIVE TIME AND EIGHTY-FIVE TIME'
Jimmie Johnson (Hendrick Motorsports)/ Jeff Gordon (Hendrick Motorsports)
Jimmie Johnson has won the last FIVE Championships, with the last one coming down to the wire against Denny Hamlin (as opposed to the other four cakewalks). This season - with the new points rules - are going to make things even closer this year. He's got experience of doing well at the rest of the tracks on the list, and he's only 16 points behind Harvick. Things are going to be tougher for Jeff Gordon, who notched his 85th victory this season. However, his 24th finish may have hurt this chances this year.
THE STEADY AND THE ROCKET
Matt Kenseth (Roush Racing)/ Ryan Newman (Stewart-Haas Racing)
After interviewing Kenseth for Sky Sports.com, it's fairly obvious that nothing particularly fazes him. He's from Wisconsin, where the winters make a cold day in Glasgow seem like Miami in July. Kenseth again had problems at Chicagoland, while Newman's eighth position puts him in the reckoning. Would be a miracle if Kenseth wins, though.
IT'S ALREADY TURNING UGLY FOR...
Denny Hamlin (Joe Gibbs Racing)
The unfortunate matter of running out of petrol really hurt the hopes of Gordon and Hamlin - the latter whom was a fan favourite for taking home victory in the Chase before the season started. Gordon finished 24th and Hamlin finished 31st. And both players looked utterly miserable after the race. It wasn't their fault, after all.
PREDICTION: Edwards wins his first title, and the rest of NASCAR backflips. Jimmie Johnson's dominance ends... for one season, anyway!