It was meant to be such a glorious weekend for motorsport.
Sebastian Vettel capped his back-to-back Formula One Championships with a victory in Korea. Carl Edwards, NASCAR's friendliest driver, padded his lead in NASCAR's Chase for the Sprint Cup with a hard-fought third place finish at Charlotte - helped along by five-time winner Jimmie Johnson's crash in the final laps. And the Izod IndyCar Series was coming to a climax, with Dario Franchitti and Will Power battling it out for the title, with Power just 18 points behind the Scot.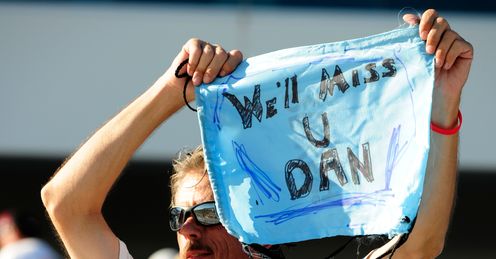 And then there was Dan Wheldon. With a special sponsor's exemption, he started at the back of the starting grid and was told that he'd get a cool $2.5m if he won the race from that position, with another $2.5m going to a race fan. And up to 12 laps in, he was doing quite well in his aim of getting to the front.
Then, it happened.
"I'll tell you, I've never seen anything like it," said IndyCar driver Ryan Briscoe, who drove in the race but was thankfully unhurt. "The debris we all had to drive through the lap later, it looked like a war scene from Terminator or something. I mean, there were just pieces of metal and car on fire in the middle of the track with no car attached to it and just debris everywhere. So it was scary, and your first thoughts are hoping that no one is hurt because there's just stuff everywhere. Crazy."
The fact of the matter is that nothing will make motorsport 100 per cent safe apart from banning motor racing - something that should and never will happen. People are going to get injured in this sport of speed, and sad to say, more people might go on to lose their lives. We can but hope it never happens again. Rest in peace, Dan Wheldon.
Alex Ferguson
Quotes of the week
DAN WHELDON - A TRIBUTE
We will be paying tribute to Dan in a special show
10.00pm, Thurs, Sky Sports HD2
Then, after two agonising hours, the commentators used the words we didn't ever want to hear again, painfully echoing what NASCAR chief Mike Helton said following the death of Dale Earnhardt in 2001: "We've lost Dan Wheldon".
I cried.
As a reporter, I only started following Wheldon's career after he won his first Indy 500 in 2005. And it wasn't because he'd beaten out Danica Patrick, either. It was because a day after the race, with the press caring instead to focus on Danica Patrick, he unearthed a T-Shirt saying: "Actually won the Indy 500".
If I'm honest, I would have loved to see Dan Wheldon run - and beat - my favourite drivers in NASCAR. 'Can you imagine how great it would be to have a British Daytona 500 winner?' I said to myself. We can but dream.
It's sad to say that one of the sport's better-known drivers didn't have the financial backing going into the 2011 season, thanks to his team, Panther, opting to drop him and replace him with young driver JR Hildebrand (who he later beat to the 2011 Indy 500 title).
But that made Wheldon's Indy 500 victory all the sweeter. It was the kind of victory films are written about, where the person without the ride or the hope comes home to claim sweet, sweet victory in front of hundreds of thousands of people, and then a day after the race, kisses the bricks with his two year-old son in celebration.
And ironically enough, he had just signed a contract to drive for Michael Andretti's GoDaddy team in 2012 on Sunday morning.
Touching
After his death was announced, there was a celebration befitting a friend to many in the paddock and racer. The drivers did a five-lap tribute to Wheldon. No hard racing, just driving together to the sound of Amazing Grace and the clapping of the fans that remained at the speedway. Of course, we'd all have rather that it had never happened, but it was touching nonetheless.
And there were tributes around the world on Twitter. Here are just some of them:
NASCAR star Denny Hamlin: "Life shouldn't be one of those things. We lost a great driver in motorsports and he will not be forgotten. Rest in peace."
Co-driver Marco Andretti: "I looked up to you both as a racing driver and a person/friend. You will be forever missed".
Will Power (who was injured in the crash): "Such a sad day... to lose a champion like Dan Wheldon...my thoughts and prayers are with Susie and his kids".
The saddest Twitter tribute might be from IndyCar fan Matt Healey who said: "Can't stop crying over what's happened to Dan Wheldon. Watched him over the years and like many was ecstatic when he won at Indy".
And Dario Franchitti, who clinched the title in the cruelest of fashions said: "One minute you're joking around at driver intros. The next, Dan's gone. I lost, we lost, a good friend. Everybody in the IndyCar series considered him a friend. He was such a good guy. He was a charmer."
Concerned
Of course, questions will be asked about IndyCar safety. Some will ask whether the speeds that the cars generate - around 220mph - can be reduced. NASCAR has done so with its restrictor plates to stop cars getting airborne - can IndyCar? Some will blame the track and the banking and the fact that it was way, way too quick. One writer noted that the drivers were concerned the speeds they were getting up to at the track were nearing 225mph. Scary.
"We all had a bad feeling about this place in particular just because of the high banking and how easy it was to go flat. And if you give us the opportunity, we are drivers and we try to go to the front. We race each other hard because that's what we do," driver Oriol Servia told ESPN. "We knew it could happen, but it's just really sad."
But probably the best thing that's come out of anyone's mouth was from Wheldon's former boss Chip Ganassi as all the media start to play the 'blame game': "There'll be plenty of time in the off-season to talk about that. Now is not the time to talk about that."
The fact of the matter is that nothing will make motorsport 100 per cent safe apart from banning motor racing - something that should and never will happen. People are going to get injured in this sport of speed, and sad to say, more people might go on to lose their lives. We can but hope it never happens again.
Rest in peace, Dan Wheldon.
Comments (2)
Steve Pugh says...
It was a very sad day indeed. I came home just in time to watch the race live and I would just like to say that it must have been tremendously hard for Keith Heuwen to continue his duties as the programme presenter knowing that Dan had died before it could be officially announced on skys coverage. It was heart wrenching to hear his co presenters sobbing in the background while Keith was paying his repects. It is a tribute to the man as a professional presenter as well as good all round guy. I would be very grateful if he and his fellow colleagues where made aware of my post as it was very fitting in such a sad time. I did also notice that the following day all sky sports news presenters wore black in respect which again I think is a credit to your organisation
Posted 21:28 18th October 2011
Robert Wyatt says...
another great driver has lost his life doing what he loved doing. speed is not the only cause of the tragic outcome, you have to look at the type of track. on an oval when there is an accident you hit a concrete wall which puts you back into the path of following cars. on a road course you have run off areas and gravel traps to slow/stop you before you hit the barriers, also the speeds on a road circuit are lower because the cars have to brake and accelerate. one other thing is that in order to allow overtaking indy cars run a different kind of front wing/nose compared with f1 which leads to closer racing.I agree withChip Ganassi it dosn't need a knee jerk reaction but a proper and informed reaction to what has happend. my thoughts to his wife and family and friends. RIP DAN.
Posted 09:42 18th October 2011