This writer hit the new heights of predictions gloom after predicting that Green Bay and New Orleans would roll to NFC Play-Off wins (they didn't).
Although Baltimore and New England rescued us, it's not going to be easy to pick the winners of the Championship Games.
Alex Ferguson has more.....
AFC: Baltimore Ravens vs New England Patriots
Future Hall of Fame safety Ed Reed tried to give his quarterback Joe Flacco some reverse psychology by saying that the youngster wasn't able to deal with Houston's defensive front and it only stirred media controversy.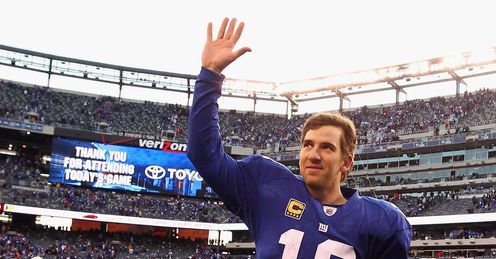 If we're honest, Reed should have shut up and spent the time he had gassing to the US radio on concentrating on how to stop Tom Brady and tight end Rob Gronkowski, who have as a pair been tearing every defense in the nation a new one.
In the play-off game against Denver, Brady & Co were almost perfect, taking the Broncos defense to school for 45 points.
LIVE ON SKY SPORTS
AFC Conference Championship
Baltimore @ New England
7.30pm, Sun, Sky Sports HD2
NFC Conference Championship
NY Giants @ San Francisco
11.15pm, Sun, Sky Sports HD2
We're hoping Bill Belichick uses Chad Ochocinco in the Baltimore game, since 'Ocho' hasn't really been a presence this season and he's got the speed to be the forgotten game-changer. Mind you, why change when you can just get the ball to Gronkowski or Wes Welker and rip apart a secondary?
And although we're waxing lyrical about New England's offense, we'd like to make something clear: Brady has rarely looked good against Baltimore's defense and managed to avoid them this season, too.
That's good, since Baltimore is third in the country in points given up, third in yards, fourth in pass yards and second in rush yards.
Ray Lewis and Terrell Suggs will give Brady and his offensive linesmen all they can handle, and don't be too surprised if Brady spends some time on the floor. And don't be too surprised if during the game one of the Ravens is hit with a taunting penalty and after the game a fine. After all, they like to talk.
On the offensive side, we envisage Ray Rice getting a lot of the ball (another way to stop Brady is to not give him the ball) and running it down New England's throat.
Flacco will be called on to throw to Anquan Boldin and Lee Evans - especially if New England goes up by two touchdowns early and the Ravens have to come out of their, er, nest.
PREDICTION: Busted Birds. New England by seven
NFC: New York Giants vs San Francisco 49ers
A guy called Chris called us from New York begging us to pick against his Giants, as we had done practically all season long. According to his logic, our picking had helped the Giants get to the NFC Championship Game.
You had to excuse us, though. With the Giants' injury list, they should have been starring in the YouTube video "No Hope Left" (if you haven't seen it, check it out!). In fact, they shouldn't been here. But we were wrong, Chris, and we're so, so sorry. Well Chris, we'll admit it: We were wrong.
We were wrong when we thought that Eli Manning couldn't produce again and again like has done. We were wrong when we thought that a beaten-up Giants defense could stop Aaron Rodgers and the Green Bay Packers. They did.
Anyway, Eli Manning will be comforted to know that his trip to a raucous Candlestick Park is another game in a line of difficult trips. The defense that he'll face is one of the best in the league, and if he thinks that Ahmad Bradshaw can run on them, then he'd better work with Tom Coughlin on changing the Giants gameplan.
This team gave up 77 yards rushing per game in the regular season. If you compare Eli Manning to San Francisco 49ers quarterback Alex Smith, then it's obvious that Manning's the better quarterback.
But Smith helped the 49ers create the comeback of comebacks against the New Orleans Saints in last week's play-off game, hitting tight end Vernon Davis with just 10 seconds left in a play that will forever known as "The Grab".
Oh, and the Giants had also be able to think about their running defense, which ranked 19th in the nation. They face Frank Gore, who's been one of the league's best running backs over the years - and was no different in his brilliance this year.
This game's going to go to the wire - and who could not be excited about it?
PREDICTION: 49ers over Giants by six