The actions of New York Knicks player Jeremy Lin has got tongues wagging in America.
But is he that good?
Writing a day after Lin's 13 assists in the Knicks win over Sacramento (their seventh in a row), Sky Sports writer Alex Ferguson says that there are other factors that have helped America's new sensation...
Jeremy Lin is not Jesus. He's not Superman, Hulk Hogan, or Jason Bourne. He's not Neo, and he's not the right answer to 'Inception'. And he's certainly not Tim Tebow.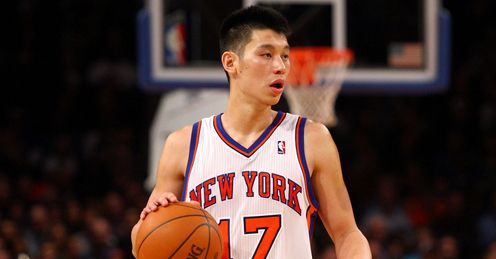 He's on the cover of Sports Illustrated right now, competing with the Sports Illustrated Swimsuit Issue for a place in people's hearts and wallets. We're not going to tell you which we'd go for.
He's just a basketball player who's come from nowhere (that's the bench) to lead the New York Knicks to a seven-game winning streak, which includes a victory over Kobe Bryant, Jack Nicholson and the Los Angeles Lakers. And Knicks fans, after being let down so much in the past by over-paid rubbish, are smiling.
If Lin can pull out the stops against Dallas, in Miami, Boston, Chicago Atlanta and Philadelphia, then we'll truly say he's the saviour of New York Knicks basketball. And be happy about it. But right now, he's a very happy victim of desperate circumstances.
Alex Ferguson
Quotes of the week
Why? Before Lin actually got a start, the Knicks were 8-15 and weren't even going to make the play-offs - despite having a team on paper that should have been good enough to show up every day of the week. You suddenly couldn't give away tickets to Madison Square Garden, and even Spike Lee was finding it difficult getting friends to sit through two hours of Knicks hell (actually, we don't know that, but you get what we're saying!!).
Lin himself - and let's not forget this - was a bit-part player in the Knicks season, spending most of the season gaining more splinters than minutes. In the 94-87 loss to Houston on January 28 he spent his most time on the court (20 minutes) before his star exploded, he was fairly dreadful, scoring nine points and committing three turnovers. He was nearly cut.
But then beleaguered Knicks coach Mike D'Antoni did something before the New Jersey Nets game of February 8 that may well have been seen as One Of The Best Coaching Moves Of The Century. He started Jeremy Lin. He came to life, ripping the Nets for 25 points in a 99-92 win.
After ripping Washington and Utah for 28 and 23 points respectively afterwards, lips started to move fervently. Would this be the biggest Asian story in the NBA since Yao Ming? Would this be the biggest Asian-American sports story since Tiger Woods? And for Knicks fans (for whom colour or race does not matter - it's all about the winning), would this be the Second Coming of Patrick Ewing?
We would know on February 10 when the Lakers came into the Garden. For the critics, this game was going to be easy: Kobe Bryant was going to score 950, and everyone would stop talking about Lin forever. But they didn't. Lin outdueled Bryant, putting up 38 points in a surprising 92-85 Knicks victory, and the rollercoaster was already set in its ways.
The Run then continued with 20 points in the win over Minnesota when it became known that Lin's 136 points in his first career starts had eclipsed the five career starts of three Hall of Famers - Michael Jordan, Allen Iverson and Shaquille O'Neal. So that's Lin in the Hall of Fame, then.
But the Lin-Sanity hit all levels at Toronto, when the Show (after a 20 point game against Minnesota) rolled into town for a match-up, and Lin hit three-pointer with 0.5 seconds left to get New York out of jail, and Knick victory from the jaws of defeat - a 180-degree turn from their usual foibles.
Celebrity
Lin's celebrity has been helped by a lot of factors.
First of all, there's always a need for a saviour when it comes to New York basketball, which has been starved since the days of Patrick Ewing. The arrivals of Amar'e Stoudemire and Carmelo Anthony got everyone excited, but the injury to Anthony and dreadful defensive play crushed hopes almost as quickly.
Almost as quickly as the New York media were building the Knicks up they were pulling them down, and screaming for the head of their coach. After all in New York City, if you don't succeed the City That Never Sleeps will suffocate you. Then came Lin, and suddenly D'Antoni is looking like a master yet again.
There's also another thing that's helped Lin and the Knicks: the soft schedule. The Lakers are the only team in this Lin-tastic streak who's any good this year, and one of two teams (the other being the Utah Jazz) who are in contention for the play-offs.
Doesn't this remind you of a certain Tim Tebow, who was built up by just about everybody during the Broncos improbable streak of victories against ABSOLUTELY NOBODY until he came face-to-face with the New England Patriots at Mile High during the regular season, where he was destroyed by a frankly better team?
If Lin can pull out the stops against Dallas, in Miami, Boston, Chicago Atlanta and Philadelphia, then we'll truly say he's the saviour of New York Knicks basketball. And be happy about it. But right now, he's a very happy victim of desperate circumstances.
Listen, we know Jeremy's a good player. We've had a look at some of his games (thanks, internet!), and he's deadly from three points and he's very hard to guard indeed, but is he truly as great at the Knicks - and the US media is making out?
Because if he loses - and doubtless he will (unless the Knicks become absolutely unbeatable overnight) - how will he respond to the pressure of the legions of journalists and commentators out there just waiting to say: "I told you so"?