It's not usual that you can use the pun "NASCAR fans revving up for the new season", but after the last one we had, it's definitely the case.
Tony Stewart came from deep into the pack to win the last race of the season at Homestead and take home the NASCAR title, dethroning five-time champion Jimmie Johnson in the process.
Carl Edwards was the horse beaten at the final hurdle, but he's rebounded nicely, taking poll in the first qualifying lap for this year's Daytona 500.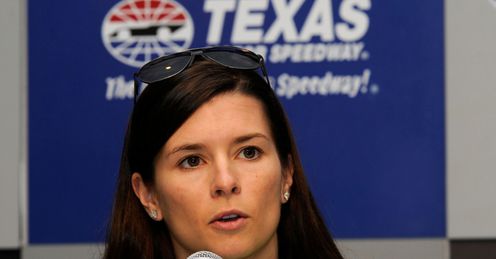 With great finishes aplenty, the comparative success of one Dale Earnhardt Jr (who was competitive throughout the season, which helped TV ratings a lot), and a change in the points system which made drivers more aggressive than they had been in recent years plus NASCAR's willingness to let drivers bash each other for position (something that they'd frowned on for years), NASCAR's on a high.
Logic would dictate that rookies - especially those coming from open-wheel- usually don't because they aren't used to the tracks, but when NASCAR's involved, logic can go out of the window.
Alex Ferguson
Quotes of the week
To say the least, the 2012 season promises a lot. But will it deliver?
NASCAR enthusiast and skysports.com columnist Alex Ferguson asks that question and more...
1. What will be the 'Danica Patrick' effect?
Danica Patrick's decision to drive for Tony Stewart and drive a full schedule for Stewart-Haas racing is a good one for both sides.
For Stewart-Haas, it's a winner simply because of the influx of sponsorship dollars (website GoDaddy.com will be the main sponsor), the PR, and the spotlight. She'll be the most talked about thing in NASCAR for the first weeks - and imagine what might happen if she wins in her first season.
But there's another side to the Danica Patrick effect - the female market. IndyCar certainly saw an increase in female fans with the arrival of Patrick, and Patrick would certainly NASCAR open up their sport to a new market - something it has struggled to do in the past despite having female drivers in the Nationwide and Craftsman Truck Series, NASCAR's lesser series.
The bigger question is can Danica Patrick win? That's an open question. Logic would dictate that rookies - especially those coming from open-wheel- usually don't because they aren't used to the tracks, but when NASCAR's involved, logic can go out of the window.
2. Can Jimmie Johnson get title No.6?
Quite simply, yes. 'Five-Time', as he's known by his fellow drivers had an off-year in 2011, finishing sixth in what was a very poor season for Hendrick Motorsports' best driver.
Johnson's thirsty to get back on the podium, and if he gets a bit of luck, then God help us all. Johnson's good enough on the one-and-a-half mile tracks - which are NASCAR's bread and butter - that if he's consistent on those ones, everyone had better look out for him.
And if he doesn't, then God help Chad Knaus, his crew chief.
3. Can Kurt Busch silence the critics?
The final race of the Sprint Cup season - and the off-season - wasn't great for Kurt Busch. After being slammed out of the Homestead Race, Busch had a screaming fit at the cameras, which turned into about 30 seconds of bleeping.
Anyway, he was summarily fired by Penske, his team, and suddenly it looked as if the former champion wouldn't get a ride. Well, Phoenix Racing jumped in and Busch has a full-season ride.
In 2012, the only thing that Busch should do - even if he doesn't challenge - is become 100% media-friendly - even if he gets wrecked by other drivers repeatedly.
That's going to be difficult for Busch, who's not exactly known for his good temperament.
4. Can Kyle Busch or Carl Edwards finally win it all?
Both Kyle Busch and Carl Edwards have been two of NASCAR's most successful drivers for years, and this might just be the best rivalry in NASCAR.
Busch's M&Ms car had 19 wins in over the last four years, while Edwards has had 12. Combined they've won tens of millions of dollars.
But one thing has escaped both drivers: The Sprint Cup title.
While the talent and drive (in both senses of the word!) are both unquestionably there, Busch needs consistency in the last 12 races of the Chase while Edwards simply needs a bit of luck.
Busch already has a win under his cap in the Bud Shoot-Out at Daytona last Saturday (he could quite easily have wrecked the thing!).
Let the rivalry continue...
5. Will Dale Earnhardt Jr win..... at last?
Things have gotten so bad that there's a website called over88ted out there, savaging Junior and the fact that he gets all the attention from fans, the TV and sponsors and hasn't won anything.
His poor luck at Charlotte when he ran out of gas at the final lap when leading made sure that the streak will be 129 come Daytona, and people are crossing their fingers.
We predict he'll win a race this year, but only one. Would one be enough for NASCAR fans?
So... can things get any better?
Now that TV ratings are improving, a better employment market for America will lead to more improved sponsorship of cars, which can only be good for NASCAR.
Right now, sponsorship isn't great for the medium-sized teams and that needs for it to change so things are even more open and exciting.
Oh, and it wouldn't help if Earnhardt Jr started to win. Sure, the No.88's been competitive, but if he starts winning the sport's ratings will improve on the back of it.
So who's going to win it all?
We're going to throw it out there and say that Kyle Busch is going to rebound from a poor 2011 (he finished 2011 after wrecking a lot in The Chase races) and win the title.
But don't go to Sky Bet on it....