I say it once, and I'll say it again: Peyton Manning is no longer an Indianapolis Colt.
The quarterback who passed for 54,828 yards and 399 Touchdowns in just 128 games - and pretty much built a franchise that was on its knees before he arrived - is out the door in Indianapolis.
Colts owner Jim Irsay decided that $28m was too much a price to pay for a prized quarterback in 2012, considering that the No.1 overall pick was in his possession (and the feeling was that he's going to pick up Stanford's Andrew Luck or Baylor's Robert Griffin III in the deal). The deal would have cost Irsay $51m - just on quarterbacks alone.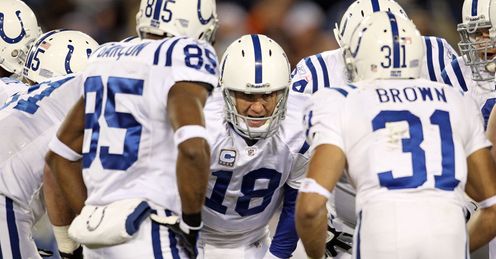 There's also the fact that Manning couldn't exactly be relied upon for a full season. After all, he missed 2011 with neck surgery, and although the reports out of Duke University last week - where Manning was practising with former University of Tennessee offensive co-ordinator (and now Duke head coach) David Cutcliffe - were that the No.18 was throwing the ball 'strongly', no-one knows how the neck would hold up when crunched by a Terrell Suggs, Tambi Hali or Troy Polamalu.
The Indianapolis Colts are going to have to pray that Andrew Luck - or maybe Robert Griffin - is going to get on with the like of Reggie Wayne, Manning's long-time wide receiver and friend.
Alex Ferguson
Quotes of the week
Whether anyone likes to say it or not, it would be a big reason not to keep him.
We know that this is a game of poker. The Indianapolis Colts are going to have to pray that Andrew Luck - or maybe Robert Griffin - is going to get on with the like of Reggie Wayne, Manning's long-time wide receiver and friend. The Colts might well need a running game to go with this - something that they've really lacked since the departure of Edgerrin James - just in case Luck doesn't do Peyton-like numbers in his first season. And Luck's going to also have to deal with the Ghost of No.18, whose jersey he is going to see thousands of times a Sunday when he walks on the turf. Oh, and Luck's going to be compared to him, too!
As for Manning, here are the four teams that everyone's talking about him going to:
Washington Redskins
Why? They haven't had a great quarterback since - and sorry if we're going to get shot down by Brad Johnson/Mark Brunell/Jason Campbell fans - Mark Rypien took the Capital's team to the Super Bowl in 1991 (Rypien subsequently imploded after that). Daniel Snyder is desperate for Washington to be back on the media's agenda again, and is more than desperate for a win.
Imagine: Manning comes in, and suddenly the NFC East has two Mannings and one Michael Vick. They'd been walking in a quarterbacks wonderland. Manning hits tight end extraordinaire Fred Davis for hundreds of yards, and the Redskins are back in the play-offs, while little Elis and little Michaels the world over cry. Washington returns to football relevancy, and Daniel Snyder - for the first time in years - finds himself acclaimed by the US media, instead of getting slaughtered.
The burning question: Would Manning move to the NFC East to play for his brother's biggest rival?
Seattle Seahawks
Why? They haven't had a good quarterback since Matt Hasselbeck in 2006. And the NFC West's ripe for anyone to take it.
The scenario: Someone like Manning - especially in a NFC West that's - to put it politely- hasn't been historically strong for a while - would invigorate the passing game, helping Pete Carroll give a duel threat with Marshawn Lynch running the ball down people's throats. It would also mean that Manning had less amount of times throwing, which might end up with less injuries.
Oh, and with the NFC West's defensive records (which - apart from the 49ers - has been absolutely abysmal), Manning would put Seattle in prized spot for a division shot.
The burning question: Would it help the 'Manning brand' if he went to a city that's better known for Starbucks and Microsoft than it is football?
New York Jets
Why? The Jets aren't too happy with the performance of quarterback Mark Sanchez after missing out on a play-off place this season, and Rex Ryan probably needs someone like Manning to fulfil his Super Bowl guarantee.
The scenario: Imagine, if you will, both Manning playing under media hubbub of New York City. You'd need two massive billboards in Times Square for the day that the Jets and Giants teed off against each other at the MetLife Stadium. Oh, and any owner would see his financial investment paid off almost immediately in sponsorship influx and shirt sales.
The burning question: Do they really want to get rid of Mark Sanchez? As much as people want to blame the 'Sanchize' for the ruinous state of the Jets last year, when they collapsed from near play-off position to pony in a matter of weeks, the Jets' defence was as awful as it comes. Sanchez shouldn't be shelved after a few seasons - even if Manning was coming in.
And more's the case, would Manning like to play in the same town as his brothers?
Arizona Cardinals
Why? We love you John Skelton, but Arizona's hasn't had a good QB since Kurt Warner retired, and the Kevin Kolb thing was just one big injured mess in 2011.
The scenario: Imagine what it would be like see Peyton Manning throw to Larry Fitzgerald week in, week out. And after you stop doing that, go and give your favourite defensive co-ordinator a hug. He'll need the comfort. Man-Larry takes the Cardinals to the top of the NFC West, and they go on to play in the Super Bowl.
The burning question: The Cardinals have a ton of defensive frailties, and would the ownership be willing to part with boatloads of cash that could be better spent on players that could tackle?
Miami Dolphins
Why? The Dolphins haven't had a good quarterback since Dan Marino. Heck, they haven't been competitive since Dan Marino (that bit harsh, 'Fins fans?)
Imagine: LeBron, Dwayne Wade, and now Peyton Manning. Could you want anymore fun on South Beach if you were a sportsfan? Seriously though, Manning would give the Sun Life stadium fans new life, and make them quickly competitive in AFC East. And AFC fans, you'd get to see Manning vs Brady twice a year, which is no bad thing.
The burning question: Do the Dolphins have the receiving talent for Manning? And are the fans going to be patient if he starts slowly. After all, Miami's full of emigrated New Yorkers, and we all know what they can be like....
...Or maybe Manning could just go and be a college coach...