It's April, and that means that in NFL terms, you can forget about your worries and your strife and concentrate on the big bad jungle that is the NFL Draft.
The draft is a must for all Lions, Bears and 30 other sets of supporters waiting for their hero - although much concentration is going to be on the top draft pick, which will be one of Andrew Luck or Robert Griffin III.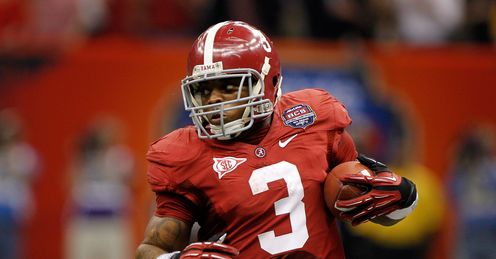 And if we're honest, it's probable that there won't be a lot of suspense at the end of the month - there's speculation that they will have signed pre-draft agreements, meaning that we'll know whether one's a Colt and one's a Redskin.
What's actually going to make it interesting is that Drew Brees, the quarterback of the New Orleans Saints, hasn't signed his franchise agreement. Could the Saints really do something mad this season by off-loading a clearly unhappy Brees in exchange for a wealth of draft picks (This, of course, is tabloid speculation)?
I'll be there to take you through the best players at their position on the offensive side of the ball...
QUARTERBACK
Andrew Luck (Stanford)/ Robert Griffin III (Baylor)
This is the only position in the draft where both men are the top players at their position.. Griffin III probably meant more to his Baylor Bears than Luck did to Stanford - hence why he won the Heisman Award, the College Football Best Player Oscar. Both players had fantastic seasons, and will make great quarterbacks.
Who else?
Brandon Weeden (Oklahoma State) is a far better quarterback than the much-touted Texas A&M's Ryan Tannehill, in our opinion. More mature, a better arm, and a big reason why Oklahoma State was in the race for the National Championship right until the end. The travesty will be that Tannehill gets drafted higher, and in a few years time, it'll be a case of "Should have got Weeden".
RUNNING BACK
Trent Richardson (Alabama)
The guy's a human bowling ball - and when defences tried to stop him, they went down like skittles (seriously, it was funny at times). Richardson was key in Alabama's 2011-2 Championship year, running the ball down the gut of some of the best defences in the country and coming out with 24 touchdowns and 1,679 yards rushing. He's going to be a talisman for whoever picks him up - expect him in the top five.
Who else?
Some people have dismissed LaMichael James (Oregon) as being too short, but his lightning speed is going to rip some defences apart. Also consider Lamar Miller (Miami) or David Wilson (Virginia Tech), who will also be workhorses.
WIDE RECEIVER
Justin Blackmon (Oklahoma State)
Quite simply the best wide receiver in college football in 2011, making brilliant catch after brilliant catch - even when he was in double coverage. He caught for over 1,500 yards and 18 touchdowns this season - and we'll go as far as saying he's better than the man he replaced at Oklahoma State, one Dez Bryant (who's playing for the Dallas Cowboys and is great, by the way).
Who else?
Kendall Wright (Baylor) was Robert Griffin III's best receiver in a barnstorming year for the Bears. He will worry defences. Also look at Michael Floyd (Notre Dame), who has been excellent for the Fighting Irish and was always a threat with hands and feet. Reuben Randle (LSU) and Alshon Jeffrey (South Carolina) also caused problems for SEC secondaries all last year, too.
TIGHT END
Colby Fleener (Stanford)
He blocked enough for Andrew Luck to throw for a ton of yards last year, but received enough from Andrew Luck to put himself on the dais as one of college football's best tight ends. He's another Heath Miller.
Who else?
Orson Charles (Georgia) was one of the go-to receivers at the University of Georgia, and could have been the top or second best TE in the draft had it not been for a disappointing combine and getting arrested for a DUI. If he behaves himself, he'll be quite the NFL weapon.
OFFENSIVE LINE
Matt Kalil (Southern California)
Tackle Kalil has been tremendous throughout his university career, as QBs Mark Sanchez and 2013 number one NFL Draft pick Matt Barclay will testify. Projected by some to go as high as number three in the draft behind Luck and Griffin. If your QB needs a good blocker, then this is the man to do it.
Who else?
Offensive tackle Reilly Reiff (Iowa) and guard David DeCastro (Stanford) have both been mentioned as first-rounders. QBs are definitely needing more protection.