The NFL Draft is coming, and I've already put out a piece about the best offensive players in the NFL Draft.
Just a quick note: watch out for Alabama's Trent Richardson - a supporter of any of the teams who pick him up should be overjoyed and immediately go for the champagne. If the supporter of any of teams that have got Ryan Tannehill, then they should be upset. (Although if you're Miami, you're simply waiting for Matt Barclay in the 2013 NFL Draft, aren't you?)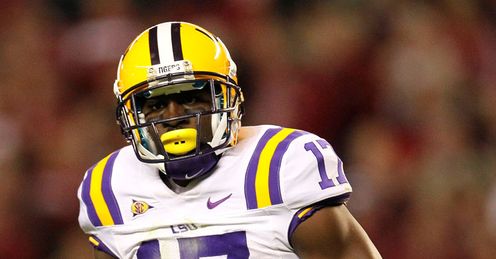 Anyway, there are some supreme playmakers on the other side of the ball - and don't worry, they don't ALL come from college football's best conference, the SEC.
I'm going to help you navigate the best defensive players in the draft, so you can sit and loudly say "I've been saying he's been for years" as soon as a player gets picked.
CORNERBACK
Morris Claiborne (LSU)
Every fan will be hoping for the next Derrelle Revis when they grab a player for the secondary, and Claiborne could potentially be as good. It doesn't matter that Claiborne had a poor Wonderlic test, his on-the-field intelligence and instincts are like Einstein.
Worth noting
Janoris Jenkins (North Alabama) Jenkins, whose own stupidity forced him out of Florida and to North Alabama, is still an incredible cornerback. The worry is his off-the-field issues. As a Pittsburgh Steelers fan, this writer is hoping Jenkins drops to the end of the first round! Dre' Kirkpatrick (Alabama) is also worth watching out for.
SAFETY
Mark Barron (Alabama)
Barron was fearsome for the Crimson Tide this year, grabbing 68 tackles, a sack and two interceptions. A part of Nick Saban's NFL-style defence for years, Barron's going to make hay come pro-time.
Worth noting
Harrison Smith (Notre Dame) and Markelle Martin (Oklahoma State) have both been mentioned, but we think Antonio Allen (South Carolina) is also going to be one of the sleeper safeties in the draft.
DEFENSIVE END
Melvin Ingram (South Carolina)
Ingram was a fantastic pass-rusher with the Gamecocks, and his ten sacks have already made him a Top-ten pick. He's young, and his size frightened many in college football. He'll frighten many more during his pro career, too.
Worth noting
Courtney Upshaw (Alabama) and Quinton Coples (North Carolina) are also projected to be first round picks. Don't be stunned if Upshaw gets picked above Ingram, simply because of his outstanding play with the Crimson Tide.
DEFENSIVE TACKLE
Devon Still (Penn State)
Still is versatile and was a leader on a Penn State team that really needed one at the end of last season. He rampaged offensive lines throughout his career at Penn State, and has been discussed as a first rounder all the way through the year. Although he's fallen off thanks to the performance of others in the NFL Combine, we still think he's the best DT prospect out there. And he is coached by one of the best defensive co-ordinators in college football, Tom Bradley.
Worth noting
Michael Brockers (LSU), Fletcher Cox (Mississipi State) and Dontari Poe (Memphis) have all been mentioned as big-time prospects. Offensive linesman, unite and take cover.
LINEBACKER
Luke Keuchly (Boston College)
Shone in a Boston College team that never really got off the ground in 2012. Set tackles record for both BC and in his conference, the ACC. Will frighten offenses with his explosiveness.
Worth noting
Dont'a Hightower (Alabama) Another member of this sensational Alabama, National Championship-winning defence. Capable of dominating offenses - his 85 tackles, four sacks, one interception and three passes batted away for the 2011 season would indicate that, wouldn't they? Also look for Vontaze Burflict (Arizona State), who is - on his day - capable of brilliance. Would fit in well with Terrell Suggs at Baltimore.