Anyone familiar with US sports should not have been stunned when they heard that Liverpool had fired their director of football, Damien Comolli.
Although the timing - just before the club's FA Cup semi-final against Merseyside rivals Everton at Wembley - may have been a little strange, Reds owner John Henry probably thought that the time was now, and so he had to go.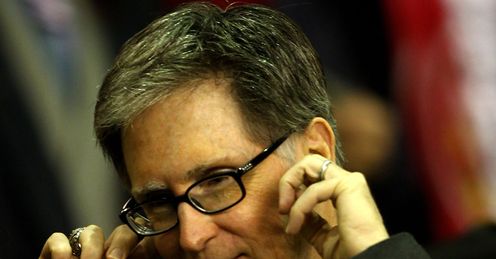 So why is the news not surprising?
Henry owns the Boston Red Sox. The Red Sox last year gave Adrian Gonzalez a seven-year contract worth $142m, and gave Carl Crawford a seven-year, $140m contract. That's a lot of money in an off-season.
They were favourites for the American League East (their division) over the New York Yankees, and there was the feeling that they could well make it three World Series victories in a decade with the sort of hitting line-up they had.
if Liverpool don't win the FA Cup how long will it take Henry to make other changes?
Alex Ferguson
Quotes of the week
The Red Sox started the season dreadfully, losing their first six games in a stunning turnaround. Red Sox Nation was angry - very angry.
But the Sox turned things around, and according to US stats site Cool Standings, were a virtual lock to make the play-offs. Then - inexplicably - they lost 20 games in September, including a last-game implosion at Baltimore on the final day of the season.
Red Sox Nation was - quite rightly - furious. After furore about dressing room behaviour, Tony Francona, who had taken Boston to its first World Series title since 1918 in 2004, and then again in 2007, was fired.
Francona said in his farewell press conference: "To be honest with you, I'm not sure how much support there was from the ownership. You've got to be all-in on this job. It's got to be everybody together, and I was questioning that a little bit."
Change
And as this happened, Theo Epstein, one of the great 'Moneyball' GMs who built the Red Sox's two successes with under-the-radar, good players like David Ortiz (who had been fairly dreadful in his career with Minnesota prior to being picked up by Boston), and Johnny Damon, entered conversations with Chicago about leaving Fenway Park.
If Henry didn't want Epstein to leave, then Henry would have done absolutely ANYTHING to keep him. But instead, Henry agreed a trade with Chicago that would see Epstein go to Wrigleyville in exchange for compensation (the two sides are still to agree about this).
Of course, Epstein made nice with the ownership by thanking Red Sox fans for their support and love in an advertisement in the Boston Globe, but let's face it: Henry wanted a change and was quite happy to 'trade' his star GM to do it. It also meant that Epstein didn't have to be publically fired and everything could roll on happily.
Which brings me to Comolli, who - with Henry's money - dropped £112.8m on players last year (he was in charge of all transfers). This included high-profile busts Andy Carroll (£35m), Stewart Downing (£20m), Jordan Henderson (£16m), and Charlie Adam (£8m), as well as bringing in 'St Kenny Dalglish of Merseyside', a man who could not have been more worshipped in this part of the North West if he'd been the 'Second Coming of Stevie'.
Liverpool's collapses happened often during the season - rather like those of the Red Sox. The players didn't play well, the fans revolted, and someone had to pay the price. That person was Comolli.
Tom Werner, Liverpool's chairman said: "But when it's time to act, we need to act. We're coming close to the end of the season and the transfer window for the summer, and we felt it was important to make this change expeditiously."
So our next question is - if Liverpool don't win the FA Cup, how long will it take Henry to make other changes?