Tuesday April 17, 2012 at 7pm marked one of the most exciting moments of the NFL calendar: the release of the NFL calendar.
While some people are trying their hardest to wade through every schedule and say: 'Well, that's the best match-up of the season', I'm going to go another route: the best match-up per week. It makes my job easier, and tells YOU what to watch out for.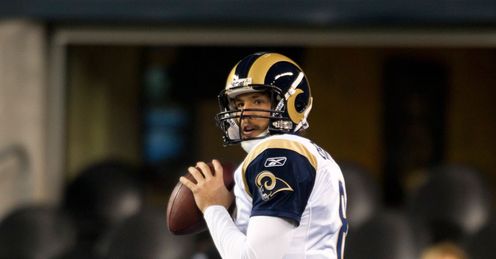 I'll provide my picks for the 2012 season division winners - and the Super Bowl winner - later on, but hopefully this will whet your appetite....
WEEK 1
DON'T MISS: San Francisco 49ers at Green Bay Packers
The Packers were the 2012 Super Bowl Champs before it all went wrong, while the 49ers probably should have gone to Indy but were upset by the Giants. With Aaron Rodgers facing a nasty defence, this is going to be fun and loud in Lambeau.
It's always an Instant Classic when Peyton and Tom get together, so will the game in Foxboro be any different? Probably not!
Alex Ferguson
Quotes of the week
ALSO: Pittsburgh Steelers at Denver Broncos
Peyton Manning gets his first start in a Broncos journey against an angry Steelers defence looking for revenge after being knocked out of the play-offs.
WEEK 2
DON'T MISS: New Orleans Saints at Carolina Panthers
How good are the Saints without coach Sean Payton? Cam Newton and the play-off dark horse Panthers could provide the answer.
ALSO: New York Jets vs Steelers
Always a good game between these two in recent years, the Jets will be fuming after blowing a chance to get into the play-offs.
WEEK 3
DON'T MISS: New England Patriots at Baltimore Ravens
The last time these two met up, the Pats won on a missed field goal. This one's going to be as close - especially if the Pats can't find an answer for Ray Rice - plus if Tom Brady is on his game against THAT Baltimore 'D' .
ALSO: Philadelphia Eagles at Arizona Cardinals
With Michael Vick on one side and Larry Fitzgerald on the other, this one's going to be fun.
WEEK 4
DON'T MISS: New York Giants at Philadelphia Eagles
A titanic NFC East battle that will go a long way to help us figure out who's the pick of the East this year (it was nigh-on impossible last year). And in an atmosphere where both sides hate each other, this one has great potential.
ALSO: Saints at Packers
Drew Brees vs Aaron Rodgers. Lambeau beginning to get colder. It was pure entertainment last time. Can't wait for this one.
WEEK 5
DON'T MISS: Broncos at Patriots
It's always an instant classic when Peyton and Tom get together, so will the game in Foxboro be any different? Probably not!
ALSO: Eagles vs Steelers
The NFL's website has already dubbed this game 'The Battle of Pennsylvania'. At Penn State (bang in the middle of the state), where one half of the student population's Steelers and the other half Eagles, that will certainly be the case.
WEEK 6
DON'T MISS: St Louis Rams at Miami Dolphins
If both teams are as awful as people believe, then this could be an early battle for Southern California's Matt Barclay, the 2013 No.1 pick-designate.
ALSO: Cincinnati Bengals at Cleveland Browns
Funnily enough, the NFL didn't dub this one 'The battle for Ohio'. But as I believe in parity, I will.
WEEK 7
DON'T MISS: Jets at Patriots
AFC Match-Up Must-See for two teams battling for the NFC East title. Will it be Brady vs The Sanchize, or will it be Brady vs Tebow? Only time will tell.
ALSO: Arizona Cardinals at Minnesota Vikings
Are the Cardinals legit? Can Minnesota recover after a terrible 2011 season? Both sides will be looking to answer some questions in Minneapolis.
WEEK 8
DON'T MISS: Patriots at Rams
It's the Wembley game, with tongues wagging about the possibility that the Rams might get moved to London instead of LA in the future. Sam Bradford's going to be the man to watch for St Louis.
ALSO: Giants at Dallas Cowboys
Cowboys fans are usually feeling a little bit let down by this time of the season. If everyone's fit, Dallas could be vying for an East title. This is going to be a monster in the JerryDome.
WEEK 9
DON'T MISS: Kansas City Chiefs vs San Diego Chargers
The battle for AFC West supremacy will be in full swing - especially as its likely only one team will get out of the division into the play-offs. Can Romeo Crennell lead the Chiefs to the promised land? Chargers QB Phillip Rivers will have a lot to say about that.
ALSO: Buffalo Bills at Houston Texans
Buffalo's signing of DE Mario Williams could be the key to making Buffalo competitive for the second half of the year. That, and QB Ryan Fitzpatrick not thinking the season lasted for five weeks. Reliant Stadium's going to be a big test.
WEEK 10
DON'T MISS: Denver at Carolina
For most games, it was less about the greatness of Tim Tebow than Denver's defence that got them winning games. But on Week 10, the Broncos are going to get all they can handle from Cam Newton, Steve Smith et al.
ALSO: Falcons at Saints
A lot of points will be scored in the Mercedes Superdome on Sunday afternoon, I can assure that much. Both 'Ds' haven't improved over the off-season, which should mean points aplenty!
WEEK 11
DON'T MISS: Ravens at Steelers
Heinz Field. Under The Lights. Hatred. Towels. Smack. 'Nuff Said. Let's hope the Steelers don't wear those dreadful 'throwback' jerseys (if you haven't seen them, check 'em out - they are truly horrible!).
ALSO: Packers at Lions
Fireworks when these two last played each other. Expect more this time around.
WEEK 12
DON'T MISS: Patriots at Jets
Thanksgiving celebrations wouldn't be special without two big-time rivals battling it out, would it? Well, this is going to be special.
ALSO: Redskins at Cowboys
One of the best rivalries in the NFL could well be one for a play-off spot as the race comes down to the wire. Happy Thanksgiving, America!
WEEK 13
DON'T MISS: Tampa Bay Buccaneers vs Broncos
Josh Freeman & Co could well be in with a shout of a NFC South title when they travel to Denver, and Denver will be battling it out in a wide open AFC West. This one is below-the-radar, but could prove a cracker.
ALSO: Steelers at Ravens
See Week 11, but this time, it's in Baltimore and possibly more important. This one will decide the AFC North.
WEEK 14
DON'T MISS: Cardinals at Seattle Seahawks
If the 49ers falter, this could be the big battle for NFC West supremacy. The Seahawks will bring a very, very loud fanbase to the game, and the Cardinals will try and hear themselves think.
ALSO: Falcons at Panthers
Some people have got this one down a possible NFC South showdown, and if New Orleans is suffering, it will be. Cam Newton vs Matt Ryan? I can't wait.
WEEK 15
DON'T MISS: Packers at Chicago Bears
Always a good one in the cold of Soldier Field featuring two ancient NFC North rivals who despise each other. It won't be any different this time - particularly if Bears QB Jay Cutler and Packers QB Aaron Rodgers are both on song. Did I mention it'll be cold, by the way?
ALSO: 49ers at Patriots
(Say this with a whisper) This could be a preview to the 2013 Super Bowl in New Orleans! These teams are good!
WEEK 16
DON'T MISS: Redskins at Eagles
Both sides will be jockeying for position in the ultra-competitive NFC East. As no-one's going to run away with the title, there will be everything to play for in a rocking Lincoln Financial Field.
ALSO: Giants at Ravens
While we're talking about previews for the 2013 Super Bowl, this could also be on the list. Particularly if both 'Ds' are on form.
WEEK 17
DON'T MISS: Eagles at Giants
The reason why I've been going on about the NFC North is that it's going to be the most competitive division in football this year. This one could decide who goes to the play-offs, and who goes home - because I think that the Wild Card spots will come out of the NFC North.
ALSO: Bears at Lions
The suddenly titanic NFC North will see two big ships battling it out to stay on the play-off sea. Can Matt Stafford (if he's not injured by this date) keep the Lions on the run? Can Bears linebacker and future Hall of Famer Brian Urlacher haul The Windy City back to the postseason? Many questions will be answered, but no quarter will be given.