The NFL Draft is one of the special times of the league's year. It's when the big boys from college become very well-paid men, and it's when people immediately judge a book by its cover.
Jets fans always seem to fill Radio City Hall in New York City at this time of year - either abusing or cheering their teams for their sometimes-mad drafting decisions. Remember how crazy they went when they picked up Mark Sanchez a few years ago? There is a highlight video out there on the Information Superhighway detailing their more unpopular picks. And by god, there have been some...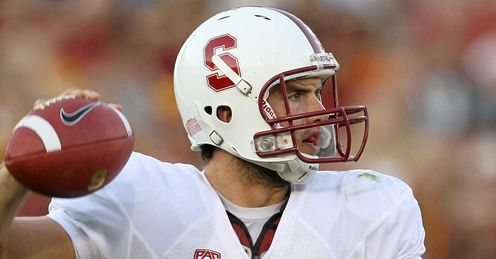 Anyway, I'd like to make two 'bold' predictions - Andrew Luck from Stanford will be taken No.1 by the Indianapolis Colts and Roger Griffin III from Baylor will be taken No.2 by the Washington Redskins, who gave up everything but their stadium to jump this high in the 2012 draft. Up to that, it's going to be a lottery that we're not going to bother to try and pick.
A lot of people believe the Jets are get weapons defensively this year, and Dontari Poe and Melvin Ingram are two people talked about as two great picks at DE. Frankly, we think Courtney Upshaw is a better DE than both of them.
Alex Ferguson
Quotes of the week
But there are still a ton of burning questions to answer...
Who's going to be a bigger success in 2012-3 - Andrew Luck or Robert Griffin III?
In my crystal ball (which I don't own), I'll make the prediction that RGIII is going to be the bigger success. Why? It's actually not really about Griffin - the Redskins were only a good quarterback away from being in the play-offs this year, and Griffin's accuracy is really going to help the team. For the long-term future, we'll look at Luck.
Should the Dolphins draft Ryan Tannehill or Brandon Weeden?
It's no secret that the Miami Dolphins desperately need a quarterback - Chad Henne (who looked a good second round pick when he was picked up from Michigan in 2008) is now gone- and many people think that this should be Texas A&M's Tannehill. This would be a mistake. If they need a quarterback, they should go for Oklahoma State's Weeden, who's more mature, more accurate, and has a better arm than Tannehill did - and they both played in the same conference. Weeden nearly brought his side to a National Championship. Tannehill managed to underperform against good defences. Anyway, Tannehill will probably go first, but if anything, Miami should be praying that they have another terrible season and get USC's Matt Barclay in the first round of 2013.
What's going to happen to Trent Richardson?
There is no argument that the best running back out there is Alabama's Trent Richardson, who tore up the SEC - college football's best conference - last year and is a dreadlocked cannonball. A lot of people think that he's going to Cleveland, because the Browns frankly need the offense and Colt McCoy's career isn't panning out as hoped there. If this works out, Peyton Hills and Richardson could be the nastiest running back combo in the NFL. We think he'll go 4.
Will the Jets get booed or cheered after the first round?
Well that's a million dollar question, isn't it? A lot of people believe the Jets are get weapons defensively this year, and Dontari Poe and Melvin Ingram are two people talked about as two great picks at DE. Frankly, we think Courtney Upshaw is a better DE than both of them - and he proved it at Alabama last year. But this is the Jets. They could easily try and get another cover corner because they don't trust that Darrelle Revis, who simply hasn't worked out at the Meadowlands.
Will the Steelers finally stump up some cash?
Because of their success over the years, it's not often that the Steelers are in the Top Ten when it comes to drafting. But every year - at it was proven last year over and over again- the Steelers desperately need a safety and cornerback to help Troy Polamalu and Ike Taylor (the latter whom is still inconsistent), and some offensive line help. The problem? Those two positions are the most expensive in football, and the Rooney family doesn't like paying out that type of money for these type of horses. Anyway, many think the Steelers will get help on the defensive line this year, which they will need now Casey Hampton's old and injury-prone. Dontari Poe (him again) has been named as the heir apparent, but will the Steelers trade up to guarantee him? Probably not.
What will happen to Morris Claiborne?
Claiborne was a brilliant corner at LSU. Balls were only thrown his general vicinity last year because of the even better play of Tyrann Mathieu, who was a Heisman Trophy candidate. Despite news leaking out that Claiborne only scored a 4 on the NFL's Wonderlic test (a test meant to test intelligence, but Dan Marino scored 13 and an NFL career par excellence), the guy's a freak and if he falls out of the Top 10 because of a stupid test, then the GMs are stupid. Anyway, people are saying Claiborne goes to Minnesota or Tampa, but definitely in the top five. That'll mean one big thing: A big payout. And I'm sure Claiborne won't need help counting zeroes.
Will St Louis make this first round pick count?
People are saying that Sam Bradford will get a target man in wide receiver Justin Blackmon, but all we can think of is that offensive line, offensive line, offensive line. If USC's Matt Kalil gets down to the Rams, they should get him. Either that, or Blackmon's going to be very bored watching his QB eat turf in 2012.
So Mark Barron to Dallas is seemingly done, then?
After looking at several draft reports, the feeling is is that Mark Barron, Alabama's tremendous leader-safety would really help Dallas - especially as they had one of the worst pass defences in the league last year, giving up over 240 yards per game. Barron was great last year, and Dallas really, really needs the help. After all, Sean Lee can't do everything, can he?
How will the New York Giants build on their success of last year?
The Giants could do with another running back (they are ageing in that position), some offensive line help for Eli and some help at secondary and corner, because they were one of the worst teams in the league for pass protection (although all this came good in the play-offs!). Anyway, we still think cornerback Janoris Jenkins by this, and even though the man's made some idiot decisions in his life, he should be not underestimated as a football player. After all, there are plenty of people playing at NFL level who have made dumb life decisions in the past - look at Cam Newton, who was thrown out of the University of Florida in 2008 for stealing a laptop! Jenkins would be an asset to ANY defence - and we'd beg the Giants to get him.
Who's going to be the best under-the-radar player in the draft?
LaMichael James is the player who no-one's really talking about (some people have got him falling as far as the mid-second round). He's got sprinter's speed and he's small and tough to stop. Any fan worth their salt should be celebrating when their team gets him. But there are others: Wide receiver Alshon Jeffrey (South Carolina) has great size, great hands is going to be tough to stop, Orson Charles (Georgia) is one of the best tight ends in the nation (up there with first-round designate Colby Fleener from Stanford), and Devon Still might have had a rough last few games at Penn State, but he's still a great defensive tackle. Look at the last few defensive signees Penn State have drafted in the NFL: Tamba Hali and Paul Posluszny (tackling machines), Aaron Maybin (Jets - Comeback player of the year 2011), NaVorro Bowman (Anchoring the 49ers defence with Patrick Willis) and Sean Lee (now God in Dallas). Still's as good as these guys - and they'll tell you that. And there's QBs Case Keenum (Houston) and Kellen Moore (Boise). Keenum's not even a candidate to get drafted and Kellen Moore will be one of the bottom picks. Both could be steals.
Who is going to be the biggest bust of the draft?
As we told you, we don't have a crystal ball. But since we're talking about the great ones, we might as well talk about the other ones. But here's our big one for 2012: Ryan Tannehill (Texas A&M). The only way that Miami will be happy if they get him in Round One is that if he takes them to an 0-16 record so they can get Matt Barclay in 2013.