In my last column I gave my views on the AFC's side of the NFL draft.
On the NFC side, you can be guaranteed that rookies for the New Orleans Saints will be under even bigger scrutiny now that Commissioner Roger Goodell has handed down fines to current and former players.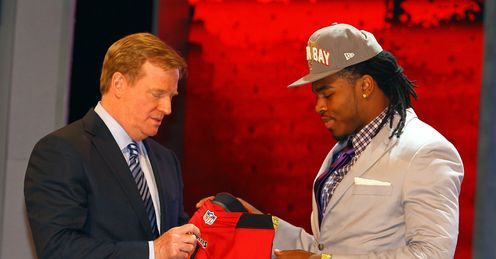 This includes: Jonathan Vilma (the season), Anthony Hargrove (eight games), Will Smith (four), and Scott Fujita (three). All four players will be suspended without pay. All four are unlikely to be popular in their respective dressing rooms (Hargrove will miss his games as Green Bay Packer and Fujita as a member of the Cleveland Browns).
Anyway, here are my grades for the NFC....
NFC SOUTH
Tampa Bay Buccaneers
Huge draft for the Bucs. Safety Mark Barron was brilliant at Alabama, and on the other side of the ball, Doug Martin's speed at running back is going to be fantastic when coupled with LaGarrette Blount, who's doing excellently. Look out for Lavonte David, a linebacker who plied his trade at Nebraska. He's going to prosper in Tampa. GRADE: A-
We like the Vikings draft. Tackle Matt Kalil (1st) was fabulous in his career at USC, while Notre Dame safety Harrison Smith (1st) will also help shore things up on the other side of the ball.
Alex Ferguson
Quotes of the week
Carolina Panthers
Boston College linebacker Luke Keuchly was one of the talks of the draft, and he'll be welcome for the Panthers, who could really do with the defensive help. Wide receiver Joe Adams could be a great foil to Sean Smith, who recently re-signed with the team. GRADE: B
Atlanta Falcons
If the Falcons aim was putting some big butts on the offensive line, then they did it well by grabbing Wisconsin players Peter Konz (center) and Bradie Ewing (fullback) in the 3rd and 5th round. Both of these heavily contributed to a great season for the Badgers, that could have been even greater if it wasn't for two season-killing Hail Marys. This draft isn't great, but it's not bad. GRADE: C
New Orleans Saints
After losing their top pick so they could get Mark Ingram and their second pick because of 'Bountygate', things weren't going to be great for the Saints. Nick Toon, who's father used to play in the league, is going to be a good pick, but the rest aren't. Pity, because the Saints could have used them. GRADE: D
NFC EAST
Philadelphia Eagles
The Eagles - yes, the Eagles - had one of the best drafts in the NFC - grabbing defensive talent after defensive talent. DT Fletcher Cox of Mississippi State is immense, and linebacker Mychal Kendricks and defensive end Vinny Curry will also fit in well. But look out for cornerback Brandon Boykin and on the offensive side Marvin McNutt (WR), who are also going to make names for themselves. Grade: A-
Dallas Cowboys
We don't normally praise Jerry Jones for having a good draft, but the move up that meant they picked up LSU's Morris Claiborne was absolutely brilliant. He will help shore up what was a leaky secondary last season. And tongues are already wagging about the pick-up of tight end James Hanna from Oklahoma. Could he be the next Jason Witten? Grade: B+
New York Giants
A solid draft by last year's the Super Bowl Champs, getting a feature running back in David Wilson, who starred at Virginia Tech, and LSU WR Reuben Randle has fantastic hands, size and speed. We're not overly excited by the cornerback pick of Virginia Tech's Jayron Hosley, who - like Hokies - was pretty disappointing in 2011. Grade: B-
Washington Redskins
If Robert Griffin III works out, this will be one of the best picks in Redskins history. If it doesn't, it'll be one of the worst. And they got some good insurance by drafting Kirk Cousins in the fourth, effectively ending Rex Grossman's torrid career at the FedEx. But -as it was in 2012 - it's all about RG3. Grade: B-
NFC WEST
Arizona Cardinals
Larry Fitzgerald must have been talking in the organisation's ear, because grabbing WR Michael Floyd (Notre Dame) smelt of the star needing a foil occasionally. Floyd will be one heck of a foil. Grade: B+
St Louis Rams
Although much is going to be made of the Rams pick-up of Michael Brockers from LSU, we still love the pick of cornerback Janoris Jenkins, who we can't believe went in the third round. If he behaves himself, he'll be brilliant. If. Isaiah Pead will be good if he stays injury-free, too. Grade: B
San Francisco 49ers
LaMichael James of Oregon - who is one of the most underrated running backs in this year's draft- was the 49ers best pick by a mile. To call him 'quick' and 'elusive' simply doesn't do him justice. Otherwise, I'm not a huge fan of wide receiver AJ Jenkins, but anything to give Alex Smith another weapon, eh? Grade: C
Seattle Seahawks
The pick-up of Bruce Irvin - who had more behavioural worries about him than your average Old Firm derby - raised many eyebrows, but for us, one of the best picks was also Russell Wilson a QB from Wisconsin who was a Heisman Candidate almost throughout the season. He's a shorter QB, but he's got a fantastic and accurate arm. Look out for him should things with Matt Flynn not pan out. Grade: D
NFC NORTH
Minnesota Vikings
We like the Vikings draft. Tackle Matt Kalil (1st) was fabulous in his career at USC, while Notre Dame safety Harrison Smith (1st) will also help shore things up on the other side of the ball. Wide receivers - and former Arkansas team-mates - Jarius Wright (4th) and Greg Childs (4th) are going to give Christian Ponder some speed out wide- which they desperately need. Grade: B+
Detroit Lions
Tackle Reilly Reiff is going to help the Lions offensive line and its attempts to stop poor Matt Stafford getting injured, and they've got one heck of a potential wide receiving prospect in Ryan Broyles - although the jury's out on whether Broyles can stay healthy (which he didn't in 2011). Thanks to Fox Sports.com, we've found out that linebacker Ronnell Lewis' nickname is 'The Hammer'. The Lions will be happy the blows he's delivering will be while he's wearing blue...as long as they aren't late. Oh, and that quarterback that they got as an undrafted free agent in Kellen Moore - could be one of the finds of the year. Grade: B
Green Bay Packers
After watching the Packers 'D' get eviscerated at the end of the year and in the play-offs, it was no surprise that seven of Green Bay's eight picks were defensive. The picks? Defensive tackle Jerel Worthy is the best of the lot, and top pick defensive end Nick Perry. Grade: B-
Chicago Bears
Some people have been down about Chicago's draft, but offensively, Alshon Jeffrey's is going to give secondaries nightmares with his height, hands and no little skill. This kid's going to scare people. And defensive end Shea McClellin (Boise State) - the Bears' top pick - is going to have a great tutor in Brian Urlacher. Grade: C