I love the NFL.
It's green versus blue, black versus red, white versus orange. It's a battle of feet, inches, yards. It's a battle of the best players of a brutal business. It's Any Given Sunday. It's the Waterboy. It's the cheerleaders.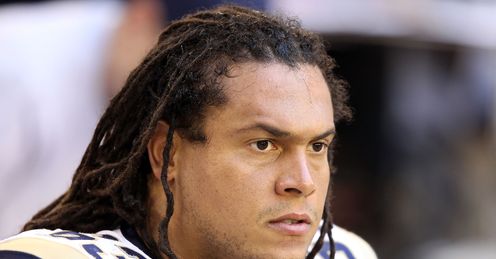 Millions of people in stadiums around the country watch the gladiatorial battles every week, and tens of millions more watch it around the world.
And when the Final Day comes, there's no bigger game in the world of sport - and recently, the Super Bowl has exceeded expectations in terms of excitement, sub-plot, and angry supermodel wives.
People might say it's "part of the game" but I'm sure Eric LeGrand would swap every touchdown he'd ever seen for the full use of his body.
Alex Ferguson
Quotes of the week
At the moment, the league has a problem. It's called image. Players and coaches are getting suspended for targeting other players.
The 'Who Dat?' has become the 'Who Did It?', and the questions are getting asked, not only of the players and the coaches, but also the Commissioner for his brutal punishments.
The other part of the problem is concussions - and this cloud isn't going away fast.
Suing
Future Hall of Famer Junior Seau reportedly killed himself - and some are blaming years of smashing helmets for the apparent suicide. Recently, veteran guard Jacob Bell walked away from the game, citing concussions.
"If you're telling me 'I'm seeing stars' is some sort of concussion, then you're getting a couple a week," he told the St Louis Post-Dispatch. "You're going to get a minimum 30 concussions in a season. That just gives you a ballpark figure of what people are truly dealing with."
And 1,000 former NFL players are suing the league, saying that the league didn't properly protect players from concussions.
And to make matters worse for the league, the lead plaintiff is former Washington Redskins wide receiver and Hall of Famer, Art Monk, over short-term memory loss, headaches and speech difficulties.
The problem is this: people are using their helmets as battering rams against other players, and although helmet-to-helmet force is not encouraged (in fact, you can get fined and even banned for such a 'tackle), the constant banging of 300-pound men against each other can't be good for anybody.
In the old days, helmet-to-tackling was acceptable, and even now, players like the Steelers' defensive end James Harrison don't want to be published for an 'over-violent' hit.
Back in 2010, when the rule came out, defensive players railed against it. Yeremiah Bell of the Dolphins said: ""As a defensive player, you have to think about how you hit somebody now, which is totally ridiculous to me. You're trying to get a guy down.
Sometimes you get caught leading with your helmet. When you're going to tackle a guy full speed, you can't really think, 'Oh, I have to hit this guy a certain way.' You have to get him down as best you can. Sometimes it's helmet to helmet, which guys aren't trying to do, but that's just the way it is. It's part of the game."
Ban
But I have got an even bigger idea. Ban kick-offs and ban punt returns. We don't particularly like it, but it might just save players' careers, lives and the sport that we all hold dear.
"Why?" you quite rightly ask. "It'll ruin the chance of getting to see players like Devin Hester and Patrick Peterson do their 'thang'. You'll ruin one of the most exciting moments in sport."
Listen, we're all fine with the kick-off return itself. For crying out loud, we were behind Hester (albeit in the top tier of Dolphins Stadium) when he had his Super Bowl kick-off return touchdown, and we're trying to catch breath just thinking about it.
As Penn State fans, we cheered on Derrick Williams as he returned punts and kick-offs in 2005. After all, his play from those positions turned the Nittany Lions from bad to great in the course of a year.
But we've seen the other side, and it is pretty scary. Players, blocking for their returner, will violently lay out an opposing team member in an effort to give their player an avenue.
The jarring hits, applauded by all the major TV networks (and YouTube) are celebrated with the type of noises we heard from the orangutan pen at London Zoo last week.
They've already claimed too many victims. If you don't know what I'm talking about, ask recent Tampa Bay Buccaneers unrestricted free agent draftee Eric LeGrand.
People might say it's "part of the game" but I'm sure LeGrand would swap every touchdown he'd ever seen for the full use of his body.
Bone-shaking
The NFL will say they are trying. In 2011, they moved the place of kick-offs from the 30 to the 35-yard line. This reduced the amount of return room a player had and we saw more touchbacks than ever before. But it's still scary. And punt returns? They are still big, bone-shaking, and brutal.
We want both scrapped. If you still want to see the kicking part of the game - which is very important tactically - we'll give you it. Kick-offs will stay on the 35-yard line, and punts will happen on fourth down when required.
This is our bit for the 'guys who couldn't play real football' union. But we're going to outlaw the act of 'returning', meaning that you take away a potentially dangerous part of the game.
Will that mean less jobs in the NFL for special teams players? Sure. Will that have a trickle-down effect meaning that less players specialise in 'special teams' in college football, and therefore less players play the game itself? Probably (although most college football teams don't have 'specialist special teams players' apart from the kickers and punters).
But will the practice save limbs, careers and possibly lives? We're certain of that, too.