Friends like mine don't like to trivialise anything when it comes to American sports.
We went through the wringer about whether college football has produced a better quarterback than Peyton Manning since 'The Great One' left Tennessee. We agonised over whether it would be LeBron's year this year. We argued over centrefielders and their first steps in relation to the ball. And we talked excitedly about the return of NHL hockey to Quebec City (we hope!).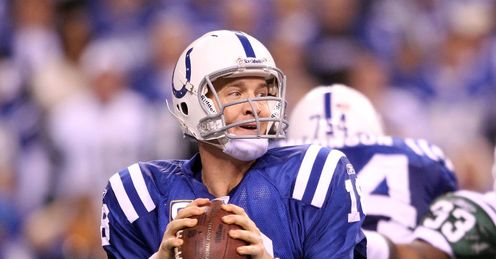 But then we came up with conversation topic that left the fonts of triviality truly tangled: Which great college football quarterback has achieved similar greatness in the NFL?
After hours of research, mental harm and social media question-asking (thanks - you know who you are!), here's the Top 10 that this writer's produced for the argument.
The words 'No other player like him' don't even do Sammy Baugh justice.
Alex Ferguson
Quotes of the week
What do you think? Who have we missed out? Readers, we need your help....
1. Sammy Baugh (Texas Christian (1934-7); Washington Redskins (1937-52))
To cut the story short, teams didn't really like to let a quarterback pass in the 1930s, but TCU let 'Slingin' rip, and he did for the next three years, throwing for 3,384 yards and 39 touchdowns (an astronomical amount for those days). Oh, and he also played - get this - defensive back, punter and punt/kick-off returner. In short, he was a freak. He then proceeded to play the same positions with the Washington Redskins, including throwing a tidy 21,886 yards and 187 touchdowns. After this retirement, he was named as one of the best NFL and college football players in the game's history. The words 'No other player like him' don't even do Baugh justice.
2. Peyton Manning (University of Tennessee (94-97); Indianapolis, Denver (98-present)
At the University of Tennessee, the name 'Peyton Manning' is treated with reverence like no other, as the God-like quarterback threw for 11,201 yards, 89 touchdowns, and stayed for all four years his mid-1990s career. And while he didn't win a Championship with the Vols (ironically, they won it the next year), everyone not categorically insane knew that Manning would be a hit in the NFL. After his Hall of Fame career with the Indianapolis Colts which has included 54,828 yards, 399 TDs, and one Super Bowl ring, we can't wait for the conclusion in Denver. Let's hope and pray that St Peyton stays healthy.
3. Brett Favre (Southern Mississippi (87-90); Atlanta, Green Bay/New York/Minnesota (91-2010)
He may have had a problem in the past with painkillers and have a problem in the present with retiring, but Favre really has had an exceptional college and pro football career. Firstly, he put footballing backwater Southern Mississippi firmly on the map with 7,695 yards and 52 touchdowns. Then, he had a brilliant career with four NFL teams (the major part of it with Green Bay), where he threw for 71,838 yards and 508 touchdowns. The three words we'd use to describe this are easy: Hall. Of. Fame.
4. John Elway (Stanford (79-82); Denver (83-98)
In his years at Stanford, Elway smashed school and conference passing records, throwing for 9,349 yards and 77 TDs in sparkling career. In the 79 draft, he was drafted by the Baltimore Colts, who then traded him to Denver. The rest is a Mile High history story, where Elway threw for 51,475 yards and 300 touchdowns and won fans across the country. In his wonderful years, he also won two Super Bowl rings, and will probably get Mile High named after him when he goes to the great football field in the sky. Now, what can he teach Peyton Manning?
5. Dan Marino (Pittsburgh (79-82); Miami (84-99)
At Pittsburgh, Marino's 8,597 yards and 79 touchdowns in his career at the University of Pittsburgh can't have been very special for the NFL Scouts, who let him fall to 27th in the 84 Draft. After Marino butchered defences for years, throwing for 61,361 yards and 420 touchdowns in one of the greatest careers pro football has ever seen, we can probably say that the scouts regretted their move. Marino's biggest regret? Not getting a Super Bowl ring.
6. Drew Brees (Purdue 1997-2000; San Diego/ New Orleans 2001-present)
If Drew Brees was brilliant in college, he's been even better in the NFL. At Purdue, he ripped apart the Big Ten within an inch of its teeth, finishing with 11,792 yards and 90 TDs. In his NFL adventure with San Diego and New Orleans, he's been even better, throwing for 40,742 yards and 281 TDs. He also has a single-season completion record, and he broke Dan Marino's single-season yardage record. Add to that the Super Bowl ring and his good values, we have one major question for Saints owner Tom Benson: Can you PLEASE get on with settling these contract negotiations?
7. Jim Kelly (Miami (1979-81); Buffalo (86-96))
Kelly definitely caused some damage as a Miami Hurricane, throwing for 5,228 yards and 32 touchdowns in three years. He eventually joined Buffalo after a stint in the rival league in the USFL, throwing for 35,467 yards and 237 touchdowns in a glittering career. Now imagine what he might have done if he hadn't played the first three years with the Houston Gamblers.
8. Troy Aikman (Oklahoma/UCLA 1984-8; Dallas 89-00)
After an injury-plagued two years at Oklahoma, Aikman transferred to UCLA, where he threw for a tidy 4,953 yards and 43 touchdowns in just two seasons (he's still the second-best quarterback in UCLA history). Remarkable - if you consider he had to take one year off because of NCAA rules. After being drafted No.1 by Dallas, Cowboys fans expected greatness. After 32,942 yards and 165 touchdowns in an11-year, Hall of Fame career, we can safely say they got what they were looking for.
9. Eli Manning (Mississippi (2000-3; New York Giants (2004-present)
For crying out loud, don't overlook Eli Manning when you're talking in terms of great college and great NFL quarterbacks. Instead of going into a long diatribe about the sibling rivalry that we simply don't believe exists between these two (if you want a definition of 'supportive brother', check out Peyton Manning's expression after Eli threw THAT throw in Super Bowl 2008), we'll let the numbers stand for themselves. At Ole Miss, Manning threw for 10,119 yards and 81 TDs. In New York, he's thrown for 25,579 yards, 185 TDs. And he's got two Super Bowl rings, too. His brother's only got one of those.
10. Ben Roethlisberger (Miami (Ohio) (2001-3; Pittsburgh (2004-present))
Weekdays on US Sports TV aren't normally special days for big-time football games, but when 'Big Ben' was playing for Miami in 2003, they really were. In a sensational season that put Redhawk football on a map it had never dreamt of before, Roethlisberger threw for 4,486 yards and 37 TDs and took the team to an unbeaten season. This capped a 10,000 yard three-year career at Miami, where he also developed himself as a bulldozer of a quarterback from short distance -something that's now a staple of his game in a Steelers jersey (he's run for nearly 1,000 yards in his time there). Big Ben has also thrown for 26,028 yards and 165 touchdowns, and got two Super Bowl rings. Not bad for a QB who's consistently criticised for overthrowing his wide receivers!
So that's our ten - use the message boards below to let us know what you think of our list!