It's been a riveting first half of the NASCAR season, starting with fire on the track (literally!) at the Daytona 500 and ending with madness on pit road (Coca-Cola 600), with incident, bumps and bruises all the way in between.
Although Greg Biffle's winning the driver's championship so far, the story of the season, as things stand, has involved Dale Earnhardt Jr., who won the qualification race to get into the All-Star Race, as well as one of the sections, giving Junior Nation a lot of heart and the belief that their driver could actually win a race this year.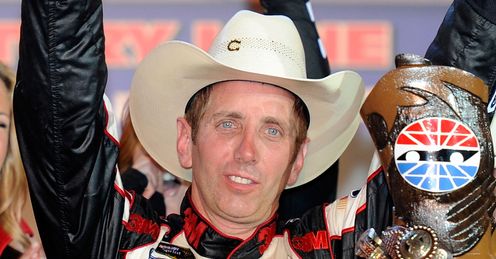 Sky Sports' Alex Ferguson picks out the key talking points from the first half of the season and looks at the future of drivers trying to qualify for the 'Race For the Chase', which is getting as hot as the summer's American heat...
The first half of the season...
1) Greg Biffle has been sensational... Generally behind Carl Edwards and Matt Kenseth in the Roush-Fenway pecking order, 'The Biff' has been brilliant this season, winning at Texas, finishing in the top five seven times, and he's currently leading the standings.
2) ...Unlike Carl Edwards: It's strange, because Edwards (who's lying in 10th), hasn't won a race, and only finished in the first five twice. Is it the hangover of losing the title to Tony Stewart on the last day? Or is it simply luck? We're only 12 races in so don't be surprised if you see a Carl Edwards victory backflip by Chase time folks.
3) Dale Jr.'s been the steady... Eddie: NASCAR's most popular driver has been excellent in the first half of the season. In 11 races, he's only finished out of the top 10 three times, and he's been reliable - two things that you didn't really associate with Earnhardt in seasons past. He had a great car at the Coca-Cola 600 on Sunday but didn't have enough for Kasey Kahne, after opting against taking tyres on the final change.
4) Nothing will top the craziness of the Daytona 500:The first race of the season - the Daytona 500 - had to be stopped when a jet dryer caught alight, stopping the race for over two hours just as it was getting to its crescendo. That was the craziest race of the year. Although Bristol's repaved track in the Sharpie 500 in August may well run it close (the Spring race was so dull that Bruton Smith decided to change the look of the track - yet again). Although fans have complained about the lack of multicar wrecks this year, watch them happen more repeatedly as drivers become more hurried to gather points for a potential Chase spot.
5) What on earth's happened to Jeff Gordon? When yours truly started watching NASCAR, Jeff Gordon's flame-sprayed Dupont Chevrolet was always up there at the top. But this year, Gordon has suffered from bad luck and mediocre-to-awful finishes. Despite qualifying well, he only has one top five finish to his name, and he's now looking like the 'Old Man' of the Hendrick Motorsports team behind Jimmie Johnson and Dale Earnhardt Jr. Will sixth-place finish at Charlotte on Sunday help to get him out of his slump? Currently he's in 22nd place - he's got a long way to go.
6) Brad Keselowski; Social Media God: Brad Keselowski did two awesome things this season. Firstly, he won two races. Secondly, he decided to use Twitter while waiting around for the two-hour fire delay to end at Daytona 500, turning him into an instant legend. I mean, which driver brings their mobile along for the ride? Obviously these new kids....
A Look Forward....
1) Can Dale Jr. be 'No.1 for a while?': The way Dale Earnhardt is driving, there's no reason why he's can't win his first Sprint Cup race in nearly 150 races. His crew chief, Steve Letarte, has been a revelation as his pit crew chief, and the decision by Hendrick Motorsports to share the garage with five-time champion Jimmie Johnson seems to be working well.
2) Keep your eyes out for Bristol: Bristol's new surface will be something of a surprise to everybody in August, and we'll have to see how the track tests and races before we can say if it was a success. The drivers weren't in favour of changing the track's set-up, but the fans were. And the drivers don't buy the tickets.
3) Stewart vs Keselowski Part II: Brad Keselowski made one of the stupider moves of the Coca-Cola 600 when he turned Tony Stewart around in pit road (Stewart was brilliant in saving his car from a wrecking). Stewart didn't react - but there are still a lot of races for him to do so - and we just can't wait for when it happens (hopefully with both of them going for the win on the final lap of a race!).
4) Will there be a six-time champion? Jimmie Johnson's going for his sixth title, and so is Jeff Gordon. If Gordon can pick up some form then the Chase for the Sprint Cup's definitely not going to be out of his reach. And for Johnson? Don't bet against him. In five out of the last six years, it would have been a losing wager.
5) Watch out for Sonoma and Watkins Glen: The greatest thing about road courses for NASCAR drivers is that they add a little extra to the Spring Cup series, especially when ordinarily drivers are given 1 ½ mile tracks as their staple diet.