One of the oldest trophies in sport will be competed for on Wednesday, when the New Jersey Devils and Los Angeles Kings play for the NHL's Stanley Cup.
This season's not been about favourites, with both No.1 seeds (New York Rangers in the East, Vancouver Canucks in the West) losing their way and not being able to play for the biggest prize of them all.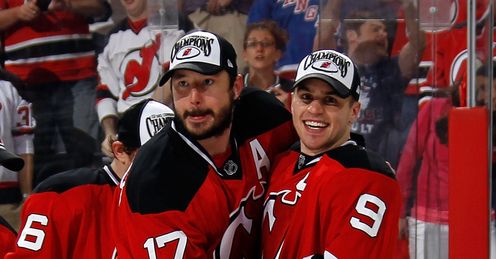 And while the Kings haven't been to the Stanley Cup Finals since 1993, the Devils are old Finals specialists, having won three relatively recently.
Anyway, Sky Sports' Alex Ferguson brings you his preview of the series...
WHY LOS ANGELES WILL WIN
In a town where the movies celebrate underdogs week in, week out, an LA Kings victory will be something out of the blue.
Why? The Kings were the last into the Stanley Cup play-offs in the West, meaning they had the toughest road. They dispatched No.1-seed Vancouver 4-1, then No.2 St Louis 4-0, then No.3 Phoenix 4-1. In other words, this is a team that's going to be hard to stop - they are playing out of their minds right now.
As for the players, right winger Dustin Brown has been red-hot (he's the third highest points scorer in the play-offs) this year, smacking seven goals and supplying nine assists.
Centres Anze Kopitar and Mike Richards, as well as right wing Justin Williams have been similarly on form. Try and stop this team if you dare.
And at the back, there's no goaltender playing better than Jonathan Quick, who's leading the charts in save percentage. And he has two shut-outs to his name, too.
Try getting past him, Devils!
WHY NEW JERSEY WILL WIN
No-one really gave the old, battle-tested Martin Brodeur and the New Jersey Devils a chance in the play-offs, but they've managed to get through everybody to make it.
They took out No.3-seed Phoenix 4-3, No.5 Philadelphia 4-1, and the No.1 New York Rangers 4-2 in a classic series.
Sure, the Devils haven't been great defensively - Brodeur gave up 37 goals this week, but the most important stat of them all is the win total: 12. It's the same as Jonathan Quick's - and Brodeur's got the Stanley Cup experience, having been to four Stanley Cup finals in his career with the Devils.
But on the other side of the ice, the Devils are scoring for fun. Veteran Ilya Kovalchuk, Zach Parise and Travis Zajac all have scored seven goals and Kovalchuk leads all play-off players with 18 points.
And there's always Patrick Elias, who has over 1,000 games (and 361 goals) of experience behind him.
SO WHO'S GOING TO WIN?
Since LA's on fire but the Devils don't know when they are beaten, we're going to say that New Jersey's going to win this in seven games in the most exciting Stanley Cup Finals series in years.