After a strike that irritated many and destroyed half of a NBA season, the NBA needed a saviour. And in a wonderful play-off season, they got it.
They got great ratings. They got great drama - especially in the Conference Finals, in which 'King' James crowned himself 'King of The East' in Game 6 against Boston and 'King' Kevin was crowned 'King of The West' in Game 6 against San Antonio. And they got some wonderful play-off atmospheres - the most memorable being Miami's visits to New York and Boston and any play-off game featuring a trip to Oklahoma.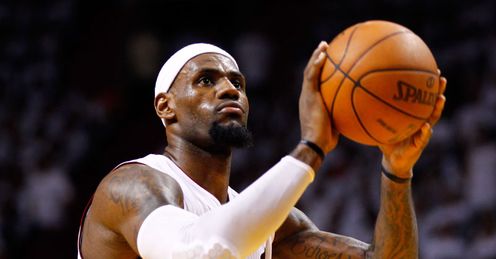 To be honest, neutral NBA fans could not really have asked for any more. But fans of the Miami Heat and the Oklahoma City Thunder are asking their players - who must be exhausted by now - for four more victories.
And it's going to be tough. Here's my preview of the Finals, which start on Tuesday....
Miami's Road To The Finals
It wasn't the easiest of roads for the Miami Heat. After finishing the season a healthy 46-20, the Heat didn't get the easiest of draws - an away series at the New York Knicks, where the atmosphere at Madison Square Garden could only be described as 'volatile'. Anyway, they were 3-0 up in no-time and eventually won 4-1. Then, they had a stroke of luck when No.1 seed Chicago's Derrick Rose, the NBA's Most Valuable Player, was injured in the first round against Philadelphia, which ended up costing the Bulls the Series, 4-2. This put the Heat in the driving seat for the Eastern Conference Crown.
And the Heat have something that Oklahoma City don't have, and that's experience. They are hungry after losing last year to the Dallas Mavericks. They don't want to let South Beach down again. And they won't.
Alex Ferguson
Quotes of the week
In the Conference Semi-Finals, they played a passionate Indiana Pacers side, who battled them all the way until Miami eventually strung two games together and the Heat won out 4-2. On the other side, the Boston Celtics beat Philly 4-3 after a hotly-contested Game 7 at the Garden. And in the finals, Miami was staring defeat in the face after losing Game 5 at home against Boston, but LeBron put up 45 points in Game 6 in a performance that could only be described as unworldly to tie it up, and then scored a further 31 to give the Heat victory at home.
Oklahoma City's Road To The Finals
Oklahoma City qualified second in the Western Conference with a 47-19 behind the San Antonio Spurs, who won 10 straight games to clinch the No.1 spot. In the play-offs, Thunder was followed by lightning as they fried NBA Champions Dallas 4-0 in the first round, and then did virtually the same to Kobe Bryant and the Los Angeles Lakers in the Eastern Conference semi-finals, thrashing them 4-1. San Antonio itself looked pretty tidy itself, coming through both of its play-off series against the Utah Jazz and LA Clippers with sweeps, setting up a monster clash against Oklahoma City. At 2-0 down after the first two games, everybody was talking about whether the young players could take the heat of San Antonio. After two games in a raucous Oklahoma City, it was 2-2 and the Thunder was again rolling. San Antonio were then tripped up at home, and then Kevin Durant dropped three-pointers and a lot of jaws when he helped to bring his team back from 18 down to take victory and a spot in the Finals.
WHY WILL MIAMI WIN?
Remember that time, Rajon Rondo, when you said that the Heat should stop crying about refereeing decisions? Well, the Heat certainly shut you up, didn't they, beating you not only at your precious Garden but also in Game 7. And remind us - who had two big games? It wasn't LeBron James, was it? Oh, it was. LeBron was masterful in both games, taking you to town for a total of 76 points. He scored 235 points against you total. If there's anyone hotter right now in the NBA, we'd like to know.
And here's the bad bit, haters. Miami isn't just about King James, either. They've got Dwayne Wade - who's been consistent if not spectacular (150 points total against Boston) - and now Chris Bosh is coming off the bench after injury. And Bosh looked great in Game 7, putting up 19 in an almost scene-stealing performance. Oh, and the bench has been strong, with both Shane Battier, Mario Chalmers, Udonis Haslem and Mike Miller all chipping in. And watch out for Battier - he can cause you hell from three-point range.
And the Heat have something that Oklahoma City don't have, and that's experience. They are hungry after losing last year to the Dallas Mavericks. They don't want to let South Beach down again. And they won't.
WHY WILL OKLAHOMA CITY WIN?
The mad crowds of Oklahoma City - described by many as just about as close to a collegiate-style atmosphere as you get within the professional game (that's a compliment) - have made believers out of everybody. In the same way as people used to believe that The Kop at Anfield sucked the ball into the goal, they believe that the noisy fans in Oklahoma City place the balls into baskets and bring their teams back from the dead. And for both, it's hard to argue. In Game 6, Oklahoma City was down 18 and looking shambolic. Tony Parker and Tim Duncan took the crowd out of it and Oklahoma City looked like a college team against professionals. But in the second half - and backed by a crowd that never gave up despite evidence to the contrary- the Thunder roared back to victory. That's the big reason why they are going to win - the Heat won't be able to deal with the noise. And because of the fact that there are going to be four games in Oklahoma City, the Heat should be worried. But a bunch of people wearing white T-shirts and making noise aren't the only things that are going to dethrone King James & Co - the team's pretty good, too.
In the last series, Kevin Durant dominated the Spurs, scoring 177 points and 45 rebounds -including the game of his life in Game Six when everything he did at the end of the game went in. He's going to be hard to stop - even if Battier and Haslem think they have the skill. Oh, and if you CAN stop Durant, then you'll probably not be able to stop Russell Westbrook (109 points), or James Harden (111 points, as well as a 12,000 following for his beard on Twitter). Watch out for Harden, who's deadly from three-point range more often than not. Serge Ibaka can hurt you on both ends of the court, too. Oh, and there's a NBA veteran called Derek Fisher also coming off the bench, who won five NBA titles with the Los Angeles Lakers, who's also pretty good. Let's face it, the Thunder are going to give Miami headaches all series long.
SO WHO WILL WIN?
One of the best series in recent history as Miami chokes the Oklahoma City crowd in seven games - and LeBron James finally gets his ring.