If you want one big, sporting soap opera, look no further than the world of college football.
When the powers-that-be aren't putting schools on trial for their recruiting misdeeds, they are making changes to the game to make it either more exciting, or more safe, or both.
And popularity-wise, the sport has grown more and more, helped by the increase in gambling on the sport as well as the growth in interest of the NFL, which is populated by former college football stars.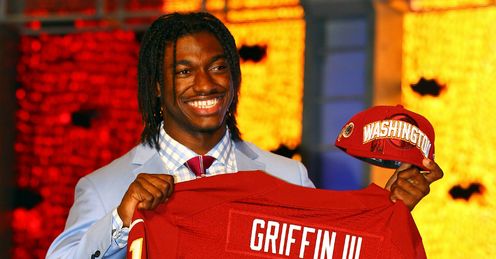 But one of the biggest problems college football has had in its years is not being able to clearly define its National Champion. Where every other major sport seems to have play-offs to decide who's going to be number one, College Football left it to the pollsters to decide who was the best team in the country and after that, they tried to use the Bowl Championship Series, which has been accused a number of times of not only imperfection but also corruption.
On Wednesday, the Gods of Mount College Football told a cheering, rowdy, million-strong (and then some!) plebiscite what it wanted to hear: a consensus had been reached for a four-team play-off.
Alex Ferguson
Quotes of the week
On Wednesday, the Gods of Mount College Football told a cheering, rowdy, million-strong (and then some!) plebiscite what it wanted to hear: a consensus had been reached for a four-team play-off. The details were a little rusty, but something definite was going to happen, and college football's course will be changed forever.
The Gods make everyone fact, but one of their winged messengers informed the US media (as it always seems to, some days before the actual announcement) that the four best teams in the country would be selected by committee, who would have to consider such things as schedule strength and if they'd won their conference as important factors.
And to make it better for the existing bowl system - a system where the best teams play in end-of-season bowls against teams in other conferences for nothing more than pride, a better end-of-season record, and more importantly a nice holiday and a lot of cash (although if you don't bring enough supporters - like Connecticut didn't to the Fiesta Bowl in 2011, it'll end up costing you nearly $2m) , the two semi-finals will be played in the current system, meaning that schools will still have their tradition (or traditional paydays, as we'd like to put it). And the National Championship Game will be bid on in the same way as a Super Bowl is bid on - and cities like Jacksonville have already said that they will be bidding to have the Big College Day Out played at their stadium.
The money behind a college football play-off system is stunning - estimates are around $450m per year - and all the major networks are chomping at the bit to get a piece of the 'big games'. Expect the actual buyout price for the first contract to be in the $700m region as networks drive the price up on each other to get the final contract.
At last, the college football purists will get what they've fought for for years: certainty. At last, the Gods can say that they've done the right thing. And all will be good with the world.
Expect for me.
The problem
I don't like the idea that a 'selection committee' can decide who's going to play for our sport's biggest prize.
I worry that winning a conference championship will come before a team's strength of non-conference schedule. It'll mean that schools schedule more joke teams for their non-conference games, not less. While the Selection Committee for the NCAA College Basketball Tournament leave it in no doubt that who you play is of utmost importance, there has been wiggle room for slaughterfests for years, and the rate college football is going, nothing's changing any time soon.
And it's not just the TV fans who are getting killed - it's the fans at the turnstiles, too. For example, a Penn State fan should not expect to see his team lose a non-conference game at home this season. But then again, the Nittany Lions are playing a laughably easy non-conference home schedule (you can't do anything about in-conference scheduling), which should serve not only to give the team a good record in their new coach's first season, but also bore the pants off their fanbase. Sorry guys - you simply aren't selling me Navy at home, guys. The same goes for tens of other schools vying for a title, and it's all going to be helped by the slurry of an easy schedule. You need teams to be flexible, and pushing to play the best teams, knowing that if they want to schedule on Easy Street, then it's going to be a Hard Road to the Final Four.
Not only that, but I don't like the idea of a selection committe. Selection committees are human, and therefore will not only make mistakes, but are also going to go with the conference or the team they know best. And if they are a former coach, they are going to be favouring their team. Sorry, but it's true. Why not leave the selection process into the 21st Century, and let computers decide who's going to go, with a transparent process instead of the secrecy-laden one that have decided BCS Bowls (the major bowls) in the past? A computer can work out strength of non-conference schedule, schedule, wins and work out the best teams in the country much better than a human can - especially if that human is going to have to watch tens of games every weekend - which would be a superhuman task.
And I don't like any emphasis being given to winning a conference. We've seen some poor teams win some bad conferences this season, and then be shown up in the final bowl game (unless of course, you're West Virginia, which ruled the roost in their goddawful Big East conference in 2011, and then splattered Clemson for 70 points in 2012).
A solution
So what would I do?
First of all, I would go with the four-team play-off, and do it with the best four teams in the country. But a maximum of TWO teams - and I was toying with one - from any one conference would be allowed to play in the conference. Which means that if you finish third, then tough.
Then, I would determine the final four by a computer ratings system, which would be utterly transparent from the start. Non-conference strength of schedule will count MORE (and this will be done by computer) than in-conference SOS, to stop the rot we're currently having in non-conference schedules. The fans want to see MORE LSU-Oregon, not less. A neutral field victory will count less than an away victory and a little more than a home victory (ie: an Ohio State win at Texas counts for more than a LSU win against Oregon in JerryWorld). This will mean better non-conference games, which will mean a happier fanbase who are getting more value for money, both on the TV and actually at the stadia themselves.
And the reason why my idea is so simple is that this really should be simple and clear to work out.
Just wait for the powers-that-be in college football to provide the mud.