This first half of the season has been fun and crazy. We've had FIVE no-hitters, of which two of them were perfect games. And we're only in July. Could we get to double figures, people?
On the batting side, I've seen Albert Pujols booed for a terrible start in Anaheim, the Yankees plagued by injuries - including a bizarre one to legendary closer Mariano Rivera, who was injured during a pre-game game of catch - and I've seen God-like status already given to Washington's Bryce Harper, who would probably get a few votes for President if he continues his electric start to the season. Oh, and some guy called Andrew McCutchen is going for the National League's Most Valuable Player award.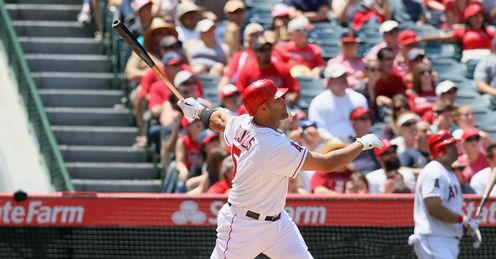 But for the teams, almost everything has been turned on their heads. The ultra-rich Boston Red Sox and Philadelphia Phillies imploded so much during the first half of the year that their loyal fan base has pretty much given up on them making a play-off run in 2012 (well, at least it won't be a heartbreaking collapse like last year, eh?), while two of the league's poorest salaried teams - the Pittsburgh Pirates and Washington Nationals are winning their divisions (seriously). Well...not everything. The Yankees are still winning the American League East.
But what's going to happen in the second half? Alex Ferguson has ten questions.....
1) Will the Pirates be able to keep on top of the NL Central?
I remember a time when the Pirates were good. In those days, they played at Three Rivers Stadium on a plastic pitch and Barry Bonds, Bobby Bonilla and some guy called Andy Van Slyke were great hitters for them. Now, with young stars Andrew McCutchen (.364 Avg, 18 HRs, 60 RBIs) and Pedro Alvarez (.307, 16 HRs, 50 RBIs) making headlines and James McDonald and a born-again AJ Burnett pitching 19 wins they could well go all the way. But they are only fractionally ahead of an ultra-dangerous Cincinnati Reds team, led by Joey Votto (.348, 14 HRs, 48 RBIs), Brandon Phillips and Jay Bruce. And the St Louis Cardinals aren't far off either.
2) And how about those Nationals?
Washington hasn't had a ticker tape parade for any of their sports teams since the Redskins won the Super Bowl in the 1991, but the Nationals have got even the lobbyists excited. That's because of Harper, who's started his career red hot, and continues to get love and attention from everywhere. All this - and the excellent pitching of Gio Gonzalez - has given the Nationals a four game lead in the NL East. With the Phillies floundering and the Atlanta Braves struggling at home, the Nationals have got a real chance to win at least a divisional title. Let's just hope Harper doesn't get injured, eh? I don't want to rain on a possible pre-Presidential parade.
3) Will the Yankees limp to a AL Central Title?
This year, the Yankees have seen injuries pitchers CC Sabathia, Andy Pettitte, Michael Pineda and reliever Joba Chamberlain and God-like closer Mariano Rivera. Sabathia and Chamberlain will definitely come back, and we'll see how good an injured Andy Pettitte in the batter-friendly confines of the new Yankee Stadium. The hitting - which has been marvellous thus far - will almost certainly come down and the Yanks could quite easily continue their frustrating knack of not being able to score with runners and this could scupper them come October-time. With a seven-game lead in September, that might seem unlikely. But after that, a run to (another) World Series seems unlikely.
4) Will the speight of no-hitters and perfect games continue?
There hasn't been an August no-hitter since 1992, and a September no-hitter since 2008. In other words, when the weather (and the hitters) continues to warm up, the pitchers find it difficult to remain fresh. So, probably not. Unless it's around July 20th (Matt Garza, Mark Buehrle and Ervin Santana have all thrown no-hitters around that date in the last three years).
5) Will Albert Pujols be even the best player on his team?
If you could vote for a Most Valuable Player in the American League, Albert Pujols' name wouldn't come up. Despite being paid $254m over 10 years, he failed to hit a home run in 111 at-bats - something that did not go down to nicely with Mickey Mouse & Co in Anaheim. Since then, he's still managed 14 of them, but he's been completely eclipsed by the activity of Mark Trumbo and Mike Trout, who have hit 34 home runs between them - with Trumbo being extra-celebrated at this year's All-Star Game. Pujols wasn't. But Pujols is very capable of getting hot. If he does - and the rest of the Anaheim's hitting clicks, then watch out, Cindarella!
6) Detroit - What's Going Wrong?
With the arrival of Prince Fielder to an already-excellent batting line-up - as well as having a great pitching staff - this Detroit Tigers team was MEANT to be dominant. While Fielder and his colleagues Delmon Young and Miguel Cabrera have all hit over 10 home runs, the team's starting pitching bar Justin Verlander has been simply rotten (none of them managing under a 4.42 ERA), and Jose Valverde hasn't been a reliable closer. They are lucky that the AL Central (Chicago and Cleveland lead the way) isn't so great, because otherwise, they would be sunk by now. Today, they are only 3 ½ games back. But the pitching HAS to get better in October for the Tigers to get the ultimate prize.
7) Don't Mess With Texas: OK?
Seriously, don't bother. Not only are the Texas Rangers first in attendance in the American League, but every part of the offense has clicked perfectly, making them the most exciting show on earth this year. I love Josh Hamilton (27 HRs, 75 RBI already), but the runs are coming from everywhere - no player on the team has let them down. On the pitching side, Japanese sensation Yu Darvish and Matt Harrison have been fantastic for the team. On the other hand, you are welcome to mess with Texas' other team, the Houston Astros, who are 33-53, bottom of their division, and awful.
8) Can Boston get off the floor?
Boston has suffered a great deal from injuries - particularly to speedster Carl Crawford, but there's something rotten in the water at Fenway, and I think it's got to do with owner John Henry's decision to fire two-time World Series winning manager Terry Francona. Bobby Valentine's just not doing the job properly - and the Red Sox are miles behind the Yankees (again) in the division. True, things might turn around in Boston, but it all seems unlikely.
9) Philadelphia's story: Can it get any worse?
At the end of May, Philadelphia - and the league's - best pitcher, Roy Halladay was put out of action for 6-8 weeks. Also, big-time hitters Ryan Howard and Chase Utley are also out, and Cliff Lee and Vance Worley have also suffered. In fact, if you look up "Phillies" and "injuries", the list is long and exceptional. Phillies fans will be probably forget about this season...and hoping that their stars don't befall the same problems in 2013.
10) Who's going to surprise in the second half?
World Series winner St Louis - despite losing talisman Pujols in the off-season - is still battling it out in the very-tight NL Central. They are only 2 ½ games back and thanks to Carlos Beltran and Matt Holliday, they are going to be contenders. And the New York Mets are riding high in the East, and will challenge for a play-off place (and if Pittsburgh collapses, maybe even a divisional title!). And speaking of East, a nice (throwback to the mid-1990s) story would be Baltimore in the AL East, but the poor form towards the back end of the first half may cost them a play-off place. Oh, and never rule out Boston, people....