On June 23, former Penn State linebackers coach Jerry Sandusky was convicted of abusing 10 boys. The school knew about the situation, but failed to do anything about it.
Penn State Nation prayed that Sandusky's jailing would be the end of it. After all, Paterno had been fired in November 2011, accused of turning his back on the whole situation, and a few months later the community had to bury their iconic coach - who's career spanned nearly half a century - after he died of lung cancer.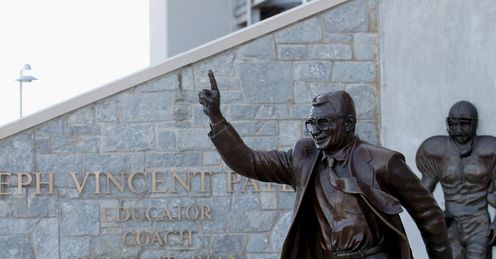 But a report by former FBI director Louis Freeh and other officials into the school's handling of the atrocities, which damned the university's inaction and its football-before-everything culture was released on July 12, driving another nail of shock through the community. They knew that 'Hell on Earth' was not going to go quietly.
In the report, it was revealed that not only had Coach Paterno been alerted to the abuse in 1998, but he failed to do anything about it beyond report it. He didn't try and stop it, but emails revealed that 'Coach' was anxious to find out how this was being dealt with.
By his own inaction Joe Paterno and the colleagues and culture around him have destroyed the very team he made.
Alex Ferguson
Quotes of the week
There is no denying now that Paterno could have done more. Despite his act of just being an 'old man', I once interviewed a now-successful NFL player who had played under Paterno at Penn State who said: "Everything goes through Coach. Everything."
And after reading the Freeh Report, it seems obvious: The 'old man' card that Paterno played - many times to his advantage in terms of knowing what was going on inside his programme - was simply an act.
Anyway, the same day as the Freeh Report came out, Paterno's legacy started to unravel - despite the protests of his loving family.
Nike founder Phil Knight, a great supporter of Penn State and Paterno - who spoke at Paterno's memorial service at State College - made sure that Paterno's name was dropped from a child care facility the day the report came out.
Knight said that the coach "made missteps that led to heartbreaking consequences". In fact, the care facility should have been named the 'Just Do Nothing' Centre - it probably would have been more apt for Penn State's leadership.
Then on Sunday, the powers-that-be at Penn State decided to remove the statue to him outside Beaver Stadium - which this writer had once travelled six hours to go and visit on a cold November day in 2003 before the Nittany Lions played Indiana - with the now-ironic words "Educator, Coach, Humanitarian" emblazoned behind him also taken away for safe-keeping (or the melting pot).
Past and future punishments
And then on Monday, the NCAA released a Penn State Carol that took apart Paterno's past and Penn State's future.
First of all, it was the turn of Paterno Past to get the treatment. All 112 wins from 1998 to 2011 - which included two Big Ten Championships and six bowl wins - were wiped from the record. The decision - by the maths factor - demotes Paterno from being the most successful coach in college football to another coaching also-ran.
Then, Paterno Future. The NCAA reduced scholarships by 40 over the next four years, 10 per year. That means 10 less players will be in the squad every year, which is going to kill recruiting. And the team won't be playing for anything, either: it's banned from playing in a bowl for four years.
That will also drive nails into the coffin of recruiting, and any skilled players who play on the Team That JoePa Built will probably transfer, while the unskilled ones will be ripped apart by the Badgers of Wisconsin, the Wolverines of Michigan, the Spartans of Michigan State and anyone else who suddenly wants to place Penn State on their schedule.
Alongside that - the Big Ten conference - where Penn State plays - was also banned from playing in the Big Ten Championship Game, which means that even if the team is successful (which they won't be), they won't be allowed to play for silverware. For football fans, it's like Manchester United getting told that they aren't going to get the trophy despite finishing first in the league.
Oh, and then there's the $60m fine in punitive damages that they are going to have to pay over the next five years, which could cripple a university that's going to be rattling around its 110,000 stadium for the next five years.
Consistency
Of course, questions abound about this decision - bearing in mind the ruling body has 'umm-ed and ahh-ed' while college sports have burned on a number of occasions.
For instance, why did the NCAA choose to do nothing when one basketball player at Baylor murdered his teammate in 2003 and his coach covered up the whole situation? Don't tell me that this doesn't fall into the same boat, [NCAA Commissioner] Mark Emmert.
Or how about when a female lacrosse player was killed by her boyfriend in Virginia - who ironically also played the same sport? And how about the rape allegations at the University of Montana in May which involves four football players and the fact that the head coach also covered it up?
I'm not trying to compare these situations to the Sandusky case, but I do ask this question: is the NCAA now going to be this quick to deal with ALL of these situations, or are they simply saving themselves for the high profile ones?
But quickly, let's go back to Joseph Vincent Paterno - Educator, Coach, and Humanitarian (when it suits).
There is no denial that the sanctions - while incredibly harsh - are probably richly deserved. By his own inaction - and he even admitted he could have done more after he was fired - Joe Paterno and the colleagues and culture around him have destroyed the very team he made.
And it's going to take some building to get things better, I can tell you.