Last season Georgia coach Mark Richt saw his team stumble into a 0-2 hole after consecutive start-of-season losses to Boise State and South Carolina. Immediately, Richt's name was a dirty word in Athens and he was about to lose his job. Heck, we even wrote about it last year.
Well, 11 games on they ended the season 10-4, finishing in a trip to the Southeastern Conference Championship Game where the Bulldogs were a couple of dropped passes away from putting LSU into some major trouble, and Richt's job is safe and the Bulldogs are once again favourites to win the SEC East division.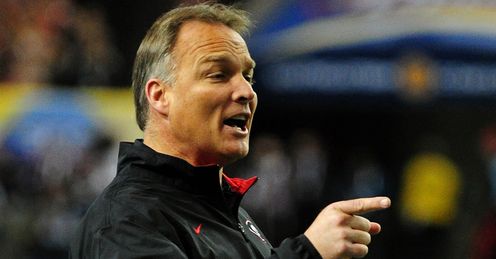 "Dropped passes are one of those things," Richt told Sky Sports. "Last season was a story of people making plays. We hurt our own momentum - we could have been 18 points up on LSU in the first quarter. Games turn on that - and rarely do our guys drop them."
So Richt is unlikely to be replaying wide receiver Malcolm Mitchell's drop or missed field goals to his team during practice. After all, negative reinforcement probably doesn't help.
One of the things that Richt is unable to control 100% of the time is the behaviour of his players - and this has been a major dark point for the Bulldogs this off-season.
Alex Ferguson
Quotes of the week
Speaking of practice, how are things going? After Wednesday's practice Richt told the US media about the situation: "Every time the quarterback got touched, they fumbled the ball. They're not supposed to get tackled, but sometimes they'll get touched. ... We better get better at that."
A day later he told Sky Sports: "We're getting there. We've got over two weeks and things have gone well. It's getting to the time when everyone's getting anxious and we just as soon as be playing right now [instead of practicing]." (Although, I'd like to add, the first home game of the year against not-exactly-competitive Buffalo will seem like a scrimmage unto itself)."
Dismissed
One of the things that Richt is unable to control 100% of the time is the behaviour of his players - and this has been a major dark point for the Bulldogs this off-season. The biggest loss has been the expulsion of would-be brilliant running back Isaiah Crowell, who was excellent last season and would have been better had he not spent too much time in his coach's Dawghouse. Crowell was thrown out after being arrested on gun charges. Richt also dismissed three players in February.
"We don't have athletic dorms anymore and we can't exactly do a bed check," he says. "They are college students after all. No-one can control another human being, but when they step out of line you've got to discipline them and they've got to work it out."
And although there's no control, the University of Georgia - like the NCAA - is a heavy drug tester of its players. Richt said: "We drug test for every steroid we can think of. And if they test positive for it, we ban them for a year."
And when a player does fail a test, it costs the team - that's why there are bans to Georgia's All-American safety Baccari Rambo, linebacker Alec Ogletree, and cornerback Sanders Commings, who will miss the first 1-4 games of the season for drug offenses.
Favourite
But despite the problems coming to Georgia in terms of suspensions, Richt's team is still a favourite in the SEC - although its second game of the season will be a testing trip to conference new boy Missouri, for the Tigers' first game of the season. Last season, the Bulldogs may not have been bad in terms of record on the road, but they were awful to watch. If they make the same mistakes in Columbia, they could be punished.
"Going into Columbia's going to be tough - two No.1 teams have lost there in recent years - especially at night. But that's the SEC for you. Everywhere on the road is pretty tough - especially at night. And let's not forget the fact that we've got TWO tough trips to places called Columbia (the other one with rival South Carolina, by the way)."
At the moment, college football is going through a bit of a turbulent time in terms of its organisation. Earlier this off-season the major conference commissioners, all members of the 'BCS' (plus the University of Notre Dame), decided that from 2014 college football's national champion would be decided by a play-off between the four best teams in the country, decided by a committee (we don't know what the committee will be made up of), who will determine seedings. The biggest beneficiary to that would be - you've guessed it - the already-dominant SEC.
"I think it's good," said Richt, noting that it won't hurt college football's all-important postseason schedule, the bowl system. "It'll be exciting. I don't think it'll disrupt the bowl system. And we need to careful our players don't play too many games."
Success
The SEC's success (which, as we've mentioned, has been six straight National Championships, including one all-SEC Title game last year between Alabama and LSU) has been helped by the fact that many of SEC schools don't like to play too many difficult road away games, preferring instead to play neutral-site bowlesque games at the start of the season.
Richt said: "If you go on the road for one game, you're going to lose the revenue a game can bring in for a community and a city. And other schools know that too - it's all an economic puzzle. The other thing is that there is a risk of getting beat. You don't want to cost yourself a chance of getting to the National Championship."
But would everything change if the college football committees decided that more emphasis was needed on non-conference games rather than those teams play year in, year out? "I don't think it'll happen where the non-conference games are much more important than anything else," Richt said.
So to the final question: what makes the SEC so tough? "We've got great players, great coaches, and the fans are unbelievable. And the amount of interest in each team is unbelievable, too. This conference is the best of the best (six straight National Championships have come from SEC teams). That's not just UGA. That's everyone and when you go on the road to games, it's always deafeningly loud." If the SEC needs a World Ambassador, you could put Mark Richt forward for the job!!!