On Thursday night, one of America's biggest seasons will kick off with Vanderbilt hosting South Carolina in a game that's got tongues wagging.
But this isn't about a game. It's about 12 games, and how everyone finishes after that. There are going to be great games, great teams and great players making highlight reel plays on one side and on the other side we'll see controversy, players getting banned for their own stupidity, and terrible games.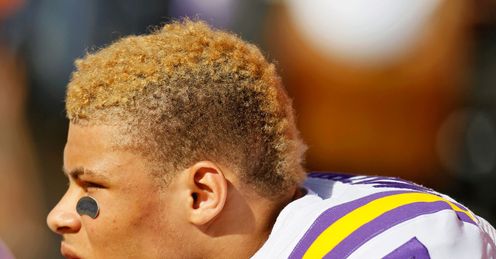 But whatever happens, the stadiums will be alive with the roar of thousands upon thousands of students, who keep faith with a school even when the rest of the country doesn't. That's sport for you.
Skysports.com's college football expert Alex Ferguson has 10 burning questions for the 2012 season....
1) Can Alabama repeat their National Championship in 2012?
Regardless of whether you liked the fact that Alabama were in the National Championship Game after not even winning their division last year (let alone their conference!), they were the second best team in the country, and then became the best by dealing with hated rivals 21-0 in the National Championship Game. This year, they have lost a ton of talent on both sides of the ball, including running back Trent Richardson and linebacker Dont'a Hightower. Mark Barron is also going to be a massive loss to the secondary. Ed Lacy (RB), Jesse Williams (Nose Tackle) and Nico Johnson (LB), are just some of the names that we'll be hearing a lot of this year - and Nick Saban is quite simply too good a coach to make this team go silent...even for a year.
2) What are going to be the biggest games of the year?
Alabama's trip to LSU on Nov 3 at night is obviously going to be one of the biggest - and loudest - games of the season. Having said that, if Oregon and Southern California are both in the top four, then those two schools' match-up on Nov 3 could really make that Saturday 'Play-Off Saturday'. But there are more. Oklahoma v Texas on Oct 13 will probably decide the Big XII, while Clemson's trip to Florida State (Sep 22) and then Florida State's trip to the pit of hate that is Virginia Tech (Nov 8) could also be rainmakers. And back in the SEC, Georgia's trip to South Carolina (Oct 6) could well decide the division and possible show us a National Championship contender.
3) What's the future for Penn State?
We all know what Penn State's been through with the activities of Jerry Sandusky and the hammering the school got from the NCAA, in which it was banned from the bowl game for four years and fined $60m. But now it's football time. But unfortunately for Nittany Lions fans, it's going to be a long season - especially with the loss of talent - like RB Silas Redd to USC - after the NCAA allowed any player from the university to transfer without penalty of missing a year's eligibility. We'll see how good this side is on Saturday, when they host Ohio in a game that many predict will be one of the upsets of Week 1.
4) Will USC be the team to beat this year?
Everyone having such a love affair with the Southeastern Conference that people have almost stopped talking about Southern California, who have an incredible offense - boosted by the arrival of Silas Redd - and will score points in bunches. Although people forget that USC is under its own sanctions from the NCAA relating to the recruitment of one of its greatest players ever (Reggie Bush), this team will be fine. And their schedule - in which their toughest game will be two home games against Oregon (Nov 3 and the Pac-12 Championship Game) - is pretty friendly too. If they aren't in the Top two by year-end we'll be astonished.
5) Can LSU recover from the loss of Tyrann Mathieu?
Tyrann Mathieu - one of the most exciting safeties that college football has ever seen (so much so that he was nominated for a Heisman in only his second year on the team because of his spectacular game-changing plays, including interceptions AND great punt returns) - managed to get himself booted off Les Miles' team for drug offenses. Suddenly LSU went from a strong favourite to go the National Championship Game to simply 'one of the pack'. Listen - we know LSU can recover. John Chavis is one of the best defensive co-ordinators in the game and Les Miles isn't a half-bad coach. Plus, they've got a strong offense, backed by a great running game and a good quarterback in Zach Mettenberger. They'll be fine.
6) Who are the players to watch out for?
- Matt Barkley - Quarterback (USC)
- Robert Woods - Wide Receiver (USC)
- Sammy Watkins - WR (Clemson)
- Montee Ball - Running Back (Wisconsin)
- Marqise Lee- WR (USC)
- Tyler Wilson - QB (Arkansas)
- Landry Jones - QB (Oklahoma)
- De'Anthony Thomas - RB/WR (Oregon)
- Eric Reid - Cornerback (LSU)
- Alex Okafor - Linebacker (Texas)
7) Who's got the most exciting offence?
Coached by Chip Kelly, Oregon's no-huddle, high-octane offense loves to score points and score them quickly. De'Anthony Thomas is one of the quickest players in college football, but there's pace all over this team on an offense who makes it its job to exhaust defences by the first quarter. Of course, Clemson and Georgia aren't going to be too shabby in the points-scoring department - and let's not forget USC, shall we? After all, they've got three potential Heisman candidates playing for them!
8) Who's the best coach in college football?
We keep on going back to this man, but Alabama Coach Nick Saban, after winning three National Titles as a Coach (two out of the last three years with Alabama) is the best. His teams control the ball on both sides of the ball, and they don't make mistakes. Oh, and he recruits like a demon, too. And to make it more amusing, we asked College Football fans if Saban was in fact Jesus. A Bama fan answered: "Jesus didn't win two National Championships in three years, did he?" There's your answer, then.
9) Will there be an upset on Week 1?
Appalachian State's astonishing upset of Michigan in 2007 has taught us that nothing should be taken for granted on the first week of the season. And while Michigan will be hoping for the 'Upset of The Season' when they take on Alabama this year, we figure Alabama will win by 10. However, Auburn could well upset Clemson - who are missing top wide receiver Sammy Watkins after his own drug arrest in the off-season for the game, and don't be surprised in NC State beats Tennessee on Friday night. And although people would love Vanderbilt to beat South Carolina in the season's opener on Thursday, we think it unlikely. In other words, Auburn has your best chance of an upset...unless you think Ohio can do the job at Penn State.
10) So who's going to win the National Championship?
After going on and on about Alabama and the greatness of Nick Saban, it seems only right that we predict that Southern California will win it all. Sorry, Nick!