The NFL season is finally here. Not only is Peyton back from injury, but Tom, Aaron and Drew will be looking to take their teams to the Promised Land - this time in New Orleans - once again.
But while a lot of people - especially the fantasy owners - are pretty excited about the veterans, Sky Sports is as excited (as ever) about how the rookies get on after being three or four-year veterans in the big, bad world of college football.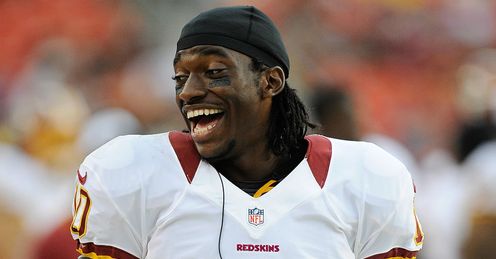 And although running back Trent Richardson probably won't make it out for the Cleveland Browns this year, Alex Ferguson has 10 people that you really ought to watch out for...
1) Robert Griffin III (Washington Redskins) (QB)
The No.1 pick for the 'Skins was the human joystick last year, ripping the knees of opposition defenders and creating things out of nothing. We don't know if he can do that in the NFL, but we do know that if he gets the room, the would-be Olympic hurdler will cause some damage and raise some roars. His pre-season hasn't been bad, either - 20-31, 193 yards, 2 TDs. He was also sacked three times - giving us some worries about Washington's offensive line this year!
2) Andrew Luck (QB, Indianapolis Colts)
The smiling quarterback out of Stanford terrified defences last year, throwing for well over 3,000 yards and 37 TDs - and showing all the maturity that you'd want from a potential No.1 draft pick. This year, Luck has showing some growing pains, going 40-64 for 171 yards and 3 TDs... and 2 INTs. He's going to be boosted by rookie tight end Colby Fleener, who was his biggest target at Stanford.
3) Russell Wilson (QB, Seattle Seahawks)
When Wilson was selected by the Seahawks, we had an inkling that he'd do something good. After all, he took Wisconsin within two heartbreaking Hail Marys of a National Championship Crown (seriously, check out the Michigan State and Ohio State highlights against the Badgers last season - simply amazing for everyone NOT wearing a 'W' on their helmet!). He was great in the pocket, and great outside of it, too, looking like a true commander. He came in, had a near-500 yard preseason, and was consistently excellent. So was it any wonder that he was chosen by Pete Carroll to be the starter for Week 1?
4) Justin Blackmon (WR, Jacksonville Jaguars)
Blackmon was hands-down the best wide receiver in college football last year. Say what you want about USC's Robert Woods (he's still in school), Blackmon was consistently brilliant, receiving 1,522 yards for 18 TDs (to go with his 1,782 and 20 TDs the year before) on Oklahoma State's rapid, through-the-air offence. It was fun to watch. And so was Blackmon. He's already made a rapid start to his Jags career, grabbing 120 yards and his first touchdown... in just eight receptions.
5) Luke Kuechly (LB, Carolina Panthers)
Kuechly is already a star in Carolina - after being great at Boston College - and journalists immediately said he would be the NFL's Defensive Rookie Player of the Year. This was after a 10-tackle performance in the game against the New York Giants. No pressure then...
6) David Wilson (RB, New York Giants)
If anyone has had a brilliant start to his NFL career even in preseason, it's Wilson. Wilson - a running back star at Virginia Tech - ran for 118 yards and received for 52 more in the Giants' first three preseason games. If those numbers keep up, then he'll be the No.1 running back in New York, and maybe a star in Times Square, too!
7) Jeff Demps (RB, New England Patriots)
There is no denying that Demps is quick. That's why he graduated from Florida and instead of trying to get drafted - he had nearly 2,500 yards and over 20 touchdowns for the Gators - went to US Olympic Trials, where he gained a spot on the US 4 x 100 squad (he ran a leg in the preliminary rounds, and got a silver when all was said and done). But Bill Belichick wanted him to play football, and the speedster - who signed a late contract with the pits - rushed for 41 yards on just three attempts. And watch out for him on punt returns and kick-off returns, too.
8) Doug Martin (RB, Tampa Bay Buccaneers)
Martin, who was brilliant in his career at Boise State, seemed to have immediately impressed those in Tampa, because he's been named the team's starting running back. A threat as a receiver too, Martin ran for 97 yards and two TDs - which should be pretty profitable in a perennially weak NFC South.
9) Alshon Jeffery (WR, Chicago Bears)
Jeffery was a big (in both senses of the word - he's 6 ft 2) target for South Carolina's quarterbacks last season (he had 762 yards receiving and eight TDs on an offense that was mainly concentrated towards the running skills of Marcus Lattimore and Kenny Miles), and a playmaker at that. He's impressed the Chicago Bears, grabbing 106 yards receiving on eight receptions, but there have been some worries about his attitude. If he can keep connecting with QB Jay Cutler, there will be some smiles at Soldier Field, too!
10) Andre Branch (DE, Jacksonville Jaguars)
Branch's last game for Clemson was not a happy one, when he and his defence managed to concede 70 points in their bowl loss to West Virginia. Anyway, that didn't stop Jacksonville drafting him in the second round, where he's impressed coaches with his pass rushing ability... to the point that many believe that he will be the team's starting defensive end this year.
AND WATCH OUT FOR (WITH TREPIDATION)...
Ryan Tannehill (QB, Miami Dolphins)
Tannehill beat Matt Moore to the starting QB's job in Miami, but it's going to be quite a risk for the Dolphins - especially as Tannehill was incredibly inconsistent during his career at Texas A&M. He benefitted from a great wide receiver in Ryan Swope last year - but will the Dolphins receivers give him the same sort of return? Miami fans are hoping so. But would we draft him on our fantasy league? Not until the late rounds- unless we were desperate.
Click here for details of Sky Sports' live NFL coverage.