Welcome back, refs. After three weeks of insanity and inanity, you were back for Week Four to take control of the game we all love and, suddenly, everything's a little bit calmer. Unless you're a New Orleans Saints fan.
A+
Houston Texans (4-0)
Houston has been brilliant defensively, led by a defence that's given up an average of just 14 points per game. And led by Arian Foster, Gary Kubiak's team controls the ball brilliantly, running it down teams' throats incredibly effectively. This team is for real.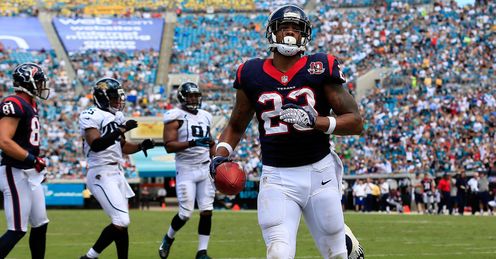 Minnesota Vikings (3-1)
Is it time to be a believer in the Minnesota Vikings? Probably not yet. But having said that, we will say this: Christian Ponder has been exceptional this season - he's been interception-free thus far. Adrian Peterson is looking like the Adrian Peterson we knew when he was at Oklahoma and in his first years in the league. And Percy Harvin is flat-out quick. On the defensive side, everything's good so far. But how long will this team last without injury?
A
Arizona Cardinals, Atlanta Falcons (4-0)
We get that 'perfect is perfect', but Houston looks like a better team than either one of these two unbeatens. Strangely enough, Arizona's defence (15.2 pts per game) has been a revelation (it's not like that historically), while Atlanta has managed to keep its drives going through being disciplined, and through having a great leader in Matt Ryan. Saying that, Arizona doesn't seem to have problems with their QB, either!
San Diego Chargers, San Francisco 49ers (3-1)
San Francisco showed us what a good team they were last week when they won at Lambeau Field. They then reinforced that fact by destroying the New York Jets at The Metlife Stadium. This team is playing some great ball on both sides of the field, and the Niners are looking every inch like Super Bowl contenders. And as for the Chargers, they've been a lovely surprise this year, with a defence that dominates the rush and doesn't give up points easily. Now, if Phillip Rivers could just cut down on those interceptions (he has four)....
A -
Baltimore Ravens, Cincinnati Bengals, Chicago Bears (3-1)
Baltimore has a defence that reloads like a good shotgun and blows the competition away year after year. Add to that an excellent Ray Rice, and they are hard to stop. On the other hand, we're trying to get our heads around Cincinnati. The Bengals aren't anything defensively, but their offense - especially with the combination of QB Andy Dalton and AJ Green is clicking beautifully. And as for the Bears, their 'D' was a revelation on Monday, taking two of Tony Romo's interceptions back to the house in a destruction of Dallas. But now, the offense is clicking, could the Bears be a favorite for the NFC North? On this evidence: Yes.
B+
St Louis Rams, Buffalo Bills (2-2)
If there two teams on my list I wouldn't expect to be 2-2 to start the year, it would be these two. But St Louis has been flying at home, and we're all hoping Sam Bradford stays healthy, because he's got one hell of an arm. Meanswhile on the northern tundra, Buffalo's offense have been warming the local fanbase up - especially with the running efforts of RB CJ Spiller and Tashard Choice.
B
Philadelphia Eagles (3-1)
This team could quite easily be 2-2 or 1-3 to start the year, but they've survived and this has taken just a little pressure off Andy Reid. But Michael Vick's got to sort out his inconsistencies (6 INTs already) if the Eagles are going to make a play-off run (they've only scored 6 TDs all season). Having said that, Philly's defence is making the team fly, folks...
C
Dallas Cowboys (2-2)
On Opening Day, Dallas rumbled into New York and beat up the Giants, on the back of an excellent performance by Tony Romo. I wasn't the only one to think: "Could this be the new Romo?" Well, after his inept performance against Chicago, where he threw for one touchdown and FIVE interceptions (which highlighted an otherwise unconvincing start to the season), the answer is "No". But the good news for the 'Boys? The NFC East is weak this year.
New York Giants, New York Jets (2-2)
Three words suffice for the Super Bowl Champions and their Metlife Stadium-sharing neighbours: Mediocre at best.
C-
Indianapolis Colts (1-2), Washington Redskins (2-2), Seattle Seahawks (2-2)
All three sidess have rookie quarterbacks, and Andrew Luck (Indy), Robert Griffin III (Skins) and Russell Wilson (Hawks) not only have their fans believing, but also their fanbase. We don't know if any of those three (if any, it'll be Washington, we think, because of their more talented roster), will make the play-offs, but with both of them, it's fun seeing these former College Football darlings get better each week with regards to decision-making and leadership. Now, if only all of them could get a defence...
D
New England Patriots, Green Bay Packers (2-2)
Both teams haven't been up to par this season by any stretch of the imagination. Aaron Rodgers & Co were given a lesson in football at home to San Francisco, while the Patriots have coughed and choked their way through the first four games. The Pats are lucky the AFC East collectively is so poor and their offense is so dynamic, but the same can't be said for the NFC North. The Pack had better wake up.
Denver Broncos (2-2)
For a team tipped to go to the Super Bowl by a lot of people - mainly thanks to the arrival of Some Guy Called Manning, the Broncos not been pretty this season. While the offense is fun, the defence needs a lot of work. This team doesn't look as good as the Chargers at the moment.
D-
Detroit Lions (1-3)
Simple equation: Injuries, if serious, to QB Matt Stafford + WR Calvin Johnson = Bad season for the Detroit Lions. And it hasn't started too prettily, either!
Carolina Panthers, Tampa Bay Buccaneers (1-3)
Having a great quarterback in Cam Newton (Carolina) or Josh Freeman (Tampa Bay) is all well and good. But both teams have offences that are spluttering and defences that are mediocre. That doesn't exactly translate to victories, does it?
Miami Dolphins (1-3)
We told you about how drafting QB Ryan Tannehill was a risk for the Miami Dolphins, because of his inconsistencies? Well, he's thrown for 1,046 yards and 2 TDs this season. But he's also thrown for 6 interceptions. Now, we can truly say: "We told you so, Miami"
E
Pittsburgh Steelers (1-2)
The Steelers have been badly hurt by the injuries to James Harrison and RB Rashad Mendenhall, the latter which has crippled their running game. Ben Rothliesberger can't do it all himself.
Jacksonville Jaguars, Oakland Raiders, Tennessee Titans (1-3)
If there's anything in common with these teams, it's that they are all defensively dreadful. Add to that that none of the teams have an elite quarterback or running back, and you see why the future's gloomy, too.
Kansas City Chiefs (1-3)
We love Arrowhead Stadium and the galvanized support that there is for the Kansas City Chiefs. They deserve more than an offense that turns the ball over so much it's painful... and a defence (that's on the field so much BECAUSE of those turnovers) who's given up the second-most points in the NFL.
Cleveland Browns (0-4)
Things will improve for Cleveland and their much-tortured fanbase - we are sure of it. Trent Richardson - if he stays healthy - is going to be the second coming of Jim Brown, but right now, things are ugly.
F
New Orleans Saints (0-4)
With key players suspended for training camps, and a head coach not invited back until next season, New Orleans was never going to find this year easy. Add to that a lack of luck and a couple of heart-breaking defeats, and the only tunes we can hear in Jazztown from the 'Who Dat?' Nation are rather funereal ones. We hope to be proved wrong.