College Football released its Bowl Championship Series standings last week, which unsurprisingly revealed that Alabama was the top team in the nation.
Florida, Oregon, Kansas State and Notre Dame made up the Top 5 - but only two will be able to play in the National Championship Game.
But there have been many more special players this year than teams; Alex Ferguson brings you some who are going to be gunning for a high draft place in 2013's NFL Draft...and some names for future consideration!
SIX GREATS
Manti Te'o (Linebacker, Notre Dame)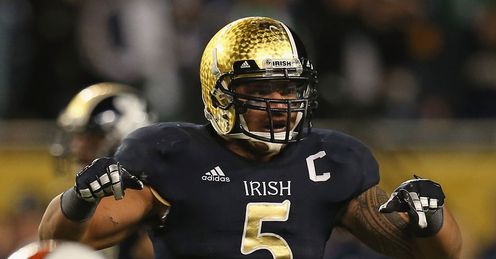 Getting Notre Dame through its special season mattered so much to Manti Te'o that when his grandmother and his girlfriend died of cancer in the same week, Te'o stayed on to play for the Fighting Irish in their game against Michigan State. And the Golden Domers are pretty happy he stayed on, as he led the team to a dramatic road win. But Te'o has been a leader in the team's other games this season, recording 59 total tackles and three interceptions. He's a spiritual leader on a team that many believe is blessed by 'Touchdown Jesus' this year. We look forward to seeing him in the pros.
Jarvis Jones (Linebacker, Georgia)
Jarvis Jones came to play in Georgia's first road game of the season at Missouri, and it showed. Jones was incredible that day, recording two sacks, nine tackles and one interception. He ate the Tigers for breakfast - especially in the second half. He's so quick and agile that teams are double-teaming him (especially on a Georgia defence that hasn't exactly driven its fans wild this year), making his numbers smaller than they should be, but he's many people's No.1 pick this year. Georgia will be hoping he gets through more of those double teams!
Geno Smith (Quarterback, West Virginia)
Apart from a horrible game at Texas Tech last week, Mountaineers QB Geno Smith has made himself a Heisman favourite with his extraordinary level of play this season. Smith - who hasn't thrown an interception this year - led the Mountaineers to an exceptional start to their Big XII history, where they scored a ton of points and had the country's tongues wagging. In fact, he's thrown for 2,271 yards and 25 TDs. And no interceptions. And everybody still believes he'll rebound on Saturday after his poor showing at Texas Tech. We'd like to remind everybody that Smith's defence is exceptionally poor, too.
Matt Barkley (QB, Southern California)
So good is Matt Barkley that he's thrown for 1,475 yards, 16 TDs and six INTs, and people have regarded his year as a disappointment. Maybe it's because USC has a loss (at Stanford), maybe it's because his offensive line just hasn't given him the time that he was used to, or maybe it's because he hasn't got a fantastic running game, but let's get this straight: Barkley is a phenomenal leader and going in the Top Five this year. So there.
Stefphon Jefferson (Running Back, Nevada)
Because Jefferson doesn't play in a 'Big Boy Conference', people are ignoring him. We say this: If Jefferson goes after his junior year, your NFL team would do well to draft this small (ish), exceptionally quick running back. He's been fantastic this season, putting up (gasp) 1,140 yards and 14 TDs. You'll be unsurprised to hear that he leads all running backs in rush yards and rush yards per game.
Denard Robinson (QB, Michigan)
Robinson's such an athletic quarterback that every offensive line in the country is going to want 'Shoelaces' on their team. Although Robinson has thrown for 1,101 yards and run for another 804 (as well as a combined 15 TDs), he's thrown for eight interceptions and fumbled the ball four times (lost twice). In other words, he's not been as pretty as he has been in the past. Does that mean that he's not going in the first round? No - because Michael Vick's quite a good quarterback still, even if he's had quite a bad 2012. And this guy could well be the reincarnation of Vick...without the, ahem, off-the-field issues.
FOR DRAFTING IN 2014 AND BEYOND
De'Anthony Thomas (Running Back, Oregon)
'The Black Mamba' (because he strikes like the poisonous stake, according to the man who gave him his nickname, one Snoop Doggy Dogg) has a lot of hype behind him. He's a track star in pads! He's Usain Bolt in pads! He's Superman! Anyway, without wanting to wind down the hyperbole, Thomas has only 582 yards rushing/receiving and nine TDs. That's pretty poor... unless you work out that he's only had 58 touches of the ball - that's about 9.5 per carry/reception. Now THAT's impressive. And the worst news about it for Pac-12 defenses? He's got another year at Oregon to go! He's a 2014 draft prospect.
Jadeveon Clowney (Defensive End, South Carolina)
The dreadlocked second-year DE was a sensation in his first year as a Gamecock and he's been even better this year as he's worked the game. He's one of the most aggressive players in the SEC today, and he's so quick that he's happily eating quarterbacks and running backs alive this year. He's had 31 tackles, six-and-a-half sacks and 12 tackles for loss. In other words, when he hits you, it's going to be like a freight train. Ouch, quarterbacks. He should be being drafted in 2014.
Braxton Miller (QB, Ohio State)
Second-year sensation Miller has been the main reason why the Buckeyes - who have no chance for a National Championship because of a NCAA Bowl ban - are unbeaten this year. He's been absolutely fantastic, 'getting it done', with arm and leg. He's run for 912 yards and nine TDs, and he has thrown for 1,271 and 11 TDs. We expect him to leave school in 2014 - and we just hope he's not going to be the next Vince Young.
AND THE VERY, VERY FAR FUTURE
Johnny Manziel (QB, Texas A&M)
Like Braxton Miller, the Texas A&M first year sensation has been absolutely brilliant. He has over 1,680 yards passing and 14 TDs passing and 676 yards and 10 TDs rushing. He's been brilliant, and has lit another fire under a fanbase that - let's face it - simply doesn't need any more ignition. We'll be interested how he gets on later this year against the tougher defences of Alabama and LSU, but right now, it's one heck of a start. We expect him to leave in the 2015 Draft.