We're already half the way through the NFL season, so it's time to grade the progress of each team.
The perfect Atlanta Falcons unsurprisingly top my list, but who gets the lowest grade? Sadly this season, there's quite a choice...
Check out my mid-term assessment below and then use the comments box below to share your own thoughts on the teams and 2012/13 season as a whole so far...
A+
Atlanta Falcons (7-0)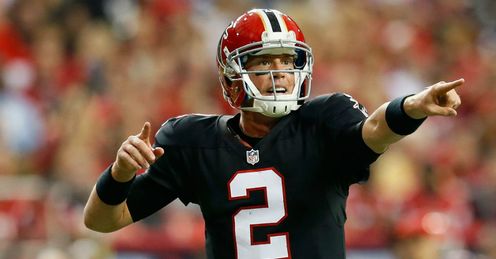 Matt Ryan for MVP? His weapons Julio Jones and Roddy White for receivers of the year? And while they've put up over 200 points this season, they are also winning with defence, too - they've only given up 130 points this year! And with a weak NFC South, Atlanta could have a play-off spot wrapped up pretty quickly.
A
Houston Texans (7-1), Chicago Bears (6-1), Indianapolis Colts (4-3)
With a weak NFC South, Atlanta could have a play-off spot wrapped up pretty quickly.
Alex Ferguson
Quotes of the week
While you could pick Houston to win the AFC South this year amid the pile of mediocrity (to use a polite word) that faces them divisionally, this team is going to be dangerous come play-off time. But the Bears? Did you really expect them to be 6-1? I didn't, that's for certain! And while they narrowly avoided defeat to Carolina on Saturday, it says a lot for the team that they weren't satisfied with their performance. And a quick word about the Indianapolis Colts, who are re-energized under rookie quarterback Andrew Luck: What a start!
A-
Miami Dolphins (4-3)
Come on - who would have expected a team with a rookie (and one savaged by pundits, no less) quarterback in Ryan Tannehill and one of the most ineffective-looking offenses in the country to be 4-3 at this stage? Not me! The Fins also have the third best defence in the country this year. This team could actually make the play-offs this year - especially in what has suddenly become a poor AFC East division...
B+
New York Giants, San Francisco 49ers (6-2)
The 'heart attack' Giants have been winning games all year long in the fourth quarter, while the 49ers have been effective when Alex Smith has been playing well (see last night's 18-19 performance against the Cardinals), but ineffective when Smith has been awful (see the home blow-out by the Giants for details). The Giants will have to watch their awful secondary later on in the season, because it's going to cost them.
B
Baltimore Ravens (5-2), Minnesota Vikings (5-3)
Baltimore have already had its injury Armageddon early with the off-season injury to Terrell Suggs and then the season-ending pain of leader Ray Lewis, while the Vikings are only an injury to Adrian Peterson, Percy Harvin, Christian Ponder or Jared Allen (and bearing in mind the Vikes' luck with that sort of thing, it's possible, folks!) from reverting to mediocrity. And while I think that the Ravens can probably ride out the injury pain, the Vikes probably can't. But right now, both sides look really good.
B-
Seattle Seahawks (4-4), St Louis Rams, Tennessee Titans (3-5), Denver Broncos (4-3)
While Pete Carroll's finding ways to win games, using referees or last minute heroics from rookie QB Russell Wilson (notice a pattern here?), St Louis have won three games (which I didn't really expect this year), including a 2-0 in-division record. Sam Bradford's going to be an excellent quarterback, but - as we saw at Wembley on Saturday - his offensive line and his own decision-making may get him badly hurt before long. And the Titans have been so massacred by injuries, which has meant that they are amongst the lowest-ranked teams in the stats on offence and defence, that we're frankly surprised that they've got three wins this year so far. Oh, and about the Broncos: Could Peyton Manning lift the side so much that - as was said by US sports expert Michael Smith of ESPN - we have an Eli vs Peyton Super Bowl in New Orleans? We can only dream.
C+
Arizona Cardinals (4-4), Oakland Raiders (3-4)
And speaking of pain, Arizona's defence isn't as dreadful as usual, but strangely the high-octane attack that we love to speak of has drained away (they've only scored 127 points this season - one of the worst in the league). Maybe the Cardinals need (another) quarterback change? Still, they managed to beat the Pats on the road...And as for Oakland, we didn't expect them to be just under .500 at the start of the season. This team could be battling it out for a play-off spot by season-end...
C
New England Patriots, Green Bay Packers (5-3), Pittsburgh Steelers (4-3)
Like all the reports that I got at school, we can safely say this about the Pack, Patriots and Pittsburgh: Could do better. We'll leave it at that - because we expect all three teams to grace the play-offs with their presence. Although Pittsburgh won't if they keep losing big players through injury.
C-
Washington Redskins, Tennessee Titans (3-5)
If any team could be given a film character, I'd give Washington 'Two Face' from Batman. On one side, there's an offence ignited by rookie Robert Griffin III that is so much fun to watch. But on the other, there's a defence - particularly against the pass - which is brutal.
D
Buffalo Bills, Tampa Bay Buccaneers, Cincinnati Bengals, Detroit Lions, Dallas Cowboys (3-4), Tennessee Titans (3-5)
All three teams seem to take one step forward and two steps back. The Bills need to learn how to play for four quarters, Tampa Bay's still cursing its luck earlier on in the season against New York, and Cincinnati's desperately a proper defence - because they are one of the league's worst rushing teams and Andy Dalton's not exactly inspiring me at the moment. Still, there's a long way to go. And who's the quarterback we'd LEAST want with the game on the line? That'll be Dallas Cowboys QB Tony Romo. And what defence would you LEAST want to not give up stupid penalties with the game on the line? That'll be Detroit's.
D-
Philadelphia Eagles, San Diego Chargers (3-4)
Here's the truth: Philadelphia could win the NFC East and San Diego could win the AFC West this year. They both aren't terrible sides. But I'm not convinced by both coaches, who are already on the hot seat (and have been for years) after poor starts to the year. If they don't get into the play-offs, both Norv Turner (Chargers) and Andy Reid (Eagles) will be out of a job. And that might not be such a bad thing.
E
Cleveland Browns (2-6), New York Jets (3-5), New Orleans Saints (2-5)
Finally! I have a nice thing to say about the Cleveland Browns! Trent Richardson's going to be a fantastic, Jim Brown-esque running back for the team. Now, all they need is some good receivers, and a good 'D'. So Browns for Super Bowl 2025, then? On the other hand, we sort of expected this from the Saints, bearing in mind the teams' run-ins with the NFL's ruling authorities earlier in the year. Oh, and as for the Jets? Fire Rex Ryan. Now.
E-
Jacksonville Jaguars, Carolina Panthers (1-7)
Jacksonville and Carolina are both so awful that it's almost disappointing that they don't play each other this season, just so we can work out who's the league's worst team.
F
Kansas City Chiefs (1-7)
So bad are the Chiefs this year, I heard on Twitter that the team's bye week beat them 14-0. The red-clad fans must have been ecstatic - it's one of their closest losses of 2012!