Last Saturday saw one of the greatest games in college football history when LSU and Alabama played each other in Tiger Stadium. Alex Ferguson was there and in part one of his account he finds passionate supporters in Louisiana - and a whole lot more....
WEDNESDAY
For most of the week before the flight, Hurricane Sandy scared me. I wasn't scared about the winds taking my flight from 30,000 feet to zero feet in a matter of seconds, but that it would prevent my travel at all. After all, time, tide and big-time college football games wait for no man - even this reporter.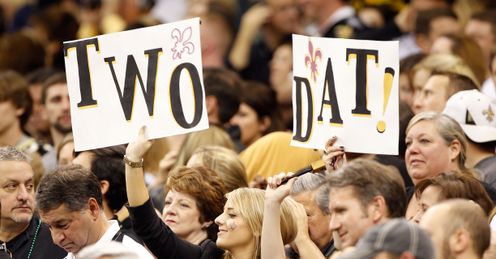 Anyway, after a painless pair of flights, I sit outside New Orleans International Airport chatting to an airport worker called Betty. She retired twice, but couldn't take the sitting around. Oh, and she's a big Alabama fan. "You came all the way from London to see Alabama roll all over LSU this weekend? Wow. That's quite a trip!" she exclaimed.
She'd actually attended the University of Alabama and was the Crimson Tide's team photographer as a student in the mid-1960s. Joe Namath (before he became 'Broadway Joe' for the New York Jets) had given her a signed 'Bama practice shirt. "It'll put two of the grandkids through college", she said, before letting me know - again - that Alabama were going to 'crush LSU' on Saturday.
New Orleans is trying to get everything done quickly because of a certain Super Bowl getting played in February. It'll split Mardi Gras in two for one of the first times in the street party's history.
Alex Ferguson
Quotes of the week
After helping my host Emily with some trick or treating (in New Orleans suburbs, parents do it in groups with cocktails in their hands), we hit up Parlay's, the local bar. There's a guy there called Leo, who's wearing a LSU cap, and smoking a cigarette (You're still allowed to do that in NOLA).
"You're going to the game?" he says. "You've never been to Tiger Stadium at night! Oh my God! I'm excited for you, brother! You'll have the greatest time! It's going to be a great game! I don't expect LSU to win, but funny things happen in that place at night!" he enthuses.
A couple of his friends think it's equally cool that someone from Britain would come to see The Biggest Game of the Century (as it seems to be every year between these two). I glow, quietly, in the Cheers of New Orleans. I can't help but thin: "This is how my local pub used to be". I almost take off my hat in despondent memory of good time rolling away.
And although Nick Saban hasn't arrived on Hallowe'en (although it was pointed out that some people came as the devil, which Saban in this part of the world most certainly is after leaving LSU, going to the NFL and then returning to college football to coach the Tigers' most-hated rival) someone's come as Les Miles, LSU's coach, replete with his cap, facial expressions, and comical handclap (check on YouTube for details).
THURSDAY
"Who Dat, Who Dat, Who Dat Say Dey Gonna Beat 'Dem Saints?" - New Orleans Saints battle cry.
David Liuzza has New Orleans (New Orleans pronunciation: Noo Orlans) in his blood. He was born in the Big Easy with a fleur-de-lis (a sign of the City's recovery) in his belly. He moved out to Atlanta, and then returned. Unfortunately, his partner didn't want to come with him. But his past is okay by me - his present's my buddy Emily, and they are happy.
As we cruise New Orleans, one thing becomes incredibly apparent: Everyone lives right next to each other - it's not as ghettoized as a lot of American cities. You can go from luxurious mansions to poorer, smaller houses in the projects with grills over their windows in five minutes. And you know what? It gives the city soul.
And soul is what this town has. In bundles. Soul is what drives the streets of Bourbon, Canal and the French Quarter. Soul makes the jazzmen play, the cocktail people pour, and forces everyone keep on going despite natural adversity and a climbing murder rate.
And it's soul - and no little courage - is why David and his family don't give up on this city despite getting hit smack in the face by both Hurricanes Katrina and Isaac. Londoners like me can only dream of such courage.
We park our car on the banks of the mighty Mississippi, which glints as the midday sun shines off it. As we stroll into the city, we take in her European influence, from French and Spanish signs all over the place to statues that wouldn't look out of place in Paris.
We sit at the Café Du Monde, scoffing down a delicious, bad-for-you beignet (pastries with way too much sugar on them) and watch the world go by. We get serenaded by street jazz. Not everyone's Louis Armstrong in this town.
And if you're in the French quarter, we'd recommend poking around somewhere else other than Bourbon St. For example, try and find the art gallery with the jungle courtyard, which we stumbled on. Don't take a photo there, but breathe in its beauty.
But the music of football is still flowing through the city's loins. We bump into three Eagles fans and chide them over Michael Vick. We see a guy bedecked in Rice kit and decide not to say anything. And there's Saints black and gold everywhere.
And as we mumble through the narrow cobbles of Bourbon Street, it's not jazz we hear in our ears, but the sound of machinery. New Orleans is trying to get everything done quickly because of a certain Super Bowl getting played in February. It'll split Mardi Gras in two for one of the first times in the street party's history.
Driving away from NOLA, there's the Superdome - a place in which thousands sought refuge from Katrina's rage. The people of New Jersey could have done with one of those domes, I think, sparing a thought for my cousin Katherine, who thankfully managed to avoid the worst of Sandy's wrath, but is still suffering without power. But now, the Superdome is back - and the Saints fans have come marching in to cheer on their stadium.
Saints fans are still enraged at the NFL over 'Bountygate'. In fact, there's a petition going round urging people not to volunteer during Super Bowl time, which would hurt the NFL in its back pocket - it depends on volunteers. 250,000 have already signed. Silently, I curse myself for not leaving on the Tuesday rather than the Monday, and not going to the Saints-Eagles game on Monday night.
We have dinner at Jacques-Imos (New Orleans pronounciation: Jacks - Im- Ohs) in Uptown New Orleans a place serving some of the best New Orleans food a man could want. Bizarrely, there's a pickup truck outside with a table, where a good looking-couple are drinking cocktails, smoking cigarettes and making conversation. We don't think that they are talking about Saturday's game, but we could be wrong.
But before we've even started to fill ourselves with Jacques' culinary delights, we do get the chance to talk about the game with four Alabama fans who have driven in from Nashville for events. Three out of the four actually went to Alabama and are pretty nice, while the one being a little more snarky with the 'Roll Tide' remarks actually attended 'Bama's second-biggest rival: The University of Tennessee - a school absolutely despised by Alabama fans.
Such is the bizarreness of a bandwagon jumping.
Stay tuned to skysports.com for part two of Alex's blog...