It's Thanksgiving in a couple of days, and in the tradition of it all, Alex Ferguson decides that it's high-time to talk about what he's thankful for.
To quote Top Gun, 'the list is long and distinguished...'
Check out what Alex is thankful for and then make sure you don't miss a moment of Sky Sports' NFL Thanksgiving coverage.
NFL
1) I'm thankful for Tom Brady, Peyton Manning, and all the great quarterbacks out there who make the game easy.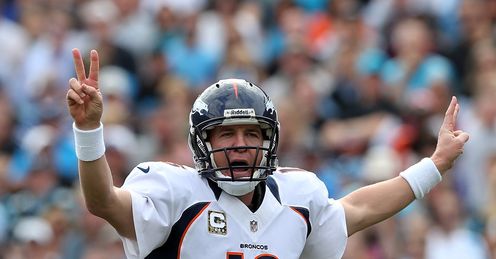 2) I'm thankful for the guys who intercept Tom Brady and Peyton Manning and all the great quarterbacks, because it proves that they aren't perfect.
3) I'm thankful for the Houston Texans, who have been a nice surprise this year.
4) I'm thankful that I can laugh at the New York Jets.
5) We're all thankful that we can laugh at Tony Romo sometime in the season.
6) I'm thankful for the passion that New Orleans has for their Saints. And I'm thankful I can say: "Who dat say dey gonna beat dem Saints!" and get it right. Trust me: Saying that after a few drinks is incredibly confusing!
7) I'm thankful that the refereeing dispute was finally dealt with - we needed the zebras back. The replacement zebras were absolutely terrible.
8) I'm thankful that there are owners like Patriots' owner Robert Kraft, who consoled an ordinary NFL fan about the loss of his wife. The man already had a big heart.... and it just got bigger!
9) I'm thankful that everyone's beating everyone else in the NFL. It shows that the NFL Draft system works - and works well.
10) I'm thankful that Sky Sports has a NFL triple-bill on Thanksgiving night. A great excuse to stay in!
COLLEGE SPORTS
1) I'm thankful for nights this season at Death Valley, Louisiana and Darrell K. Royal Stadium, Texas. Incredible stadiums, incredible matches, incredible campus. I am not thankful for how I felt the next day, though...
2) I'm thankful for noisy students sections (like LSU's student section), which RUN the atmosphere of a college football stadium. If the students aren't noisy, the place isn't noisy.
3) I'm thankful for bands and 'band geeks' and cheerleaders. The cynics might dismiss at as 'Americana schmaltz', but you know what? They are good for school spirit.
4) I'm thankful that college football is once again a mess with who's going to play for a National Title. Where would college football be without the arguing?
5) I'm thankful for the play-off in 2014. It's going to extend the season, and it's going to be fun. I'm not thankful that it might take something off the regular season, which is the best in sports.
6) I'm thankful for March Madness and all the madness it entails. I'm particularly thankful for the first Thursday and Friday of March Madness, when no-one does any work whatsoever.
7) I'm thankful that there are other sports for people to play other than basketball and football. You know I was told when I was at LSU: "Hey, we tailgate for baseball too!!" These sports may not earn a huge amount of revenue for the school, but they are important to a school's standing.
8) I'm thankful for the stars of the future cultivating their talents of the campuses of today. I am not thankful for the NBA allowing high school players to play in the NBA straight off.
9) I'm thankful for the college football off-season, where there's recruiting, colleges deciding to ditch tradition for TV money, and of course, arrests. It makes things pretty interesting. And gives you something to talk about.10) I'm thankful for coaches like Les Miles and their insane press conferences. If you haven't seen his YouTube speech after the Ole Miss win, then look it up. It's stirring. And slightly mad. I can only wish all business heads were like this...
BASEBALL
1) I'm thankful for Wrigley Field and Fenway Park - two of the most beautiful parks in baseball and 'must-attends' on your stadium shopping list.
2) I'm not thankful that they tore down the old Yankee Stadium, put up a parking lot, and turned the new one into 'Yankee Disneyland' with a stadium attached. I miss the smelly, old place. It really had atmosphere.
3) I'm thankful for the Oakland As and Baltimore Orioles. Both expected to do nothing, but both made it to the play-offs. Shows you that 'Moneyball' does have a place in our baseball society, after all...
4) I'm thankful that good trade decisions got the San Francisco Giants the World Series - although the fact that they won it via 'Moneyball' is a fallacy - their payroll is still over $100m!
5) I'm thankful for bottom-of-the-ninth home runs. They are fun. I also like pitchers getting hits, stealing bases and doing things other than pitching. I also like perfect games and no hitters - unless they are against my team.
6) I'm thankful when a crowd 'gets into it'. Yankee Stadium used to be like that. When the Red Sox are winning, Fenway is like that. San Francisco's certainly like it. It can create quite the atmosphere - and baseball ain't cricket, people!
7) I'm thankful that Miguel Cabrera, Robinson Cano and Derek Jeter for making the act of hitting the ball look beautiful.
8) I'm thankful for Melky Cabrera, who was a sensation in the early part of the season got caught for taking performance-enhancing drugs. Cheats never prosper.
9) I'm thankful that Major League Baseball has peace with its union (at the moment). It makes life a lot easier, doesn't it?
10) I'm thankful for teams like Washington winning a pennant. Shows that good things do indeed come to those who wait.
NBA
1) I'm thankful for Ray Allen's three-point shot. It might be one of the most beautiful things on earth.
2) I'm thankful that the Lakers haven't continued the season like they started. It means that the Lakers-Heat match-ups might be exciting.
3) I'm thankful for the way the local fans have got behind the Oklahoma City Thunder. The atmosphere for the NBA Finals was off-the-hook.
4) I'm thankful that there's peace in our NBA time. Shows us that we can have labour peace, after all (see NHL).
5) I'm thankful for LeBron James. Nike showed that we are all witnesses, after all. Although it's in Miami, not Cleveland. I'm also thankful that James and Dwayne Wade are getting along pretty well. It's still Wade's team in Miami, after all.
6) I'm thankful that the New York Knicks are competitive this year. New York needs something to think about after Hurricane Sandy. And Madison Square Garden needed its Knicks back. Badly.
7) I'm thankful that I can say that I saw Tim Duncan play for the San Antonio Spurs. He's one of life's gentlemen.
8) I'm thankful that my wife got to see a NBA game in Orlando. All she could say about Dwight Howard was: "He's just so big".
9) I'm thankful for Michael Jordan failing as the owner of the Charlotte Bobcats. Shows that even the legends aren't perfect at everything.
10) I'm still thankful for Ray Allen's shot.