For the first time in decades, Notre Dame are in the National Championship Game.
They will face an opponent from the South Eastern Conference, which plays its Championship Game this weekend as Georgia take on Alabama.
A SEC team has won the last six National Championships, but skysports.com blogger Alex Ferguson wonders if Notre Dame can end that run...
"Cheer, cheer for Old Notre Dame, Wake up the echoes cheering her name" - Notre Dame Fight Song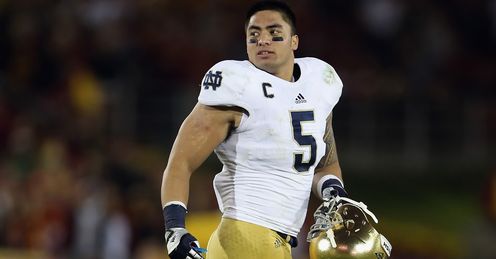 College Football is divided: those who love the University of Notre Dame and those who feel quite the opposite.
Have a Guinness with a Notre Dame fan, you'll be regaled with tales of Fighting Irish magic. They'll bend your ear about their coaching heroes Knute Rockne, Lou Holtz, and Ara Parseghian, for whom a great education was more important than a great football team.
We prayed for Notre Dame after looking at the schedule, knowing that it was THE toughest in the country.
Alex Ferguson
Quotes of the week
They'll talk to you about lighting candles in the Grotto of Our Lady of Lourdes (nothing's more important than Jesus and Virgin Mary at this Catholic university, we can tell you!).
They'll show you Touchdown Jesus, which is visible from Notre Dame Stadium, and they'll talk about their great players - a venerable list that includes Joe Montana, Tim Brown, and Four Horsemen of Apocalypse (Harry Stuhldreher, Jim Crowley, Don Miller, and Elmer Layden were named that by Grantland Rice, a football reporter in 1924).
And most of all they'll tell you that their 11 National Championships makes them America's favourite team.
If you're really lucky, someone will give you the movie 'Rudy' to watch (it's about Rudy Ruettiger, a person who went to the school with one dream: to play for the Fighting Irish. And in his last game, he got his dream). And they'll talk about Catholicism and culture, and laugh about their leprechaun mascot.
Have a Budweiser with a Notre Dame hater, and he'll tell you that the Irish haven't been in with a smell of the National Championship game since 1988. They'll laugh when they hear about the football coaches wanting to put faith and brain exercise before football and 'real man's exercise', because they'll try and point out that Lou Holtz reduced the academic requirements for his football players to make the team more competitive.
They'll tell you the Rudy play wasn't even that great of a play anyway, and that walk-ons happen all the time. They'll say that Notre Dame might have a pretty campus, but it's elitist, too.
They'll also bemoan the fact that the University of Notre Dame doesn't play in a conference like everyone else - a function of a $15m-a-year contract with US TV network NBC, which they'll denounce as greedy. "And as for the 11 National Championships? It's all bias," the hater will say, while reading his "Why I hate Rudy and Notre Dame" playbook.
"What though the odds be great or small, Old Notre Dame will win over all" - Notre Dame Fight Song
Journey
Before the season started, there was no way in hell that Notre Dame was going to make the Championship Game, in our eyes. We prayed for them after looking at the schedule, knowing that it was THE toughest in the country.
We said that they would be hurt by trips to Michigan State, Oklahoma and Southern California, and not-too-easy home trips against a revitalised Michigan and a great Stanford defence. There was no way that Brian Kelly's team could make it. Never.
But how Fighting Irish of Notre Dame proved us wrong. Their journey didn't actually start in the United States, but instead in Ireland, where they comfortably beat Navy at the Aviva Stadium (so in the same way people can say that the International Series sometimes gets a team a Super Bowl berth, the Irish can now claim that National Championship journeys start in Dublin!).
Then came the first stutter-step, a field goal-margin against Purdue. After that it was back-to-back matches with the State of Michigan, which they won comfortably in both, and after destroying Miami, they beat Stanford in controversial circumstances, in which Cardinal fans will still tell you that their running back, Stepfan Taylor, was over the goal-line.
Then came a win over BYU, a stunning road win at Oklahoma, and a three-overtime win over Pittsburgh - a game that they really should have lost (we saw that game in our trip to LSU, in which everyone was hoping and, er, praying that the Irish would lose - a sentiment that stretched from tailgates to the press box).
After that, it was plain sailing for a couple of games (poor Boston College and Wake Forest are both poor), and then their game at Southern California. They finished the season unbeaten and undiminished, and the first team in Miami.
Tragedy
The team's hero - and every team needs one - is linebacker Manti Te'o, who has played despite having personal tragedy battering him mid-way through the season. He decided to play Michigan State despite losing both his grandmother and his girlfriend to cancer in the week before.
He played the game of his life. Somewhere in heaven, there was cheering. He's in with a shout for the Heisman Award, given out to the best player in College Football. The voters should already give him a special one for having the biggest heart.
"There's few things more loved in Alabama than football and the men who know how to win it" - 'Three Alabama Icons' - Drive By Truckers
In the South, there's no end to pride in the S-E-C as a conference. Fans from the Southland pride themselves on their great teams, which for more than half a decade have been taking the Crystal Trophy south of the Mason-Dixie Line. Alabama, Florida, LSU and Auburn have all taken the Championship to their respective campuses. Both Alabama and Florida have done it twice.
They preach great running football, speed on the defence and at wide receiver. They also preach about great stadiums, beautiful campuses and the belles who walk on them, and of course, great match-ups.
Of course, they'll recognise another team's legitimacy, but they don't think any of them stacks up with an S-E-C schedule. And they'll tell you that they destroy everyone in bowl games every year, adding to their 'We Are The No.1 Conference creed'.
Tarnish
This weekend, Alabama (winner of the West) and Georgia (winner of the East) play each other to see who's going to win the Conference. And also who's going to go the National Championship Game.
Thanks to Notre Dame there won't be two SEC teams playing for a National Title this year (unlike in 2012), and SEC fans can't wait to tarnish the golden helmets and pour green blood onto the battlefield.
And in the same way as the naysayers hate Notre Dame, they also question the SEC's legitimacy, too. They are angry about the conference's out-of-conference schedule, which they think is poor. They question the legitimacy of Alabama and Georgia as the Nation's second and third-best teams, and think it's SEC bias from the voters and the computers.
They think Oregon should get a chance (particularly as the Ducks lost to a ranked opponent in overtime) to prove themselves again. And they are still angry about last season's National Championship Game, despite the fact that Alabama and LSU were clearly the country's two best teams.
But the SEC-lovers would say this: When you've won a National Title six straight times, it's obvious that the teams in your conference are the most talented in the country. It might be bias, but it's up to the other teams across America to play catch up.
We can't wait for Atlanta. And we can't wait for Miami, either.
Comments (2)
Paul Rigby says...
They might be back in the Big Time but they are going to find out what it is like to play a big team. The SEC clearly leads the way and this will be a one-sided affair to which I'm presuming Alabama will show them how to play Football. Plus, I would hardly say ND have had a tough schedule, 2 wins against top 10 ranked teams in the mix with a OT win at #17 Stanford as well as one at the un-ranked Pitt, is hardly tough. I'd go as far to say I'd expect any one of the top SEC teams to beat ND; Alabama, Georgia, Florida, LSU, Texas A&M and even South Carolina.
Posted 16:27 30th November 2012
Stephen Mina says...
Notre Dame seems to have had lady luck on their side. And it is hard to not imagine that had Matt Barkley been available last weekend USC probably would have beaten them, it was so close with the true freshman QB in there anyway. ND has a good defense but offense isn't elite and against the defensive powerhouses of he SEC I think they will be found out. And looking at the top 10 in the BCS rankings you can make a strong case that about 7 of them are better than Notre Dame. Alabama and Oregon was the game we all wanted to see, and an overtime loss to Stanford doesn't seem enough to keep them out of the Championship Game. The best team in the country is Alabama and I think they show it in the SEC Championship game then down in Miami for the National Championship.
Posted 11:27 27th November 2012