The NFL gave me a call today and asked for some advice about its future. It had a pretty good, but not amazing 2012, and it wants to be better in 2013.
Here's some advice for Mr Goodell and his friends...
First of all, we've got to go with the positives:
1) The NFL is about as even as it has ever been: Even with three games left, the wild-card race is still wide open. Teams are remaining competitive later in the season, and this is a really good thing. Although New England, Denver and Atlanta have all clinched their divisions, no-one else has managed to do so, and although Houston (where were they a couple of season ago?) have clinched a play-off spot, the rest of the spots are still wide open, and that means that the NFL's an absolute nailbiter. And you know what else this is showing?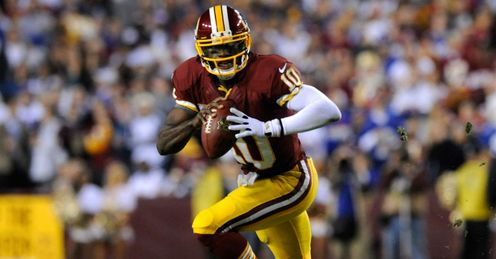 2) The Draft system is still working well: The NFL does not need a lottery system like the NBA. The Draft system is still working and working well, sir. We are seeing more and more rookies play in the big league earlier and there are more of them, thanks in large to the tip-top shape of coaching, crowds, and facilities at collegiate level. The money to support that comes from conferences getting massive TV deals, which is making schools richer and available to afford the best in everything.
3) The Luck/RG3 phenomenon: Andrew Luck and Robert Griffin III were gods in college football...and let's face it, the NFL needed Robert Griffin III and Andrew Luck to make it as bona fide good NFL quarterbacks this year. RG3's a great role model and, to make matters better, he's also galvanized an important fanbase (Washington's) and excited just about everybody lucky enough to see him. Andrew Luck's replaced Peyton Manning nicely in Indianapolis, and has turned the franchise around. What could be greater if both QBs get their team in the play-offs?
4) The Super Bowl is worth watching. OK, so there are some out there who are appealing for the Super Bowl to be moved to a Saturday (and I like the idea, if only because of our sore heads on a Monday, and the chance of a ticker tape parade for the team on the Sunday), but it's hard to deny that each Super Bowl has been exceptionally exciting. Only two in the last eight games have been poor games of football - and you can attribute one of those to poor conditions (Miami 2006- and I was there!)
5) The International Series was great! The NFL, as we know, don't slouch away from showing people pigskin abroad and demand and support for the International Super Bowl at Wembley has never been better supported. The place was absolutely rammed. Although whether Wembley can support two NFL games rather than just the one remains to be seen, I'm very excited about the Steelers vs Vikings and 49ers vs Jaguars match-ups.
Problems
But unfortunately, there have been some problems in 2012 that you've had to deal with, Mr Goodell, and it hasn't always gone right for you...And these are three major problems!
1) 'BountyGate' - Like you, when I found out about Bountygate I was absolutely furious. I almost wanted the New Orleans Saints players kicked out of football for the rest of their lives, as well as Sean Payton. For me, a few games or a season's ban simply wasn't enough. Then, in 2012, it turned out that it was not quite the case. Everything did not seem right, and you had to U-Turn with a couple of your decisions, and to cap it all off, you then saw the player penalties which cost Jonathan Vilma the season overturned by the previous commissioner, Paul Tagliabue, who then lambasted you in a number of ways. Oh, and let's not forget the people of New Orleans, who have a petition by the thousands saying that they wouldn't volunteer for February's Super Bowl, which will give you an, er, headache unto itself. This whole thing has sparked questions about your leadership, which must be pretty tough to take.
2) The fake refs - For the first three weeks of the season, we had replacement refs on the field, and it was an unmitigated disaster. Coaches, players and crowds bullied the 'zebras' to their hearts content, and no-one did well out of this. Finally, there was a deal in Week 4, but by then the damage had been done. Why couldn't we come to an agreement sooner?
3) The concussions - We shouldn't blame the NFL solely for the actions of NFL players, but when there have been FOUR suicides by current and former players in the last month, then something's gone very badly wrong. Now, there's the theory that the brains of Ray Easterling, Junior Seau, OJ Murdock and Javon Belcher were all affected by CTE, a brain disease brought on by head trauma. And to make matters worse for the league, there's a massive lawsuit against the NFL which will cost the league billions which says that former players weren't told (or more's the case the league HID) the links between helmet battery and brain damage.
4) Attendances - The attendances in most NFL stadia haven't been great, and that's because your owners are charging fans gargantuan prices for tickets and food. Fans are happy watching the TV instead, and that's hurting not only the teams, but ironically, the spectacle on TV worsens too (if you don't believe me, watch half-full Miami for a game, and tell us this isn't an exercise in depression). And it's made to look even worse by looking at some of the crowds you see at College Football stadia, too.
Recommendations
In true consultancy mode (and I would have done this on a Powerpoint for you, but there we go!), I've got five rock-hard recommendations for you:
1) We want HGH yesting right now - The players don't want to honour a test for HGH. In fact, we'll go as far as saying that they're stonewalling the idea. USA Today has even asked the question: "What are the players hiding?" If you're going to campaign about anything at the moment, make this a priority. This means that you're campaigning for the greater good. This fits into the good works you're doing for kids and against cancer, and this is all about doing things the right way. I know...you're scared about what truth there might be in the locker room, but it's better we kick out the cheats, isn't it?
2) Bountygate II: The Apology - If you were wrong, admit it, pay back the players involved, and move on! Johnathan Vilma's suing the NFL for defamation of charater, and Will Smith and Scott Fujita will probably follow suit. This could get a lot worse. Finish this by the end of season, get a clean slate, and move on.
3) Settle Concussions-gate! Settle the concussions case as quickly as possible. It's going to cost the NFL billions, but the NFL has at least got a lot of cash in its pocket. Remember, Mr Goodell, this didn't happen on your watch.
4) Cheaper tickets, more fans! Fans still would love to go to NFL stadiums and watch their teams play. Why not force the NFL's owners to have 10-15% of their seats as 'bargain seats', so fans can get a chance to watch the game they love cheaply? That'll lead to more fan uptake, and some definite repeat customers! As I witnessed at an Atlanta Hawks recently, I'd rather 2,000 watching IN the stadium and spending some money than 2,000 watching on TV and spending nothing!
5) Another cancer campaign - I realize how important breast cancer is, but I'd like to throw two other ones out there: Prostate cancer and testicular cancer. Both affect men - your core audience. Can you get a campaign either during the play-offs, at the Super Bowl, or for another week/month supporting research for prostate and testicular cancer. I mean the 'Crucial Catch' campaign supporting breast cancer research is cool, but prostate and testicular cancer might well be more, ahem, personal to your players and your fanbase.