On a blissfully warm night in Miami, Alabama won the 2012-3 College Football National Championship, destroying Notre Dame 42-14 in one of the most clinical performances that you'll ever see.
Alex Ferguson says the victory ensures that Nick Saban and his Alabama football program have created a dynasty and says the Crimson Tide's progress should have the rest of college football quaking in their boots...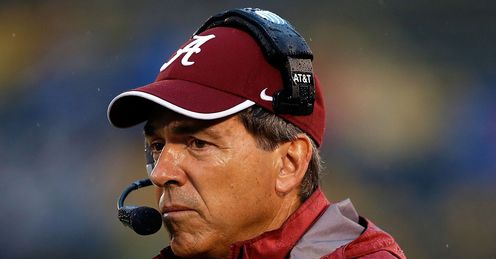 It was meant to be a bit closer. Notre Dame weren't meant to beat Alabama on Monday night, but it was meant to be an incredibly close game.
Las Vegas said 'Bama would win by 9½ points, but people said that Notre Dame's incredible defence would stop Alabama at the line of scrimmage, and the Irish's luck would continue.
But there was no luck. Notre Dame's missed tackles (something they hadn't done during the regular season) and poor offence (something they'd got away with against worse teams this year) finally led them down the road of no return.
Saban is a great motivator, a great organiser, and has the best football minds in the country.
Alex Ferguson
Quotes of the week
And against the best offensive line in college football and against a defence that doesn't miss a beat up front or at the secondary level, any prayers that were piped up at Notre Dame's famous Grotto of Our Lady at Lourdes went unanswered.
Alabama were 21-0 within the opening seconds of the second quarter, and 28-0 by half-time. It was a massacre that led one wag to Tweet: "This is the worst Irish performance since Tom Cruise in 'Far And Away'".
Notre Dame managed a couple of scores in garbage time (ie the second half), but Nick Saban picked up the Crystal Football and his third championship in four years. This is a dynasty, folks - there's no two ways about it.
Supportive
And the worst thing for college football fans - especially those in Saban's conference, the SEC - was that Saban didn't seem ready to give up quite yet, either.
"We kind of have a 24-hour rule," he said after the game. Wednesday we have to go to work. People have to make decisions about their future. We need to get our players moving in the right direction. We start school on Wednesday.
"It's on-going. You know, we have a lot of people in our program who are very supportive of our players, and I want to make sure that we continue to be supportive of the players and that they do the right thing.
"Just because we won the national championship doesn't mean you don't have to go do the right things the right way at the right time like you're always supposed to, whether it's school, being a good person, whatever it is.
"This does not entitle you not to do the right thing. So we're going to help them do that starting Wednesday."
For Saban, it will be using the National Championship to go and get the best recruits in the country to play for his Alabama program.
He and his staff will be putting up a lot of Air Miles between now and February 6 to get the best high school and junior college players in the land to come and play in The Best Team In College Football.
The pay-offs for a starter on an Alabama team, in terms of present success and future NFL riches (Saban's players are currently tearing up the NFL, too!), are potentially staggering. It doesn't take a lot to sell a scholarship at Tuscaloosa, does it?
Success
And there's another reason why Alabama's going to dominate in years to come: Nick Saban isn't leaving anytime soon. Saban is a great motivator, a great organiser, and has the best football minds in the country.
And Saban's made enough money that the green - and he receives $5.5m of it a year - is not a motivating factor anymore. Success is. And he wants more and more of it. But what Saban and the Alabama Crimson Tide also did is get their conference - the SEC - out of jail.
After league heavyweights Florida and LSU both lost their bowl games, Mississippi State was embarrassed by Northwestern in its one and South Carolina only just scraped by Michigan, we started to wonder: Is the gap closing?
Teams across the board, helped by the millions poured in by TV networks, are getting better training and workout facilities for athletes, and the standard of football (at least offensively) is getting better and better, and it seemed as though the college football playing field was starting to even out.
But now we realise that it is in fact firmly slanted towards the boys from the Southeast. Will this mean that we see a non-SEC school win before the conference has ten straight National Championship titles? We're not so sure, bearing in mind we're at seven now.
Oh well, roll on September...