Manti Te'o was one of the best college football players in 2012. He led Notre Dame to the National Championship Game and was given plenty of post-season accolades.
His inspiration? His grandmother and girlfriend both dying in the same week earlier during a week in September, which took him to new levels of play. The story was so inspiring it was told a million times this season. Now, it has emerged the part involving the girlfriend, Lennay Kekua, wasn't true.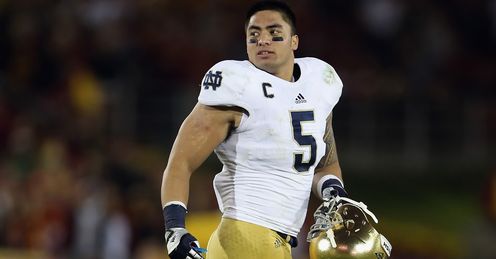 Before the season, Manti Te'o wasn't a hero. He was just a good linebacker on a Notre Dame team that didn't do much apart from beat the bad teams and fail against the good.
But that all changed against Michigan State on September 15 - only three days after the heartbreaking death of his grandmother and girlfriend, Lennay Kekua. He said he'd play through the pain, and he played a blinder that included 12 tackles and two interceptions.
Everybody who had done a story on this and not bothered to research has seen their reputations hurt by this. Sure, their reputations can be repaired (sports is a fickle world, after all!), but it's going to take time, and might cost viewers and readers.
Alex Ferguson
Quotes of the week
From there, he was - as unlikely as this sounds in the Notre Dame land of Touchdown Jesuses, Grottos, and leprechauns - a God. The Notre Dame student body cried with him. Heck, the whole country cried with him. Te'o led his team to an unbeaten regular season, and then to the National Championship Game.
And (speaking for non-Fighting Irish fans in general) we may not have liked Notre Dame, but a bit of us wanted to win for Manti Te'o - a great kid with a good Mormon upbringing - and for the kid's soul.
After the season, we wished Te'o luck in the up-coming NFL Draft, knowing that his heartbreaking story would live with him through the pros, and we wouldn't begrudge him. And we're right: The story will live with him through the pros - the one where Deadspin.com exposed that the bit where his girlfriend got into a car accident and died of leukemia a few months later was in fact completely made up.
Te'o put out a statement about an hour later saying the same, but he said that he was the victim rather than protagonist of the cruel hoax that affected not only him, but the Notre Dame student body and the world.
Now we don't know if Te'o set up the hoax, or it was the work of someone he was connected with the linebacker in the beautiful island of Hawaii. Te'o's explanation was that he "developed an emotional relationship with a woman [he] met online", adding that he "maintained what I thought to be an authentic relationship by communicating frequently online and on the phone" and "grew to care deeply about her.
"To realize that I was the victim of what was apparently someone's sick joke and constant lies was, and is, painful and humiliating," he added.
According to Notre Dame athletic director Jack Swarbrick, Te'o picked up a phonecall on Boxing Day. The number was Kellua, and so was the voice. It then became apparent that he was the victim of a hoax.
He then spoke Notre Dame coach Brian Kelly and some of his staff telling them what had happened. Notre Dame then hired an investigator to see what in the heck was going on, and the investigation said that Te'o had been victimized. Someone then deigned not to tell either the rest of the team or the media until after the National Championship Game.
Reputations hurt
A lot of people are affected by the Manti Te'o situation.
First of all, there's the Notre Dame fanbase, who can now look at what Te'o was going through and link that to his frankly appalling performance in the National Title Game, where he spent most of the game getting run over by Alabama running back Eddie Lacy. Their hero has a tarnished legacy, and that really hurts their pride.
Secondly, there's the media writers and program makers, who must be kicking themselves for not calling Stanford and asking for a statement about Kekua, or googling an obituary.
Everybody who had done a story on this and not bothered to research has seen their reputations hurt by this. Sure, their reputations can be repaired (sports is a fickle world, after all!), but it's going to take time, and might cost viewers and readers.
Then there are the tens of millions of lives in College Football Nation. And while the Fighting Irish have always been a loved or hated football team, the Te'o situation meant some found a soft spot for Notre Dame, but now hate the Fighting Irish even more than usual.
The hero hasn't turned the school to zero, but it's definitely turned the school into a laughing stock. "What, you mean Manti Te'o couldn't find a girl he actually wanted to go out with at Notre Dame?" is just one of the amusing barbs. Trust me, people are furious about this because they're also the victim of a hoax, too.
Then, there's the people who looked up to Te'o as an inspiration. You know, the people who lost wives and girlfriends like Te'o, and thought they and Te'o knew how each other felt. It was comforting for them to feel a bond with someone, after all.
And they themselves might have developed online relationships, and now doubting their instincts. Now, this hoax has turned their world upside down. That's one of the cruelest blows of all.
The whole truth
For the sake of his now-plummeting draft stock, future earnings and endorsement contracts, as well as to save his own face and get everything off his shoulder, the Manti Te'o press conference (or one-to-one interview, as a US reporter has been told) which we hope will be this week (depends on CAA, who are his agents) should be the truth, the truth, and nothing but the truth.
His opening statement needs to be without barring any holds. If a reporter asks a question, Te'o has to tell the truth. Don't go down the Lance Armstrong route, Manti - please.
If he knew about this before the season started, he should say so. If he knew that his non-existent girlfriend he was being lied to and then carried on for the sake of his Heisman campaign and Notre Dame's good name, say so.
If he never met her, he should say so and apologize for misleading the media about saying he met her in an effort to save face. The point is, is that we know that he lied, but we don't know how much he did.
Remember, America loves the redemption story. And with Manti Te'o, they may well have one in years to come.