Next week, during the hubbub that is Super Bowl Week, the Rookie of the Year will be named.
You won't be stunned to find out that after franchise-rescuing seasons, Robert Griffin III and Andrew Luck are both favourites for the award, but there are eight other men in the mix, too.
skysports.com blogger Alex Ferguson has had his eyes fixed on the gridiron all season long and has selected his Rookie Of The Year Top 10.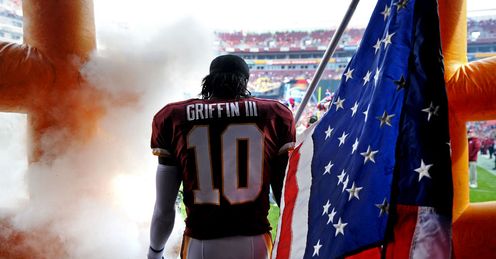 Read below for his picks...
1. Robert Griffin III (Quarterback, Washington Redskins)
We knew that Griffin III would be a game-changer was when he was drafted with the No. 2 pick out of Baylor. But the quarterback - who could have been hurdling in London for the United States Olympic Team - really, really turned heads. Griffin was brilliant, racking up 3,200 passing yards and 815 rushing yards, with 27 total touchdowns. We hope he recovers from the major knee surgery for the 2013 season, but also want to urge Redskins owner Daniel Snyder not to try and rush his return for the sake of ticket sales and vanity.
2. Alfred Morris (Running Back, Washington Redskins)
Ask any Washington Redskins fan who on earth Morris was before the season started (they drafted him in the sixth round out of Florida Atlantic, a school that won just one game when Morris was the RB), and you'd probably get a shrug of the shoulders and an effort to turn your attentions to Spongebob Squarepants. Well, we know who Morris is now, don't we? He was incredible for the 'Skins, putting up 1,613 yards and 18 TDs, including one incredible 200+ yard game and six 100+ yard games. He came second in the league in rushing to one Adrian Peterson. THIS is the man you should be worried about losing, Washington... particularly if the offensive line all comes back.
3. Russell Wilson (QB, Seattle Seahawks)
We're proud that we said this when the Seahawks picked Wilson: "One of the best picks was also Russell Wilson a QB from Wisconsin who was a Heisman Candidate almost throughout the season. He's a shorter QB, but he's got a fantastic and accurate arm. Look out for him should things with Matt Flynn not pan out." Thankfully for us (and the Seahawks), Wilson was tremendous, throwing for 3,118 yards, 26 TDs and only 10 INTs, and rushing for 489 yards and five TDS. And he out-dueled Robert Griffin III in the play-off game in Washington DC, too. And Matt Flynn? He'll probably end up in Arizona or a place that needs a quarterback.
4. Luke Keuchly (Linebacker, Carolina Panthers)
Boston College's Kuechly was the talk of last year's draft, and after this year's phenomenal performance, the love was quite rightly deserved. Kuechly didn't just lead rookies in tackles - he led the WHOLE LEAGUE in tackles, with 164. Oh, and he also had a sack and two interceptions. He'll probably be working at his sacking ability in preparation for the 2013 season as we speak!
5. Andrew Luck (QB, Indianapolis Colts)
Luck gets a lot of love because he took the place of some guy with a hurt neck who went to Denver, and took the Colts to the play-offs when no-one really expected it. He put up 4,374 yards passing with 23 touchdowns as well as 200 yards on the floor (with a further five TDs). We're pretty sure that his interception number (18) will fall in 2013. The reason why he's not higher on the list is the interceptions number (18), which should be lower. He's going to need to work on the INTs if he's going to really write another chapter of Indianapolis folklore.
6. Doug Martin (RB, Tampa Bay Buccanneers)
We said that the Bucs decision to pick Boise State running back Martin was "fantastic", and we were right - 1,454 yards and 11 TDs later at an average of 90.9 yards per game - and Tampa Bay was suddenly competitive, finishing the year with a not abysmal 7-9 record.
7. Trent Richardson (Running Back, Cleveland Browns)
Former Alabama superstar Richardson can play through pain - he told the Associated Press after the season he played with two broken ribs through most of his first season - and that sort of courage is just what Cleveland Browns fans want and need after years of being simply awful. Despite having a less-than-wonderful offensive line, Richardson ran for 950 yards, 11 TDs, including three 100+yard games.
8. Casey Hayward (Cornerback, Green Bay Packers)
We didn't even mention the pick of Hayward in last year's draft round-up, but after seeing the performance of the second-round pick out of Vanderbilt this season, do we feel stupid. In grabbing eight interceptions, combining for 53 tackles, six interceptions and one forced fumble, he's certainly been the NFL's Rookie Defensive Back Of The Year.
9. Matt Kalil (Offensive Linesman, Minnesota Vikings)
The reason why we've got Kalil on our list is a pretty simple one: Look at Adrian Peterson's numbers. With Kalil - a first round pick from USC - Minnesota's offensive line massively improved, helping Peterson run for 2,097 yards and nearly grab the regular season record. Oh, and his ability to protect the quarterback - one of the big reasons that his former QB at USC Matt Barclay could have gone in the first round in 2012 - helped Christian Ponder look pretty good, too.
10. Blair Walsh (Kicker, Minnesota Vikings)
Kickers don't normally get in rookies of the year discussions, but listen to us when we talk about Walsh. First of all, he hit 35 field goals in 38 attempts (92 per cent average), including perfection from 50 yards or more. Secondly, Walsh set the NFL record by belting 10 field goals from 50 yards or more in a season. Thirdly, he was (rightly) elected to a Pro Bowl. That's a great season.
Alex had plenty to say in the wake of the 2012 draft, too. See if his views on the AFC dealings were accurate by clicking here, and read if his NFC thoughts were spot on by hitting this link.