If you want to get someone really, really irritated, go to Stan's - a local bar outside Yankee Stadium - on the Opening Day of the season (Ironically, it's April 1st) and ask: "Who are the fools now?".
And while most of the people would point to you- before delivering you a well-deserved slap - some of the people may be pointing up the road to the bright, gleaming lights of Yankee Stadium.
For decades, the New York Yankees had the perfect model to the keep their model going. They would win a title (or get close to it), they would give the best player the sort of contracts that would make any Premier League footballer cry, and they would carry on. It didn't matter if some of the players were flops - George Steinbrenner's chequebook ensured that his team won titles regularly- especially at the turn of the century.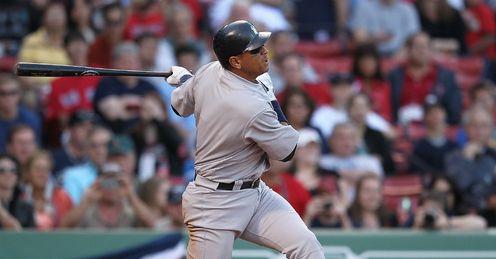 But then the luxury tax rules came along, essentially handicapping the Yankees and other franchises who wanted to spend big to win big. That ruined the Yankees' advantage. And while other teams flourished, the Yankees have had only one World Series title since the cap rule - in 2009. Savvier general managers, who used a mixture of veterans and young players, have profited wildly, while the Yankees model of 'sell the farm, and trade for the next big player' has been a model of what NOT to do. Sure, there's hardly been a season since 2000 that the Yankees have missed the play-offs, but at play-off time, the Pinstripes have been found wanting.
Well, in the off-season of 2012-3, it's been an absolute nightmare for Yankees fans the world over.
First, there's the Alex Rodriguez situation. After a laughable off-season where he swung (and missed) at everything, news came out that A-Rod had been involved in another performance enhancing drugs scandal. Oh, and he won't be playing this side of July because he had hip surgery, which means the Yanks will miss a lot early production.
Power battles
Then, there's the power situation. As pointed out in a typically stinging article by the New York Daily News, the Yanks rid themselves of 100-plus home runs by declining to re-sign Nick Swisher, Russell Martin, Eric Chavez and Raul Ibanez (although they tried for Swisher, but refused to break the bank). The Yanks are going to miss Swisher, Martin and Ibanez - particularly Ibanez' clutch hitting. And while the Yankees can probably shrug off all three, it's going to be difficult seeing Swisher - a guy you got the feeling truly enjoyed playing in pinstripes - playing somewhere else. The optimists will point to the signing of Kevin Youkilis and Travis Hafner, but will they be a replacement? We doubt it. Oh, and Youkilis made his name in baseball mastering the art of hating the Yankees when he was with the Boston Red Sox. That should be fun if 'Youk' isn't performing, won't it? Oh, and if Hafner can stay healthy throughout the 2013 season, it's going to be a miracle.
Speaking of health, the Yankees still have so many questions - some of those from 2012 (Will Mariano Rivera rebound after being injured for most of the 2012 after incurring a knee injury? Will Mark Teixeira re-injure his calf? Will Derek Jeter recover from his broken ankle?), and one from this week (Curtis Granderson, who has been a bright spot for Yankees fans ever since he was signed - is out for 10 weeks after getting his right forearm fractured by a pitch) And of course age leads to less production - unless of course you're Jeter!
And the health issues won't just hurt the batting, either. Yankee Stadium is not going to help pitchers. In fact, if you love lots of home runs, we'd advise you to go to the Bronx, where there is always a lot of 'em. In fact, Yankees pitchers at home were mediocre (ranked 14th in ERA, 9th-worst in home runs given up, and 18th in runs given up), and given that C.C. Sabathia, Hideki Kuroda and the timeless Andy Pettitte are all starting to sell advanced tickets for Old Timer's Day, this can only get worse.
It's funny, because the Yankees actually NEED success more than a lot of franchises- if only to get their stadium filled. According to MLB stats, the Yankees ranked second in the country in total attendance behind Philadelphia with 3.5 million, but only sixth in the country in percentage - the stadium was 87% full. But with the recession, the expensive Yankee stadium ticket prices (ranging from $23 - $300 - plus exorbitant food and drink prices), and the fact that pitchers tend to struggle in the new stadium, the '87% full' will soon become a figure of legend, because the actual bums on seats will fail to materialise as fans have something better to do. See Fenway Park, Boston - where fans simply stopped going to the park amid a dreadful 2012 season for the Red Sox - for details. Yankees fans are equally adept at jumping off the bandwagon. So is the ravenous New York press.
It's going to be a difficult season, Yankees fans.