The off-season is always an interesting one in any sport - and the NFL is no different.
We've had Kansas City trading for former San Francisco starter Alex Smith, Tom Brady's reconstructed his contract, other players have been signed up, or released. But it's the draft that will see a lot of the holes plugged - and there are plenty on each team.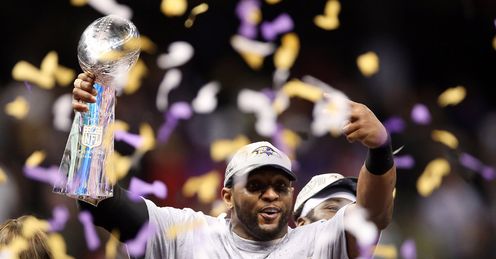 skysports.com's Alex Ferguson looks where the holes exist on each team.
AFC East
NEW ENGLAND: New England was a game away from the Super Bowl this year, so it's not as though the Patriots need to fix a lot. While they are fine offensively, the Pats were easy to throw at (giving up 271.4 yards per game), which makes us believe that they need a better secondary - and a good pass rusher or two. But at quarterback, I think they're OK.
BUFFALO: Buffalo desperately needs a quarterback (25th in pass yards), and a wide receiver to complement him. Sorry Ryan Fitzpatrick, you're just not him. Defensively, they need some help in the middle as they were terrible against the rush (31st in the league).
NY JETS: If I had my way, I'd get rid of both Mark Sanchez AND Tim Tebow, and give the job to Greg McIlroy. McIlroy HAS to be better than the 30th the Jets managed in passing yards this year, right? But not only that, but the Jets could do with some good wide receivers (they haven't had that in a while). And a lot of people will be begging the Jets to keep Darrelle Revis, do they want to risk a lot of money on a guy with a torn ACL, or do they free themselves of the problem and get more cap room. Oh, and if Revis leaves, they'll need a good cornerback.
MIAMI: Ryan Tannehill wasn't horrific at QB (ahead of our expectations!), but the Fins have been middling-to-poor in almost all of their offensive categories. Get some more receiving weapons, Miami! They could also do with help at cornerback and safety, too, where they struggled immensely against the pass.
AFC South
HOUSTON: Despite all the headlines around JJ Watt, the Texans were swatted from the play-offs with relative ease this year, and the locals must be grumbling. I wonder how good the Texans would have been with a tougher schedule. This team isn't without its flaws - they weren't great against the pass this year, and on the other side of the ball, they could do with another wide receiver (they were 12th-ranked even WITH Andre Johnson).
INDIANAPOLIS: Colts fans Olly Dawes said: "There are lot of holes. We overachieved massively! We need an interior offensive linesman, a pass rusher, a cornerback and a wide receiver." So there you go then.
TENNESSEE: The Titans need fill enormous holes on the defensive side of the ball - they were last in points given up, and near the bottom in pass yards, rush yards and total yards given up. Either it's a bad co-ordinator or a lack of talent. It's probably both. The Titans will be desperate to change their secondary come draft/free agency time. If they don't, it's going to be a long 2013.
JACKSONVILLE: To quote 'Take That', the 2-14 said it all. The Jaguars were terrible. Quarterback (Blaine Gabbert) was worse than terrible, starting only 10 games. He has to be replaced - even with someone who's middling so the Jags can wait for a better set of young QBs coming through in the 2014 draft (which there are). On the other side of the ball, their pass rush and secondary needs some improving, too.
AFC North:
BALTIMORE: You mean the Super Bowl champs have holes to fill? Well, the Ravens are an NFL team, aren't they? There's the big one at linebacker with the retirement of Ray Lewis, and if they don't keep Ed Reed, there will be one at safety, too. Oh, and they could do well adding to a wide receiver base that while talented, is also ageing.
PITTSBURGH: For the first time in years, the Steelers veterans looked off the pace this year when dealing with the younger bucks of the Bengals and the Ravens. Their problems are in the secondary (at safety, particularly), at linebacker, and on the other side of the ball, Big Ben would probably like more receiving help. But there's problems all over the field, because starting running back Rashard Meadenhall is a hot favourite to exit stage left, the Steelers are going to need one of those, too.
CLEVELAND: The Brandon Weeden experiment did not go brilliantly, but should Cleveland REALLY be thinking 'quarterback' once again? Frankly, they should concentrate on shoring up their offensive line to help the running back, which was 24th in the league (incidentally, pass per game ranked 25th!). Offenses threw on the Browns for fun last year, so upgrading the secondary will do, too.
CINCINNATI: While there's been talk about getting help defensively for the Bengals, the numbers are actually pretty good if you analyse them (they were amongst the best in points allowed, yards allowed, and pass yards allowed), I'll go with another solid running back to help BenJarvus Green-Ellis and another wide receiver to help AJ Green catch Andy Dalton's throws. On the other side of the ball, the Bengals 'D' was in the Top 12 in all four of the key rankings- so Mike Brown's biggest job might well be to try and keep them in Cincy.
AFC West
Denver: The Broncos desperately need some help on the defensive line, and could probably do with some depth at wide receiver. A new secondary is going to have to build too - Champ Bailey is getting on, folks. But like New England, I think the Broncos are pretty set at quarterback.
SAN DIEGO: The Chargers desperately to need to deepen their offensive line (they gave up 49 sacks last year), to protect Philip Rivers, and there are problems at linebacker and cornerback. So not a lot, then...
OAKLAND: Oakland needs a good running back (they were 28th in total rushing, averaging just 88 yards per game), and some offensive line help to protect Carson Palmer - the boys in black can't afford for him to get injured. Mind you, Palmer could be sent packing if he refuses to restructure his contract. That means that Terrelle Pryor will get the chance to be the Silver and Black's starting quarterback. Hmm....
KANSAS CITY: Where do I start with a team like the Chiefs? After getting Alex Smith, the Chiefs fills a QB need. They will need to help him with some offensive line upgrade, and they need help all over defensively. The only position where they are fine is at running back, where they were fifth-best in the NFL (2,395 yards) thanks to the work of born-again Jamaal Charles, who had a 1,500 yard season. Unless they want to get some cover for him, of course.
NFC East
NY GIANTS: The Giants need to shore up both their rushing and passing defenses, so don't be surprised if we seem some new faces at those positions. By releasing Ahmad Bradshaw, the Giants got rid of their best running back by some margin. They may well need a bargain veteran at that position to progress in one of the NFL's toughest divisions.
WASHINGTON: With Robert Griffin III's injury during the play-offs, Dan Snyder's team is suddenly looking pretty bright after drafting Kirk Cousins in the same round. But on the other side of the ball, there are some major issues. But good quarterbacks scalped these 'Skins (they were 30th against the pass), even if running backs couldn't get through (they were 5th against the run - probably because most offensive co-ordinators chose the pass option against them!). They weren't great at giving up points (22nd) or yards (28th), either. Expect some serious changes on the other side of the ball.
DALLAS: Despite my nasty comments about Tony Romo, the much-maligned quarterback is the least of Jerry Jones' problems. The team's middling-to-awful defensive numbers will mean that new DC Monte Kiffin (coming back after a disappointing adventure into college football with his son at the University of Southern California) will have his work cut out to avoid his owner's wrath. I expect the draft to add new faces on that side of the ball, and don't be surprised if a new running back comes along too to take the load of DeMarco Murray.
PHILADELPHIA: Everything's going to change with Philly this season. Andy Reid's out, Chip Kelly's in. If you've never seen Kelly's offense at the University of Oregon, it's up-tempo, and it scores a lot of points. His offensive line had better be mobile. His quarterback won't have a problem with that. Defensively, Kelly's going to need some help dealing with the run - the Eagles were 23rd in the country in run defense. Oh, and the secondary will need overhauling, too - especially at safety.
NFC North
GREEN BAY: The Packers were destroyed by Colin Kaepernick and the 49ers, so I don't mind saying that they could probably do with some better run stoppers. Oh, and they could do with better running backs, too - they were only 20th in the NFL in that category. That's OK with an Aaron Rodgersified offense, but defensive co-ordinators need to be made to think a bit, don't they? Oh, and they may well need another tight end if Jermichael Finley goes - despite the player's knack of dropping balls.
MINNESOTA: The Vikings ended the season second in rushing yards and 31st in rush yards. Now, imagine if Adrian Peterson got injured. I can hear the 'Ouch' from here, Vikes fans. Do they need a new QB to replace Chirstian Ponder, or simply new wide receivers - especially if the skilled but oft-injured Percy Harvin is traded away. If Harvin is traded, Ponder has no targets. In other words, get a receiver or two, Minnesota!
CHICAGO: If Brian Urlacher leaves, then the Bears are going to have a mammoth hole at linebacker - especially in terms of leadership (see Lewis, Ray for details). But the Bears could well simply reload at the position, as they always seem to. On the other side of the ball, they desperately need help at offensive line (the Bears ranked in the Top 10 for most sacks and QB hits given up, and second-worst in pass yards), because they were dreadful last year.
DETROIT: Lions fans are grateful for Matt Stafford and Calvin Johnson, because their running game was poor (23rd in the league). That meant that DCs could concentrate on trying to stop Calvin Johnson, rather than a decent running. Expect the Lions to be in for a good runner in the draft. Oh, and speaking of Calvin Johnson, we hope that the next receiver they draft is better than Titus Young...albeit with 100 per cent less baggage.
NFC South
ATLANTA: After he broke their heart against San Francisco, Atlanta Falcons fans wanted to know what they did to displease the NFL god. "Well," He answered, "If you get a running back, a new tight end to replace St. Tony Gonzalez, and some help at linebacker and cornerback, I think I might be able to help."
TAMPA BAY: In a passing league, you don't want to bad against the pass. The Bucs weren't bad against the pass - they were awful against it (297.4 yards per game, 32nd in the league). Tampa Bay needs to get corners and safeties to help sort out their stall - a big reason why their strong start to 2012 disappeared into nothing down the stretch.
CAROLINA: The Panthers improved significantly in the 2012 season, but they are going to need running back help what with an ageing DeAngelo Williams. And as much as I love Luke Kuechly, he can't play every defensive position, so it would be great if they got a defensive tackle.
New Orleans: The fans may not have gone marching about, but the Saints' defence - which was badly hurt by 'Bountygate' - suffered last year. If they pick up help at safety and defensive end/linebacker, Saints fans should be happy.
NFC West
SAN FRANCISCO: It's good that Colin Kaepernick took over when he did, because this writer's never been a believer in Alex Smith. We look forward to seeing how Smith will do in Kansas City on an infinitely worse team. Anyway, the 49ers - who lost the Super Bowl in a heartbreaker this year - could do with some help on the defensive line and at wide receiver, where Michael Crabtree can't be expected to do everything.
SEATTLE: All the US media has talked about Seattle's desperate need for a pass rusher, and some have talked about more needs at wide receiver, too for quarterback Russell Wilson. I agree - Wilson can't do everything himself, folks!
ST LOUIS: If Steven Jackson goes, then the Rams are going to have a heck of a hole to fill at running back. Quarterback Sam Bradford (3,700 yards, 21 TDs, 13 INTs last season), didn't have a terrible year, but he needs more help at receiver (be it WR or TE), and he could do with more offensive line help.
ARIZONA: There's no great wonder that the Arizona Cardinals seem to run out of quarterbacks every five minutes - they were the worst in the NFL at sacks allowed last year (58). And fourth on hits to the QB. Think they might need an offensive linesman or two?