Chip Kelly is going to have his hands full at the Philadelphia Eagles.
Despite what people say about the free agents bumbling around the NFL, the biggest college football signing of them all was this man, who got a lot of offensive plaudits for running the highest octane of high octane offenses at Oregon, and has now been given his NFL chance with the Philadelphia Eagles.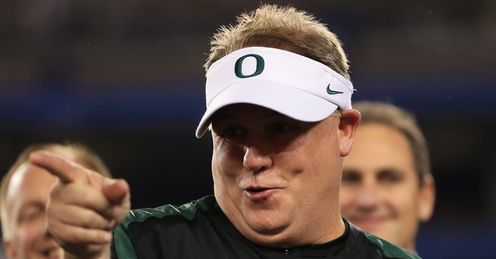 For some people, the hiring of Kelly wasn't so much of a head-scratcher as Kelly's decision to leave. After all, Oregon was a high-profile college, backed and branded by Oregon alumni and co-founder of Nike Phil Knight.
Oregon had the facilities, and the team, that was in the National Championship conversation practically every year, and lost a heartbreaker of a final in 2011 - and possibly should have gone to a National Championship in January too, if they hadn't lost a heartbreaker to Stanford in November.
Kelly's leaving a place where his influence as a head coach was pretty much absolute to a place where it's more about the GMs and owners.
Alex Ferguson
Quotes of the week
He had just seven losses over the course of four years (the sort of record most college coaches would be pretty happy with), and his $3.5 million salary in 2012 was the ninth largest in college football.
So why did he move? Firstly, there's the money. Philly's doubling his current salary to $6.5 million-per-year, reportedly. Secondly, the chance to prove that his breakneck offense WILL work in the professional leagues...especially with the love for the spread offence with the success of Robert Griffin III, Andrew Luck, Colin Kaepernick and Russell Wilson this year. Thirdly, the NFL is seen as being graduation for college football coaches. Winning the Super Bowl is the ultimate prize for an American Football coach, after all.
But Kelly's move has me thinking about the advantages and the disadvantages of being a college football coach.
The pressure is similar for both NFL and college football coaches. The average tenure for a NFL coach is just over three seasons. In other words, if your team isn't getting to the play-offs, the coach will struggle to keep their job. The college football coach is under pressure after one season, and if his team doesn't make a bowl game, he's out within four years.
For the big NFL teams, not reaching the Super Bowl might be considered failure, while with the biggest college football teams, not winning a division or a bowl game can heap the pressure on. It's the reason why I wouldn't envy either position.
In Kelly's situation, he's got the rabid media - and fanbase - in Philadelphia to contend with, as well as inexperience. Don't be surprised if this is a short tenure, with the only person feeling vaguely enriched from the process one Chip Kelly.
Power
As for power, I think Kelly's leaving a place where his influence as a head coach was pretty much absolute to a place where it's more about the GMs and owners (except, in both cases, the buck will stop with him as an unsuccessful franchise).
In college football, whatever the coach wants (within reason), the coach gets - especially if it's money towards recruiting better staff or building bigger weight rooms, or, if he's feeling like leaving, getting a bigger salary.
Although athletic directors (effectively their bosses) are in charge, a successful coach is god on college football campuses (see Saban, Nick for details), while in the NFL, the power is much more with the league, the GMs and the owners. And although that's not to say that Kelly won't have a ton of power in Philly, he's really part of a machine - not the main cog. NFL teams are controlled - and hamstrung - by money, not scholarships.
Then there's the matter of personnel. Although some people believe that a great college football team could beat a bad NFL team, they can't. The NFL teams - however bad - are still made up of the best of the best, while college football outfits are made up of the best of the best recruited...but still unpolished and mistake-ridden.
In the NFL, money, salary caps and drafting do the talking. In college football, there's a cap on scholarships, and the rest is a race to see who can get the best players out of high school. Chip Kelly at Oregon was one of the best recruiters in the nation. But at Philadelphia, he'll have seven or so draft picks - plus some free agents - to help make his year a success.
Experience
He'll be counting on every one and, because he's not got the experience with free agents or unrestricted free agents of his NFL counterparts, he's going to be heavily relying on Eagles GM Howie Roseman. In college football, that's not the case. Some of the players recruited may never touch the field.
Oh, and there's the matter of the past. Despite this year's success of Jim Harbaugh (former Stanford-now-49ers coach) and past successes of Messrs Bill Walsh (Stanford to San Francisco), Jimmy Johnson (Miami Hurricanes to Dallas), Barry Switzer (Oklahoma to Dallas), Tom Coughlin (Boston College to New York Giants) and a smattering of others, college football coaches haven't been a rousing success in the NFL.
As the league's website shows, Steve Spurrier went from god to goat when he left Florida to take his talents to Washington (he won 12 games in two years), while Nick Saban's stint in Miami after taking LSU to a National Championship was considered a flop, too (both have been successes upon their return to college football, I might add). Then there's Mike Riley (Oregon State to San Diego), Butch Davis (Miami to Cleveland) as well as a lot more further back in history.
So will Chip Kelly succeed in his first-ever NFL stint? The jury is out - especially if Michael Vick, who is just the quarterback Kelly needs to be successful to run the sort of offense that made him so successful, keeps fumbling like he did in 2012, where he dropped the ball 11 times.