It's the last week of the NCAA Tournament, and we are going to see two gargantuan match-ups in college basketball.
On Saturday at the Georgia Dome in Atlanta, No.1 Louisville will play No.9 seed and latest tourney Cinderella (now Florida Gulf Coast is out) Wichita State, while in the second game will be the game of the night as in-form No.4 seed Michigan face off against No.4 Syracuse.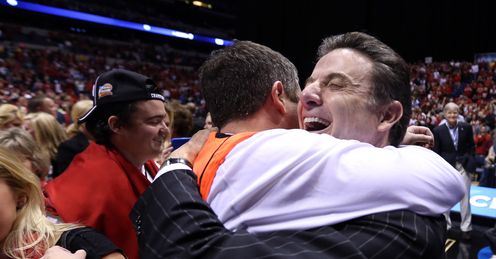 Alex Ferguson looks forward to the Final Four, giving his tips on who will make it to the National Championship Game...
Louisville v Wichita State
Last week Louisville fought with purpose. After not really breaking a sweat in their first two games of March Madness, the Cardinals eased to a 45-31 half-time lead against Oregon before losing concentration to help the Ducks close within eight, but they won 77-69.
Cardinals played Duke off the court in a display that showed why they are overwhelming favourites for the title.\n\n
Alex Ferguson
Quotes of the week
However, it was in the second game that they were stars. Battling with No.2 Duke in the first half, Kevin Ware fell down with a horrific leg injury that even the TV cameras wouldn't replay and the Cardinals were shell-shocked.
Louisville was 35-32 up at the half. Then, Coach Rick Pitino made the adjustments he needed, and the Cardinals played Duke off the court en route to an 85-63 victory in a display that showed any naysayers why they are overwhelming favourites for the title.
They'll play March Madness' latest Cinderella Wichita State, who took over that mantle from Florida Gulf Coast after the Eagles had their wings chomped off by the Florida Gators on Saturday night despite going into an early 11-point lead (incidentally, Andy Enfield, FGCU's coach, has managed to parlay his team's run into a multi-million dollar job with Southern California).
The Shockers - named after people who harvested wheat back in the day (apparently a lot of Wichita State students did that for extra money during the summer months in the times pre-machines) - stunned No.2 Ohio State on Sunday.
The Buckeyes had beaten Temple and then Arizona with last-second three-pointers on their last couple of escapades, but they couldn't stop Wichita State, who sped out to a 35-22 lead before holding off a late red onslaught to book their ticket to the Final Four.
Malcolm Armstead and Fred Van Vleet were the heroes, scoring 14 and 12 points respectively, but this was a team that out-battled, and out-thought the battle-weary Buckeyes. But can they do it again against Louisville, the most complete team the NCAA Tournament has had to offer this year?
Michigan v Syracuse
One of the most fun teams to watch in this tournament has been the Michigan Wolverines. With Tim Hardaway Jr, Glenn Robinson III and Trey Burke, they are definitely one of the most talented teams.
They simply couldn't put together two straight victories during the last three months of the season, and fell from an almost-guaranteed No.1 seed to a No.4, which has actually helped give the team some purpose.
While Burke's shooting electrified everyone on Friday night when he shot from NBA-range to tie up Michigan's Sweet Sixteen game with No.1 Kansas, there's been another player on everyone's lips: Mitch McGary, who was outstanding in the over-time victory over Jayhawks.
And he was brilliant again as Michigan ripped apart No.5 Florida in the Elite Eight in a match-up that was meant to pit two of the best teams in the country against each other, but instead turned into a horror movie for Florida (we re-named it 'A Nightmare on Gator Street'), who were disassembled 79-59.
Well, the 'Fun Four' will play against Syracuse, who bored us all to death against Marquette with a 55-39 victory that was more about great defence than good shooting (they shot 29% beyond the arc and just 19 from 50 in field goal range, but Marquette was worse, shooting 12% from 3-point range and 12 of 53 from the field!) Syracuse will have no problem trying to smother and break Michigan's spirit in the same way as they did Marquette's.
They've got skill to cause damage to Michigan's hoop, too, with future NBA draft pick Michael Carter-Williams, James Southerland, and Brandon Triche all ready to do damage, and anyone of ten players happy to come on the court and out-smother the opposition.
The 'Cuse haven't had much difficulty disposing of opponents all tournament long, so Michigan's going to be a wake-up call for the Orange and their legions of supporters.
We can only hope this game's not as excruciating as the Marquette one.
FERGIE'S FORECAST: Sorry Cinderella, but Louisville's my tip to beat Wichita State - very comfortably indeed - and Michigan will beat Syracuse in a game that could well come down to the final minute. To misquote Jim Hendrix, that would all give us a reason to be excited.