When you see tapes of Jermaine Eluemunor, it's frightening. He's 6 ft 5, he's 21 stone, and he's very, very quick. He's an offensive linesman - meaning that he's meant to be doing the blocking - and yet it seems on some of the tape that it's the defensive linesman trying to block HIM. Sometimes, he'll even go looking for the block- and the defender will go flying as they are greeted with 6 ft 5 of pure muscle. He's highly-sought after by some of the biggest college football schools in the nation, even though he's admittedly quite a raw talent.
And then you discover that this machine isn't American, he's British, having only been in the country around four years after his parents came over to US soil from Camden in North London to pursue the American dream.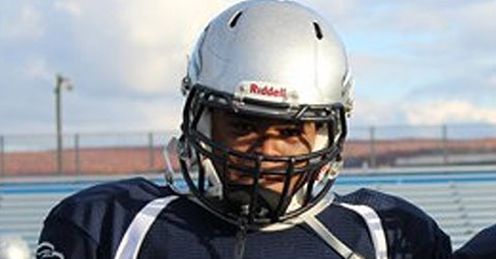 Alex Ferguson managed to conquer his fear and put together an interview with this man-giant, who was actually incredibly gentle with him...
First of all, how did you first come over to America?
Jermaine Eluemunor: My Dad wanted a change. He came over to London from Nigeria when he was 16, and he wanted a change (he's in his 40s now). He went to the USA because he wanted a better life for himself and his family. We grew up in Camden Town, and although it wasn't the 'bad area of town', he wanted a change. He wanted something more. He got the green card, and he asked if I wanted to come. I jumped at the chance.
What sports did you play over in Britain? When did American Football first grab your attention?
Jermaine Eluemunor: I played soccer in England until I was about 11 but I got too big and too physical for it. I'm an Arsenal fan! I played rugby for Blackheath, too. I remember one Sunday I was watching Sky and I saw the Miami Dolphins get ripped apart from Tom Brady and the New England Patriots, and I thought: "This is the game for me!" I did my research, and found the London Blitz. I signed up with them and on my first day I put my pads on the wrong way! I really didn't have a clue! I played for them for a month or two, but they wanted to play flag football and I wanted to hit. And I got that opportunity when I came to the States!
What was it like playing High School football?
Jermaine Eluemunor: I came into Morris Knowles high school in New Jersey as a freshman [first year] but I was a year younger than everyone else. I knew that I had the ability (and everyone told me!) in my final year of high school, when I was much bigger than everyone else. I didn't know what the college football division system was [colleges are split out into four divisions, depending on school size] until I got to high school, and suddenly I had people calling me.
Why did you go to Junior College at Lackawanna?
Jermaine Eluemunor: I needed a place to get better at playing, so I decided to go and play for Lackawanna, which is based in Scranton, Pennsylvania. I came to get more experience. And there, I started getting recruited.
How's the recruitment process been?
Jermaine Eluemunor: It's been crazy! I came to high school in America because I just wanted to play football, and I've been called by everyone from Alabama head coach Nick Saban, Urban Meyer at Ohio State, Jimbo Fisher at Florida State, Kevin Sumlin at Texas A&M, and Bill O'Brien at Penn State [A few minutes after our conversation, he also finished talking to Bob Stoops at Oklahoma, who also offered him a scholarship], and some of the biggest coaches in the game. They try not to say the same thing, but end up saying the same thing: "I like the way you play, and I like the fact that you're aggressive. I like the way you run upfield." They add that they 'need me' to come to their school and play left tackle. For me, it's amazing. It's like: 'Just a month ago Nick Saban coached a team to a National Championship and now he's calling me!'
I'm now getting phone calls from 5-8 coaches a day. It's relentless. The only coaches I haven't been called by are Les Miles from LSU, Steve Spurrier from South Carolina, and Mack Brown from Texas.
The funniest thing is, is that I've never been to a live college football game. Going on those visits will be my first opportunity.
Having had a look at the list, it's pretty comprehensive, with 23 schools offering. So which schools will you visit as part of the process?
Jermaine Eluemunor: I'm going to visit Alabama, UCLA, Florida State, and Arkansas. I'm also considering visiting Oregon if they offer me, but I'll be interested how new coach Mark Helfrich runs his offense [He had quick, aggressive offensive linesman in his system when he was offensive co-ordinator and Chip Kelly - now the coach of the Philadelphia Eagles - was in charge].
I visited Penn State on an unofficial visit earlier this year. The stadium's absolutely massive - much bigger than Wembley. I really liked the school and the campus.
What's more important - the school status or the amount of time you get to start?
Jermaine Eluemunor: The starting time is more important - mainly down to the fact that when I leave Junior College, I've only got two years to play before the end of my final season. The more I start, the more I get experience, the more experience I get, the better I get. I'm ambitious: I want to be an All-American [Equivalent of the Pro Bowl at College Level], and I want to play in the NFL. I'm a Philadelphia Eagles fan, and I should have played there last year - I would have done a better job than their O-Line did!
Who do you admire in college football?
Jermaine Eluemunor: First of all, I admire Michael Oher. He's a great tackle, and he came from nothing to go and play in the NFL. It's a great story. The second person is Florida State's Menelik Watson, who's another Brit I respect. I know about his game and he knows about mine. The guy's really good - and people are comparing him to me. I saw him play on TV for Florida State, and he was really great. I'm not surprised people are thinking he might go in the first round of the draft.