At 4.45am this morning the first round of the NFL Draft ended and there were plenty of eye-opening moves (and a lack of them). New England Patriots fans saw Boston honoured, but didn't see Boston get a pick, while Vikings fans saw three players taken to Minneapolis in the first round... but for a Vi-king's ransom.
Are you kidding, Bills?
I really hope that Buffalo Bills aren't trying to gear themselves for EJ Manuel as their starting quarterback because if they are, can I suggest some Jack Daniel's in the thought process? Look, it's not that the Florida State isn't a good quarterback (he is), but he's certainly not better than either Geno Smith or Matt Barkley. And he's maybe better than Syracuse's Ryan Nassib. And the NFL Network telling us how great he was against Clemson's defence shows us one major thing: They didn't see Clemson's defence last year, who were 48th in the country in points given up. That's not exactly Alabama.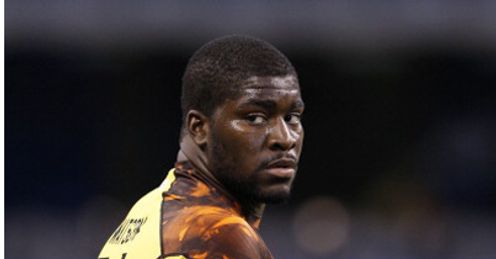 No love for Menelik
Those waiting all night for Menelik Watson to go in the first round were sorely disappointed after lineman after lineman (Eric Fisher, Luke Joeckel, DJ Fluker and Justin Pugh) came up ahead of him. He's got a ton of upside, folks, but what he doesn't have is experience. We were, however, stunned that the Bears - who needed help all along their offensive line - brought in Kyle Long of Oregon - who started a massive FIVE games at Oregon in his career - was taken ahead of Watson. He'll definitely go in Round 2 in what is an exceptionally deep draft for offensive tackles.
Geno, Geno, Where Art Thou, Geno?
After sitting around the green room, Geno Smith bolted like Superman with two or three picks to go, knowing that no-one was going to get a wide receiver. Despite a number of teams with question marks at the position, only one QB was taken - and that was Florida State's EJ Manuel, who certainly wasn't a better quarterback in college than Smith was. Now, people are talking about the West Virginia quarterback possibly going in the third round - which is going to fuel his fire. Let's hope so, eh!
We wait all night for Dallas' pick, and then...
They pick a centre from Wisconsin. Picking centre Travis Frederik was seen as being a reach by a lot of people - despite the fact that he's a great offensive guard and helped running back Montee Ball to the Heisman conversation in 2011 - because he's only later round talent. And not only is he later round talent, but there are better centres out there, too - like Barrett Jones of Alabama, who's bright, physical, and was one of the (excuse the pun) centrepieces to Alabama's back-to-back National Championship seasons in 2011-2012 and 2012-2013. Having said that, Cowboys fans would probably have been complaining if both Frederik and Jones had gone in the second round, leaving the 'Boys with a massive hole at centre if Phil Costa doesn't stay. Has Russell Wilson said that he'll go to Arlington when his contract in Seattle runs out, Jerry Jones?
Minnesota bets the house
Every first round it seems there's always one team that bets the house in the first round. And it's usually a team like Minnesota, who got into the play-offs but failed at the first hurdle (or nearly got there). Well, the Vikings must have been in tears of joy when Sharrif Floyd fell as far as he did into their arms, and picking cornerback Xavier Rhodes wasn't a terrible pick, either. But then they bet the house (and by the house we mean trading their second, third, fourth and seventh round picks) by trading up for Tennessee wide receiver Cordarrelle Patterson. This kid showed in college that he can fly, averaging nearly 17 yards per reception this season. He'll scare special teams coaches because of his punt returning ability, too... But the next Percy Harvin? Is that too much of a stretch for a player who's only had one year of big-time football experience?
Andre Johnson - you have a partner!
Houston Texans wide receiver Andre Johnson tweeted this reaction after the Texans selected Clemson wideout DeAndre Hopkins: "THANK GOD". And the Texans fans should be looking to The Almighty, too. Hopkins was sensational, grabbing 82 catches for 1,402 yards and 18 touchdowns. He's quick, and he's going to cause trouble for defenses on third down. He's not a major home run threat for a long way out - but that's what's Johnson's for! Just don't let Hopkins near a hotel room in Indianapolis....
The Steelers with a steal
If I'm a Steelers fan, I'm weeping with joy after picking up Jarvis Jones from Georgia. Regardless of the spinal stenosis worries, Jones was one of the best linebackers in college football last year, and if you want to see videos of him destroying the best offensive lines in football, have a quick look at Jones' SEC season, where he did over and over again. Sure, he's not a great run stopper, but he is a great pass rusher - and that's what the Steelers will need with Dalton and Flacco cemented into their big rivals' futures.
And speaking of great picks, we loved the Baltimore Ravens' pick of safety Matt Elam, who will tackle a two-ton lorry if he's asked, a lot more than we loved New Orleans pick of safety Kenny Vaccaro, who is expected to continue a New Orleans defensive tradition of not being able to tackle.
Wilkommen nach Indy, Bjoern!
Europe DID make an arrival in this year's draft, where Germany's Bjoern Werner was picked up by the Indianapolis Colts. Werner - one of the best DEs in the country and someone who is a great tackler and was a sack machine at Florida State. He's going to be just what the Colts needed to shore up their 'D'.
No surprises up top
No surprises up top when Kansas City selected Eric Fisher of Central Michigan and Jacksonville selected Luke Joeckel. Both are huge players and pick-ups for their teams - and we'll be able to see how effective both players are in Week 1 - especially if the Jags suddenly vault to 'mid-table' from 'relegation fodder' in the Sacks Given Up Premier League.
Has anyone seen...
By the end of the first round, Manti Te'o' s prospects of leaving the green room with a big smile on his face were about as existent as Lennay Kekua, his dead, non-existent, ex-girlfriend, who passed away of non-existent cancer last year. Cruel? Perhaps. But in the second round, you can be assured that the team that picks him will be getting a great linebacker. And a leader. But also, what's happened to defensive end DaMontre Moore from Texas A&M, who is one of the country's top players at that position? The rumours about his poor work ethic must have let him down poorly. And then there's quarterbacks Matt Barkley, Tyler Wilson and wide receiver Justin Hunter. This is going to be a heck of a second round, folks.